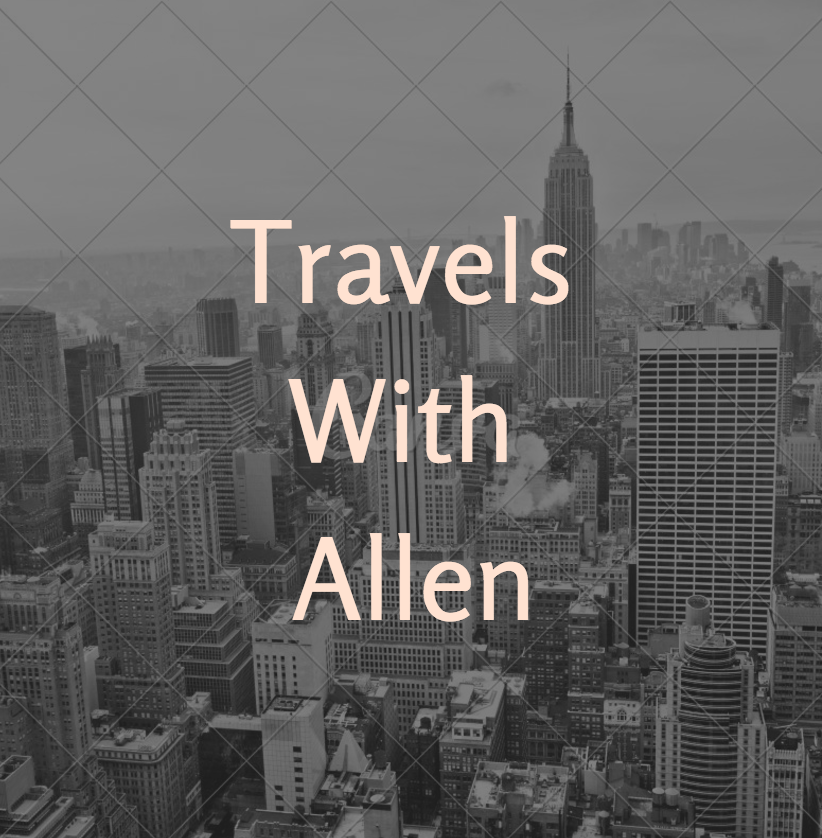 More Travels With Allen – July 2020
Life is good. Yum Yum Donuts has reopened. Bed Bath and Beyond's twenty percent coupons are now hitting our mailbox. Home Goods has reopened and malls are again welcoming shoppers. Traffic has picked up and people are beginning to be "out and about" again.
Please remember to practice Social Distancing and PLEASE wear your face mask.
Linda and I have begun going "Out and About." I will admit we are trying to be super cautious. We will not go near large crowds and only eat at restaurants that offer outside dining or curb service. Hey, I'm a really an old guy with three million health issues. I don't want to make it three million and one. But this new normal, dining outside has really touched my heartstrings. I love it! Honestly I hope it continues beyond the Covid-19 concern. It has definitely offered some "life" to our life.
One of the restaurants we have visited repeatedly is Giovanni's on York Road in Jamison. This Italian restaurant is the best! It is consistently good. Great selection, always tasty, huge portions, excellent service and very fair prices. When we started going there years ago they had one store and grew to two. Marcelo, the owner, just informed us that he is taking over the place next door. Did I mention how pleasant their outdoor seating is?
We accidentally discovered a neat bar that serves pizza on York Road in Warminster called Reese's Pizza & Tavern. Yup, you heard me right… it's a bar. I would never have gone there because I don't drink. But we were hungry and they had a large sign over their tent about their "award winning" pizza. Let me be blunt, who ever gave them an award should receive an award. Their pie is one of the five best we have ever had since landing on this planet. We LOVED it and will go back often.
Further down York Road in Warminster is the Steak and Hoagie Factory This is one of three locations, all owned by the same person. They also can be found in Richboro and Levittown. Their tuna hoagies are sensational. Linda orders them on the phone and they bring them to our car and we have an "auto" picnic. She usually orders a second for her husband's late night "search and devour" missions. Their steak hoagies are also not too shabby. If you have never sampled their goodies, do so. Their bread is sooooo good that people just stop to take home some of their incredible rolls.
One of our all time super favorites, the Shish Kabob Palace on Grant Avenue in Philadelphia, is now serving outdoors, They have been remodeling and the newly refurbished spot will open right after July Fourth. We eat there at least once or twice a month. Daniel and his crew never disappoint. I have written about this restaurant so often that I won't bore you again. Everyone, repeat everyone we have ever taken there has become a regular. Try it.
A new Italian restaurant called La Voglia just opened in a nondescript strip mall on Street Road in Warminster. The owner has spent some major bucks and time doing a major redo. He even built an elevated platform outside with umbrellas and flowers. It works. The place is great. Most important, the restaurant doesn't disappoint. The menu is really comprehensive, the prices are more than fair and we can assure you that both Linda and I really enjoyed our selections and returned the following night. On both occasions the owner introduced himself to every patron, shared a drink and provided an excellent tiramisu.
Still on York Road in Hatboro you will find Bernie's. We have eaten there repeatedly. They have the best outdoor seating in the area. Thumbs down, no contest, They are located in the heart of downtown Hatboro and are situated on a corner of a small street. They have blocked the street and must have twenty well spaced tables with umbrellas etc. Just great and every time we pass by they have loads of people eating in the street. It's very cosmopolitan looking.
I could go on and on but my trusty little editor is giving me the "Linda Look." El Azteca, a great Mexican restaurant, and the Country House Diner, both also located on York Road in Warminster are now offering outside dining. We can attest to both of them.
That's about it for now. Enjoy the summer as best you can. Please be careful.