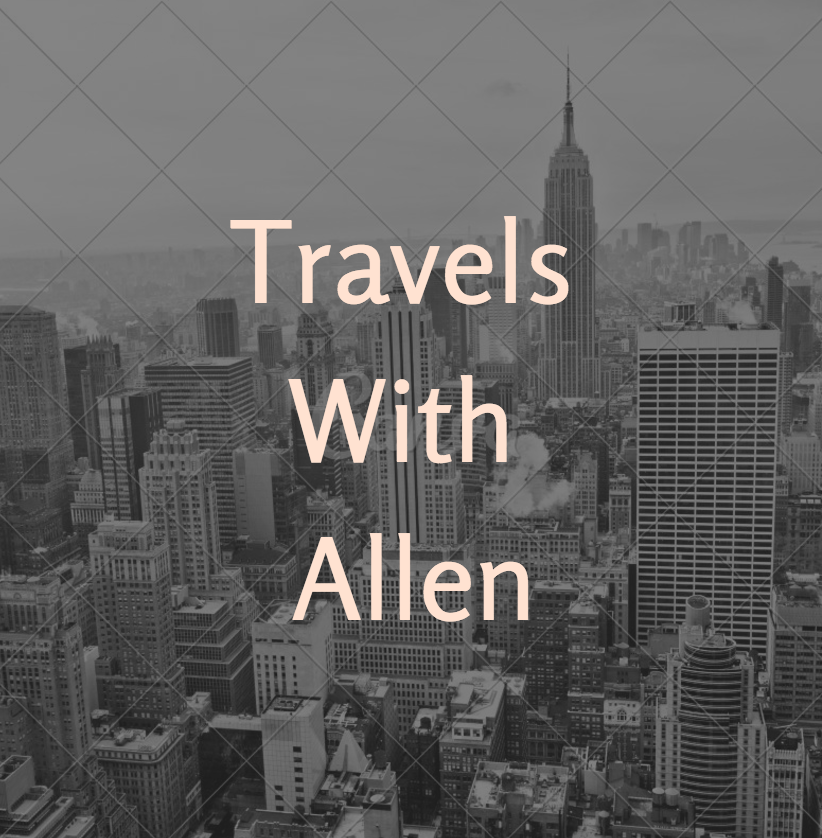 More Travels with Allen…Something Different
When I was a young boy, my brother, my mom, dad, grandmother and a holocaust victim named Clara all lived in a small three bedroom house with one small bathroom on "C" Street in Philadelphia.
It was extremely crowded and we were constantly on top of one another. Somewhere near my eighth birthday my grandmother moved in with her brother in South Philadelphia and our Holocaust victim moved to Boston to be with other family members she discovered had survived.
My older brother and I finally had our own bedrooms. We were thrilled with the space, the freedom and the time we could be apart. Approximately four months after the "great separation" my parents surprised us with new bedroom sets they had purchased from a popular furniture store in the North East. We felt like royalty.
We both had new beds and mattresses plus desks and green leather chairs. We were ecstatic. We wrestled on them, played football and baseball on the beds and did everything imaginable on these sets that we treasured. As long as blood wasn't flowing under our bedroom doors our parents never bothered us. Ultimately, both of us got married and moved on. The treasured and now somewhat used furniture stayed in the house until both my parents died many years later.
There was little for my brother and I to inherit after they died. My brother took our bikes and some old books. Linda and I kept my Mom's kosher dishes, treasured religious objects, silverware, and my small collection of Lionel trains. My two older children and nephews and nieces then saved what ever was left that they wanted The tiny balance that remained was donated to a charity.
Years past. I never gave their home or their "valuables " any thought. When my daughter, her husband and their two children moved from a tiny home in Atlanta to a very large home in Denver, Linda and I visited the moment we were invited. My daughter had saved her mother-in-law's dining room set and had a very special surprise awaiting me on the second floor. There in my grandson's bedroom was my old bedroom set with the same desk and green chair.
I was shocked. I just sat on the bed and looked around. The desk still had happy stickers from Clara Barton elementary school and patches on the back of the desk for the old Philadelphia A's. I could not have been happier and immediately called my brother. I had no idea, and still don't, how my set survived all those years and ended up in Sam's bedroom. Believe it or not, some seventy years after arriving in my bedroom, it still was in amazingly good condition. Even the green upholstery on the chair looked very good. Wow!
You may wonder why I mentioned this little tale. I have a reason. Two weeks ago our salesman Bruce called and asked if we would make a "spec ad" for a new furniture store, Betsons, that was opening in Willow Grove. Since my wife and I were having dinner that very night in a nearby burger restaurant, we stopped in to get some idea as to what the ad should look like.
The store was huge with tons of parking. Formerly it had been a Home Goods, adjacent to the Willow Grove Mall. The showroom was just jam packed with an incredible number of bedroom, dining room, kitchen and living room sets. The walls were covered with all kinds of terrific pieces and there were little decorative items everywhere. The more my wife and I saw, the more impressed we were. This store was a winner, is a winner, just fun and impressive.
As I said, the more we looked the more impressed we were. We have visited many furniture stores over the years, but this one is special. Great selection and many different styles and periods. Even more impressive, almost all of the merchandise is American made. I should print that statement three times. No imported crap that you partially assemble at home. Their merchandise reeked of quality. Much to our continued surprise was how affordable their prices. Trust old Al, if you need furniture, buy where you like, but definitely visit this happy location before you make a final decision.
When we got back to our car I was hit with a thunderbolt. The name on the store suddenly jarred my aging memory. So I immediately picked up the phone and called my daughter. I asked her to take a look underneath the center drawer of Sam's desk. She came back in a brief moment and mentioned that the only thing there was a small delivery slip from the firm that had delivered the set to "C" Street during the last century. The name on the slip was Betsons.
Home run, back into the store. We met the owner and began to ask some questions. The young man was the grandson of the person who had sold my parents our sets. The Betson family has owned a series of stores in New York, Pennsylvania and New Jersey from the time Columbus landed on North America. Joe Betson, the young owner, went on to say how proud he was of both his family and their stores. He went on to share how their years of experience and good reputation allowed them to get the "great deals and collections" they offered their customers. And many of their customers, he claimed, were third and fourth generation buyers.
That is the story. Just as an aside, this young man was handsome, articulate and humorous. My wife's only disappointment was that she thinks he's married and that she would have to keep "looking" for our friend's daughter. My only disappointment was that the set we were bringing our grandson to select wouldn't come with an eighty year guarantee!
Allen Herman
Your opinions are always welcomed.
uptightsuburban@aol.com
Betsons Furniture
Willow Grove Shopping Center
154 Park Avenue, Willow Grove (Next to Party Fair)
267-951-7301 • www.betsonsfurniture.com