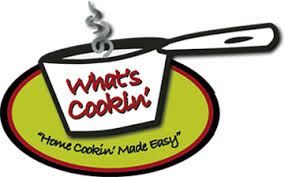 In The Kitchen
When the winter holidays start coming around, my tastebuds yearn for something a bit sweeter. I really like mixing up flavors and textures. "Warm and sweet" means real comfort… like the delicious Apple and Cranberry Crisp. Add a little vanilla ice cream and you have the perfect "warm and sweet" that the season demands. Be sure to check out the Red Cabbage with Apricots and Balsamic Vinegar. Sounds a little strange, I know. But trust me, it's very good… and something different for your table, anytime. Enjoy!

RED CABBAGE WITH APRICOTS AND BALSAMIC VINEGAR
6 Tbsp. butter
1 8oz. red onion, thinly sliced
½ tsp. ground allspice
¼ tsp. ground nutmeg
1 ½-pound red cabbage, quartered, cored, very thinly sliced
¾ C. thinly sliced dried apricots
¼ C. apricot preserves
¼ C. balsamic vinegar
Melt butter in large pot over medium heat. Add onion, allspice and nutmeg and toss. Add cabbage and apricots and saute about 2 minutes. Add apricot preserves and vinegar and toss until juices are reduced to glaze and cabbage is crisp-tender, about 6 minutes. Season to taste.
APPLE AND CRANBERRY CRISP WITH GINGER-PECAN TOPPING
(Can double recipe and bake in a 13x9x2-inch baking dish.)
FILLING:
4 medium Granny Smith apples, peeled, cored, chopped into ½ inch cubes
½ C. dried cranberries
½ C. sugar (or Splenda)
3 Tbsp. minced crystallized ginger
1 Tbsp. flour
TOPPING:
1⁄3 C. dark brown sugar
¼ C. flour
¼ C. old-fashioned oats
1 tsp. ground ginger
1 tsp. ground cinnamon
1⁄8 tsp. ground cloves
¼ C. chilled unsalted butter, cut into small cubes
2⁄3 C. pecans, coarsely chopped
For Filling: Preheat oven to 375°F. Prepare 4 small custard cups or souffle dishes. Mix all ingredients in bowl. Let stand until juicy, about 5 minutes. Divide among prepared dishes and bake about 20 minutes until bubbling.
For Topping: Blend first 7 ingredients in large bowl. Rub in butter with fingertips until coarse meal forms. Mix in pecans with fingertips. Crumble topping over hot apples. Bake until topping is golden brown, apples are tender, and juices are bubbling, about 25 minutes. Serve warm.
POWDERED SUGAR POUND CAKE
1½ C. unsalted butter, room temp.
1 1-lb. box of powdered sugar
1½ tsp. grated lemon peel
1 tsp. vanilla extract
6 large eggs
2¼ C. flour
Preheat oven to 325°F. Butter and flour 12-C. angel food cake pan with removable bottom. Using electric mixer, beat butter until fluffy. Gradually beat in sugar, then lemon peel, vanilla extract and salt. Beat in eggs 1 at a time. Add flour in 3 additions, beating just until blended each time. Transfer batter to prepared pan.
Bake cake until tester inserted near center comes out clean, about 1 hour and 10 minutes. Cut around center tube and pan sides to loosen cake. Remove pan sides and cool.
PUMPKIN SPICE PIE
1 15-oz. can pure pumpkin
¾ C. pure maple syrup
¾ C. whipping cream
3 large eggs
2 Tbsp. unsalted butter, melted
1 tsp. ground cinnamon
½ tsp. ground nutmeg
¼ tsp. ground cloves
1 prepared pie crust (can be store-bought)
WHIPPED CREAM
1 C. chilled whipping cream
3 Tbsp. powdered sugar
1 tsp. ground cinnamon
1 tsp. vanilla extract
Position rack in bottom third of oven. Preheat oven to 350°F. Whisk pumpkin, maple syrup, whipping cream, eggs, butter, cinnamon, nutmeg and cloves in large bowl. Blend well.
Pour pumpkin mixture into prepared pie crust. Bake until filling is just set in center and crust is golden, about 1 hour. Transfer pie to rack and cool completely. Cover pie and refrigerate until cold.
For Whipped Cream:
Using electric mixer, beat 1 C. chilled whipping cream,
3 Tbsp. powdered sugar, 1 tsp. ground cinnamon and 1 tsp. vanilla extract in large bowl until soft peaks. Serve with pie.