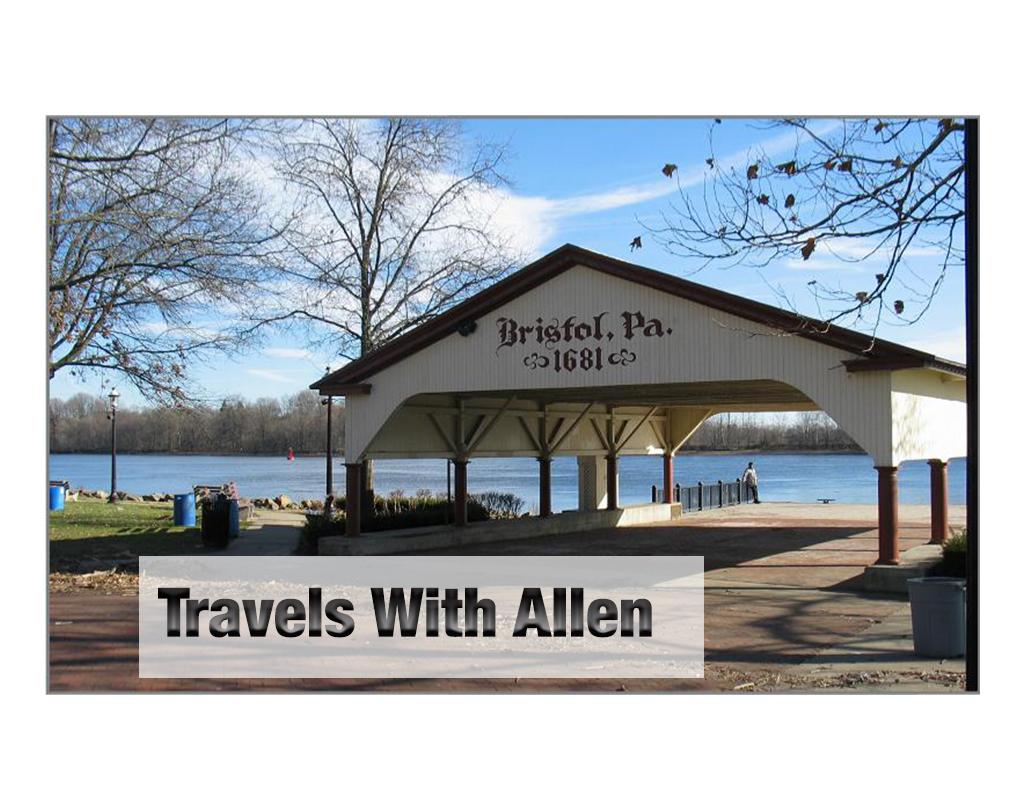 More Travels with Allen: Bristol
More Travels with Allen
By Allen Herman
Last month the Carrier Pigeon did a special section on Bristol Borough.
Linda and I headed up to celebrate their huge victory after winning the Small Business Revolution. While on Radcliffe Street we spotted a neat little restaurant called Annabella directly opposite the Bristol Riverside Theatre. Unbeknown to us they have a Tuesday evening special: a steak dinner with salad for about fifteen bucks. And it was Tuesday!!!
We love a bargain. So, we stopped, we ate and we enjoyed. They have a great menu and, combined with a theater visit, it makes for a great night out. Call for reservations because they are tiny and get big crowds, especially on Tuesday night. The chef, who is the owner, will probably stop by your table to say hello and make sure you are pleased with his creations. Tell him Linda and I said hello!
Jamison Carpet is now selling mattresses. "Jack and Company" are well known in the area for their selection of many types of flooring and their service, not to mention competitive pricing. So, if you are looking for a good deal and a pleasant experience head on up to Jamison Carpet on York Road in Jamison.
Immediately next door is Tapas on York. A neat, intimate restaurant, the selections are often unique and original. The food is tasty. While the prices are not those of McDonald's, they are fair.  Linda and I have eaten there on several occasions and have always been pleased. It's interesting to watch the two owners work in the plainly visible kitchen.
One warning … try to go off hours when it's not too crowded.The noise at dinner time sometimes equals the launch of the Apollo Moon Rocket. During our last visit, we returned home satisfied with our meal, but hoarse from trying to converse with our dinner partners. We learned our lesson.
And if your doctor should recommend you have an MRI, let me suggest Pennsylvania Open MRI/Tristate Imaging on Bustleton Avenue in Philadelphia next to the CVS Pharmacy on the corner of Bustleton and County Line Roads.
It is a very pleasant and airy spot with tons of parking within feet of the front door. The staff is really nice and most important, they have the best open MRI device I have ever been "inflicted" with. And yes, it may be a jaunt for some of our readers, but if you suffer from some "MRI" issues, it might be worth the extra effort to check out this facility.
Oh, it still sounds like ten pneumatic drills "mating" but it doesn't have the same claustrophobic feeling that so many other similar contraptions make you endure. If you "got to go," you'll thank me. Forty minutes, lying motionless in any "Bang Bang Machine" can make you nuts. So, bring some ear buds and music.
Hong Kong Buffet that burned down on Bustleton Avenue at Street Road in Feasterville has reopened. They really did a great job of decorating. The entire place is done in monochromatic shades of black and grey. I visited there to make a sale … no luck … and stayed for lunch.
The dining area has been reduced in size but their selection of "goodies" has almost doubled. I have made the rounds of many local buffets and I believe this one has the most unique offering of all. (Only in America can you get pizza and matzo ball soup in a Chinese restaurant!)
Hugh Frank has been advertising with us in both our publications for almost a year. His work is excellent and clean. He must be doing something right because every time I visit it appears that he is getting busier. He now has two mechanics working for him and I constantly see new and sophisticated equipment being added to the shop. And the little Red Hat Ladies still love him!
I mention his shop this month for a different reason. He shares the station with a firm that sells gasoline, Omega Fuels. No big deal you say, BUT this gas station is no ordinary service station, it's special. Forget brand names. They sell types of gasoline for your car that I have never, repeat NEVER seen sold before. They offer an ethanol blend of 15% (E15) that is EPA approved for all gasoline-powered vehicles 2001 and newer. Then they have E85 which is a higher octane fuel for any car with a Flex-fuel badge on a yellow gas cap. They also carry "racing blends with 114 octane" and a large selection of other concoctions.  Management claims that their blends are far less expensive, better for the environment and gives better fuel mileage. It's a triple "win win".  I intend to test one of their blends next week.
I only noticed how different they were when I spotted that they were shipping a large container to New Mexico. "Old Snoopy Al" had to know more so I began to ask lots of questions of the young lady who works there.  She was a delight and very informative. I would like her to come work for us!
I contacted the owner, who I teased as a "mad scientist," and explained that his business was one of the best kept secrets in the Delaware Valley. I urged him to start advertising somewhere!  I think I got him. Stay tuned.
We have a new advertiser. The owner's name is Frank Walsh and his firm is Elite Contractors. He called earlier in the month and after a brief discussion I knew he was worth a mention. He specializes in water proofing. But what makes him worth mentioning is that he decided to retire several years ago. When he realized that he had guaranteed his work for a specific number of years he kept his doors open in case he ever had to honor one of his commitments. Imagine that?!
Life has been good for Frank. His guarantees finally expired and he was going to retire again. Then he realized that his health was good, his retirement funds "not so good" and he was, to boot, bored. Ergo, Elite is back in active business better than ever… and advertising. Never met the man, but sometimes people send out "vibes."  I believe this is a good guy and if you need any basement waterproofing done, I suggest you call him before you make a final decision.
Back to my favorite, food. I visited Louie's Old Mill in Hatboro last week. They are now serving lunch as well as dinner. The menu is comprehensive and quite different. Linda and I will eat there next week and I will have more to say. But this I can tell you, the old building… and we are talking old… is a delight. If for no other reason, the charm of the historic mill and the impeccable restoration, is worth a visit.
One more "non advertiser" to mention for Mexican food is Rey Azteca on York Road in Warminster. We eat there frequently and have always had pleasant experiences. It is a great place for an inexpensive and enjoyable meal. This old Pizza Hut is constantly busy and they never disappoint. If you enjoy Mexican food you should definitely put this location on your list. And it's a BYOB!
Do you have problems with your feet? Suffer from diabetic neuropathy or foot discomfort in general? You might visit Schukert Shoes on Louis Drive in Warminster. They specialize in helping problem feet feel comfortable in their shoes, regardless size. They carry a broad selection of athletic, casual, work and dress shoes for men and women. And they carry those large sizes and widths that are absent from the big box stores.
Al Schukert, the owner, will work to help you walk comfortably. It's not an easy job, but one he relishes with every client that visits his store. He's worked in the industry for years and is all too familiar with the pain of bad arches, or heels, hammertoes or bunions. It might be worth a visit and give you freedom of walking pain-free. P.S. He accepts most major insurances. Just tell him you heard about him here in my "Travels."
I have to mention The Newtown Theatre before I close. I have not been there yet. I have just discovered it and plan to visit with Linda in the near future. But from their website, and conversations with their members, it appears to be a "small town goodie" with many classic movies and some off beat and experimental programming. They have a large number of volunteers who are trying to keep it alive and flourishing. They need members, more volunteers and donations. So, if you live close by, give them a call. If you live a distance from the movie house send them a donation. Small or large, they will appreciate it and put it to good use. Located on the main drag in Newtown, it's a small town classic that needs support.
I think that's it for now. I'm getting ready for my April tour. Stay tuned for some newbies… you never know where I'll end up or what I'll discover… and you know how I like to share my discoveries! See you in April!