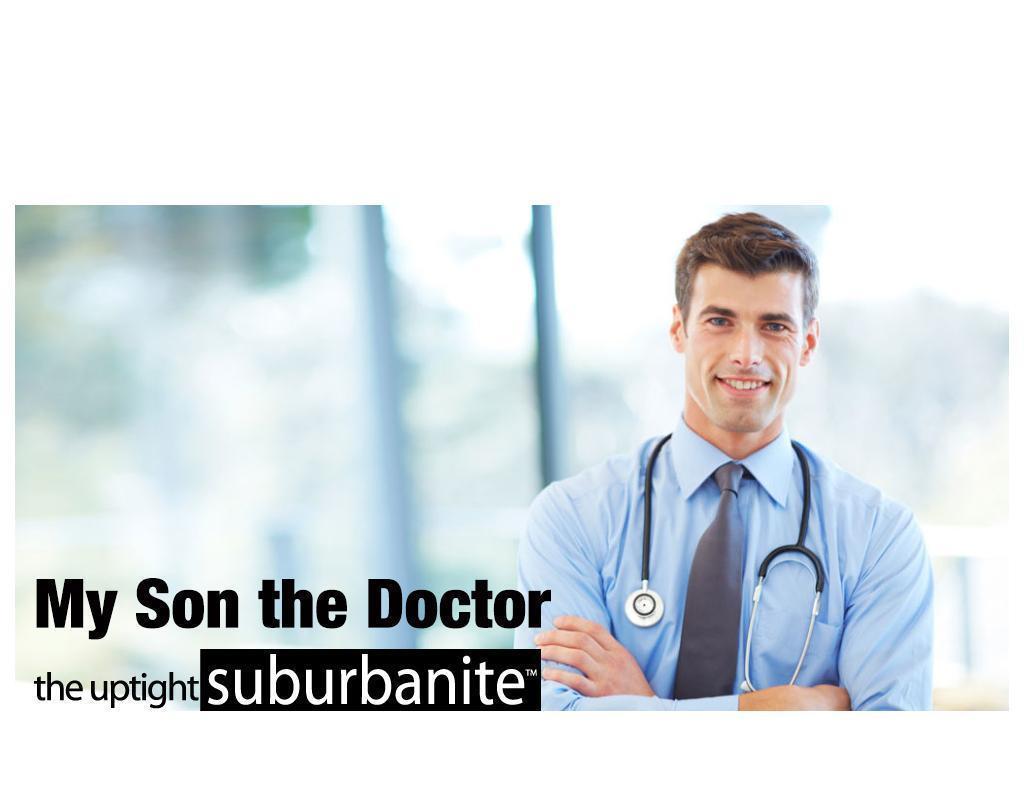 My Son the Doctor
We  have changed one or two items in this article to ensure the privacy of the people involved. But I believe the tale, which is one hundred percent true, is worth sharing. We hope you'll agree!
by Allen Herman
Growing up I had a friend who lived in the neighborhood. We played on the same streets, went to the same schools, attended the same social events and often dated the same girls. We even went to the same university, although we were in separate colleges and belonged to separate fraternities. We both got married right after graduation and started families quickly. In fact, my younger son and his son were born days apart.
When his son, Keith, graduated high school, he attended a major university in the southwest. During his senior year, the lad met a young lady with whom he was totally enamored. To be blunt, they had such a strong sexual attraction that they both almost failed their senior year. They couldn't keep their hands off one another. "Separating the sheets" was far more important than "cracking the books."
Ultimately, just before graduation, they decided to go their separate ways. They lived in different areas of the country, came from very different socio-economic backgrounds and were of different religions. Neither was willing to move, change life style or religion. Compromise seemed impossible. So, after a lengthy goodbye, they went their separate ways. Upon graduation, Keith returned to Philadelphia and she returned to her roots in the Phoenix area.
Some three months later Keith received a phone call from his former girlfriend. She claimed she had important issues to discuss and insisted they get together one more time.  As I said, he cared a great deal for her, and therefore was on a Southwest flight the next day. They met for lunch at the Hilton where he had registered.  After the obligatory discussion, they got around to the reason for the meeting.
She was dying. She discovered she had an inoperable form of cancer. The doctors had advised her she had a year, at best, to live. He was stunned. He was devastated. His emotions ran high but words failed him. He could not think of anything to say to her. Tears were his only response. The silence was long and deafening.  As he sat quietly in the restaurant trying to get his thoughts together she dropped the second part of the bombshell. She was pregnant! Ergo, the reason for the call. A decision was required.
When she discovered that she was pregnant she had decided, after lengthy contemplation, to have the child as a single parent. Her decision was swayed by religious beliefs and personal views. When she informed her family, they went ballistic. They were not only stunned and in a state of disbelief, they were totally unwilling to accept the fact that she had been sexually active, yet alone pregnant. Having a child without being married was a disgrace.  When they learned of the boy's religion they totally lost it and went into orbit. The "sympathetic" family disowned her. Her mother and father demanded she leave their home.
It hurt beyond belief. But, having a decent job and her own place to live, she packed her remaining belongings and left. Several weeks later she began to feel ill. The illness did NOT seem to be related to her pregnancy. Therefore she went to her physician. The news, as I have stated, was devastating. When she turned to her family they basically told her she had gotten what she deserved and offered her neither help or sympathy. Parental support was clearly wanting.
Having the baby with no one to care for the child after she was gone was unacceptable to her.  So she made a decision. If the father of the child would care for their son after he was born, she would carry the baby to term.  If not, she was going to be forced to terminate the pregnancy. Therefore, the meeting and the discussion.
My friend's son begged for time to clear his head and make a decision. So he, Keith, flew home and immediately contacted his father. As was their practice over the years, they sat in the kitchen of his parent's home (the decision room in some many homes) and he informed his dad of the predicament. He desperately needed counsel. Upon hearing the situation, his dad immediately brought his wife into the discussion. After all, in his mind, this was a life altering decision all around.
The discussion was brief. It lasted a mere five minutes. The family came to a rapid conclusion. It was unanimous. They would bring the young woman to Philadelphia. She could live in their home where they would care for her until the baby was born and even afterwards, through her sickness, until she had passed away. The young lady was informed, objected at first but ultimately moved into their split level suburban home.  True to their word, they took great care of her. Thrilled when the baby was born, they tended to her in a most loving fashion until some eleven months later when she passed away. Truth be told, she had become a part of their family and she was missed dearly. They even had her buried in a cemetery of her religion.
The three generations lived together for another three years. By then, Keith had established himself professionally, very well I might add. He was able to purchase a home close to his parents and could afford full time help to assist his parents with his son. He never married. He became active first in the Cub Scouts and then in the Boy Scouts. He coached Little League and became involved in several community organizations. He made sure the boy, his son, received religious training and donated heavily to a variety of charities. He even, much to the surprise of many, on occasion took his son to a church that his mother had identified with.
And now, some twenty five years later, Keith and his dad (his mother has since passed away) will fly out to the very same school where he matriculated so many years ago. They will be there to see Keith's boy graduate medical school. I have no idea what the new doctor's specialty will be but I do know that what ever twists and turns life deals the new doctor,  I am sure a very proud mother will be smiling down on  him on graduation day!
Allen Herman
Your opinions are always welcomed.
uptightsuburban@aol.com