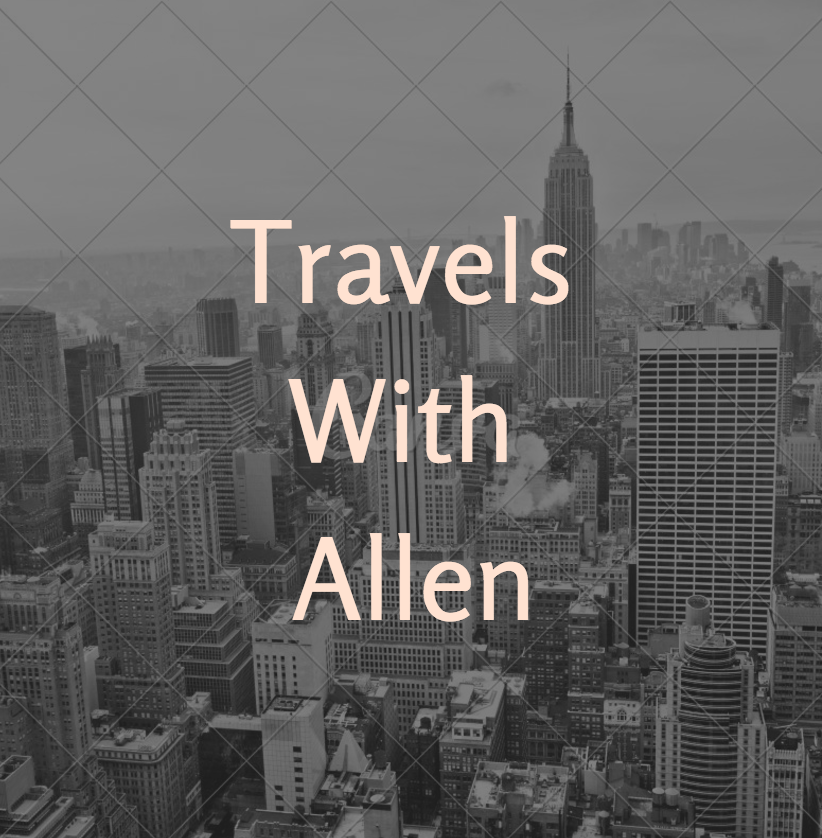 More Travels With Allen
By Allen Herman
I'm exhausted. Linda is exhausted. We are getting ready to launch a new product called Food Ponz and the work load is far greater than anticipated.
Simply stated, Food Ponz is a high gloss booklet that will be stapled, from time to time, into the Uptight Suburbanite. Each page will be reserved for one local restaurant that will be offering money saving coupons and specials for our readers. We are really excited … we think it is a win, win, WIN situation. It will offer significant savings for our readers, an inexpensive vehicle for our advertisers and, make us a couple of extra bucks. We are even in the process of creating a website to host Food Ponz. The site will offer both coupons and restaurant reviews. Stay tuned!
As a result of our new product we have visited more restaurants in the past four weeks than we have visited in the past year. My feet are sore and my waist line has expanded. (I have hidden the scale!) So, if you see lots of eateries in my article this month you will understand why.
We hoped to "birth" this latest baby in the July/Zone 2 edition of the Uptight Suburbanite and also distribute it along the Jersey shore in July. Unfortunately, the firm that we hired to print this new product could not get the booklet to our regular printer in time for insertion and mailing. (To be honest, it was my fault.) So, to keep everybody happy we will insert Food Ponz in the August edition. And because we promised our advertisers Jersey distribution we will send the July edition down the shore as well as the August edition carrying the Food Ponz insert. It's a great deal of extra expense but a promise is a promise.
Things are getting kinda' crazy in our little "'happy hollow." We need additional competent sales reps desperately, another web designer, and additional help in our bookkeeping department. Plus, and this is really important, Linda needs a part time person to help her with her impossible task of getting three publications out the door every month. I also need someone to visit restaurants for Food Ponz and do some review work. So, if you are interested please contact our office for discussion and a possible interview. Hours and salary are negotiable.
I was driving down Philmont Avenue recently and was startled to see Burdumy Volvo's lot empty and the firm out of business. We lived on Philmont Avenue for years and had two Volvos that we purchased from and had serviced at Burdumy. I have no idea as to what happened or the reason for the closing but they were good people to deal with. I wish them all the very best in whatever future endeavors they pursue.
I stopped into Ricardo's Restaurant on Huntingdon Pike in Lower Moreland. It is really a very warm, little neighborhood restaurant that just invites you in. Quite charming. It reminds me of a Hollywood setting. Really very neat with a great menu and very fair neighborhood prices. They have ample parking behind the restaurant. And they're right next door to the Men's and Boy's Store… another area institution for the best dressed men in our lives.
Another restaurant worth mentioning is Flip City Shakes in the Redwood Center on Second Street Pike in Southampton. Very casual dining in a fifties retro-look, bright environment. It reminds me of a restaurant that I would have taken a date to some four hundred years ago when I was a teenager.
When they first opened they began advertising with us. I told Linda immediately that the place was a real winner. The food was very good and inexpensive. For lack of a better description, the place was and is fun! I guess the secret's out because they have opened a second location in Quakertown and are about to open a third location in Warrington. Good luck guys, you deserve it. P.S. You'll be able to see them in Food Ponz. Thank you!!
Colonial Floor Covering on Bustleton Pike is another of my favorite destinations. "Brian and Company" have a large showroom with wall to wall samples of carpet, wood, ceramics and area rugs. He and his late father, Myron, have covered just about every floor we have ever needed covered. We've also purchased our share of area rugs from Colonial. They have a great selection, fair prices and good service. But this little article is not about product or service, it's about Brian.
One morning, he overslept, got to the store late and was relieved to find everything attended to. When he discovered all was done and the showroom was quiet, he decided to do his morning exercises that he had missed when he overslept. What Brian didn't realize was that his cousin, who works in the store, streamed his activity live on Facebook!! Talk about results! He had over three thousand people watching him doing push-ups. Stop in, Brian signs autographs.
There is a new Italian restaurant called U'Panzerott that has just opened on Easton Road in Horsham. The owner, Cosimo, and his wife, Marina, just arrived from Taranto, Italy three years ago and have opened their "dream come true." Their son, Piero, also works in the restaurant along with a daughter we have not met yet. While Piero works in the restaurant he is working on his degree at Widener in Delaware.
The food is excellent. The serving is ample and the prices are just a drop over the norm for a local Italian restaurant. But the menu is the "real McCoy" Italian from Italy. Rarely have I seen offerings elsewhere as they have here.
On one recent evening, we were out to dinner with new neighbors, Sharon and Fred. We checked out three different restaurants finding each one more busy than the other. (Confession time, I don't wait in long lines.) We accidently drove past U'Panzerott and spotted that it was both new and quiet. So that's where we ended up. We had a marvelous meal, and I mean marvelous, and we all took a liking to the family that owned this little spot.
Before we finished dinner, my wife, Fred and Sharon were urging me to give them a really nice article. Linda promised she would do a review (next month) and I promised to give them coverage as well. But time and space for this month were very limited, so I just decided to insert them into this column. Don't wait for our review. Give them a try. I don't think you will be disappointed and you will help a very nice, newly arrived family fulfill "their dream."
Ever heard of Lipkins Bakery on Castor Avenue at Rhawn Street in Philadelphia? Linda met the new owner the other day. Steve has kept most of the old goodies and added some new ones. As was to be expected, she brought home many samples for yours truly to sample. Never one to disappoint, I finished everything that didn't move. Thumbs up! The place is a winner. And before I forget, Lipkins now has a new, and perhaps more respected Kosher seal. As an aside, you don't have to be Italian to like Italian food nor do you don't have to be Jewish to visit a kosher bakery. It's worth a trip.
As we were going to press a new advertiser marched into the office. The minute our staff heard the word "advertiser" they ushered him into my office. He quickly spotted the trains and airplanes on the walls and ceilings. He then produced a series of photos of his mammoth train layout. To hell with magazines and advertising, we had more important issues. We spent almost two hours discussing Lionel trains and the industry before my wife, the editor and boss lady, marched in and announced we were ready to go to press. We were derailed and forced to return to the mundane.
George Bunn does wood floors. That's it. Period! He specializes in the restoration of old and installation of new wood floors. He is a master of his craft and takes enormous pride in his work. He has tons of pictures to prove it. In fact, in parts of Yardley and New Hope, he's referred to as the "Picasso of Wood Floors." If the wood floor you have needs to get its luster back, call George. He can help. He isn't into price, he's into quality. P.S. You can find his ad in this issue.
So that's it for July. We've still got a ton of restaurants to visit. Look for us and them in Food Ponz next month. These are exciting times for us and we hope you'll like the results. As always we appreciate your support, reader and advertiser alike. Thank you to you all! See you next month.