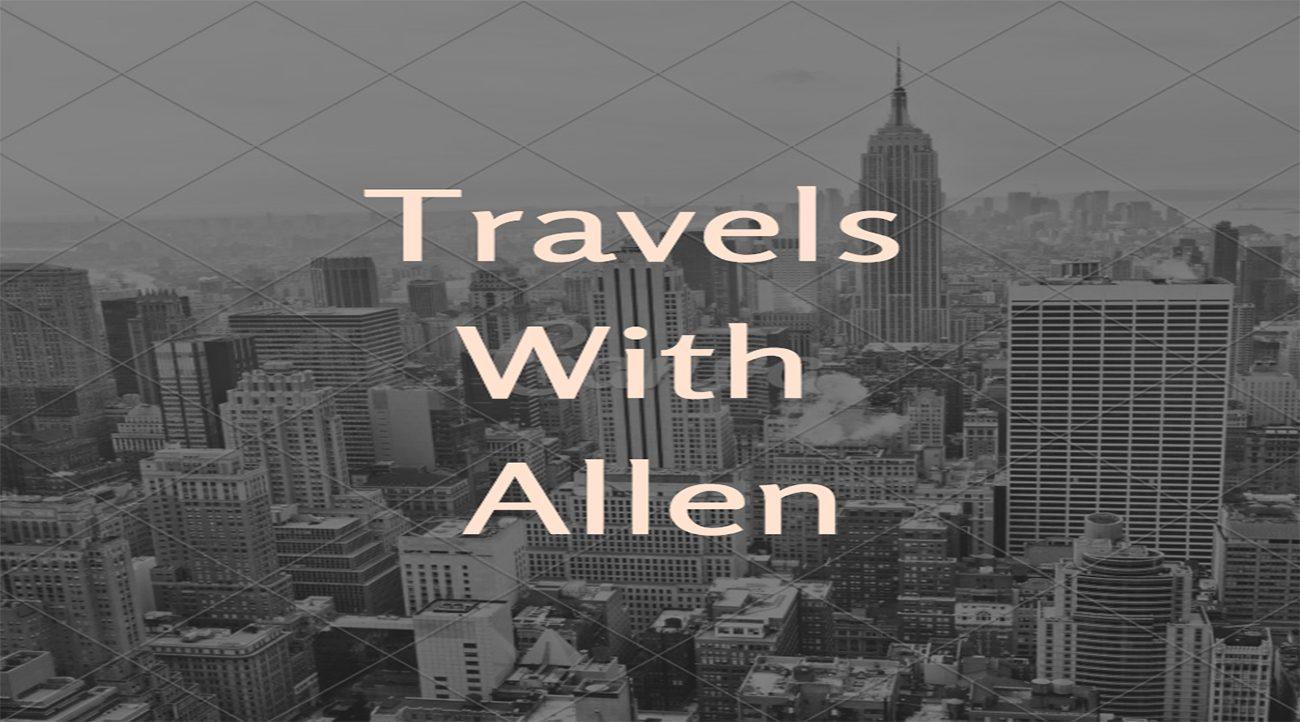 More Travels With Allen
Our sister publication, the Carrier Pigeon, is offering free ads to merchants and professionals who walk into our offices and introduce themselves to Linda and me. I have no idea how long this "freebee deal" will last but we have really been enjoying it. We have met a large number of really nice, and sometimes, very interesting people.
Arnold Feinstein operates a tutoring company called Step-Up Tutoring Center that offers individualized tutoring in a variety of subjects. He's one of those "guys" who stopped in to say hello. He even took an ad in the Suburbanite. (Look in the Business Card section of this book.) He prepares kids to achieve the highest possible SAT scores. If you have a child or a grandchild about to apply for college this is important! Good grades can mean acceptance to the college or university they seek and can often bring scholarship money.
This year, for the first time, the SAT's are being administrated in late August. So, if your kids or grandkids are getting ready to take the test, call Arnold. This retired educator has a pedigree a mile long. Most important, he has a spectacular record of helping seniors become first year college students at the colleges of their choice.
I spotted a very unique product last week. In a nut shell it is an overhead system of metal slates or louvers designed to shade decks and patios from the elements. Basically, it's a horizontal venetian blind. It opens and closes easily and, depending on the weather, can be adjusted to meet your mood or need.
I went to their internet site EquinoxofPhilly.com to investigate before I called the owner, Joe Magle. His advertising dollars are committed for now but you never know. Even though it was a "no sale," I felt it was a product our readers should know about. If you need shade, he's one of the guys to see.
George Bunn has been advertising with us for a long time. We became buddies the minute he walked into the office. We both love toy trains, mainly Lionel, and wood products. He earns his living doing and redoing wood flooring. He is a master at his specialty and just about every realtor in Lower Bucks County, trying to improve the looks and the sale price of a home, calls George to do the floors.
Now he is doing wooden walls as well as restoring floors. The new "in thing" appears to be all kinds of wooden planks, etc. I am not referring to paneling, but decorative and unique walls. I have noticed some of these wood walls recently in several restaurants and offices. I even was in a friend's home who had a den wall covered. It looked great. I liked it. George is the only one I know who is doing this type of wall installations.
We took the opportunity one Sunday to visit Northlandz Train Museum on 202 just north of Flemington. This toy train display is HUGE. From the outside it resembles a mall or a factory. Trust me, it's a monster … loaded with O Gauge trains and fantastic scenery. If you have never been there you must visit it. If you have been there, go again, but bring the kids and grandchildren.
Linda and I also went wandering in Flemington, NJ while we were in the area. We finished the day at the Flemington Department Store on Rt 151 just two miles from the Flemington Circle. The store is huge and carries so many different products that it's hard to describe. They have furniture, bedding, appliances, clothing, footwear and work clothing. Both the store and their large parking lot were crowded.
Their selection of clothing is top notch. They have aisle after aisle, jam packed with some of the best names and brands you can hope to see. When I say top brands, I am referring to real top brands, (Columbia, Maui Jim, Birkenstock and Patagonia to name a few) not Freddie from Feltonville or the Yenta Kevtch designer line from Longport.
An old advertiser, has rejoined both publications. Anthony Charles Homes and Churchville Kitchens, both owned by Charlie Dessert and his son. They are builders of magnificent custom homes along the Jersey shore and in the Yardley area. They also have a second business that does custom kitchens, bathrooms, libraries etc. Recently they've begun selling and installing gorgeous wood flooring.
Their work is magnificent! The first time I visited them I immediately returned to the office to pick up Linda so she could see what I was seeing. I wanted to share the experience with her. I am really thrilled they have decided to advertise with us again. It's a plus for the magazines and our readers.
Should you visit their showroom in Churchville, you will find, behind their large parking lot, a small factory where they manufacture most of the products they sell and install. When you enter their showroom you will see creative samples of their workmanship. Their products are magnificent. I won't kid you, "cheapy inc." on the web may save you money but this firm will make your kitchen, library, den or bathroom the talk of the neighborhood. Jump on their website to confirm my thoughts.
Back to trains for a moment, Joe's Train Station on Street Road in Feasterville has moved to Warminster. The strip center on Street Road that they were located on for thirty years was sold and all of the stores are being torn down. Doug and his people, as of July1, are now in their new store on County Line Road in the County Line Shopping Center.
Trust me, if you're into toy trains, any gauge, the new location is loaded with tons of neat stuff. Doug has old as well as new Lionel and American Flyer product. The store also carries a large amount of scenery and assorted toys. By the way, there is an excellent Italian restaurant, Caruso's, next door.
More train news. The Rockledge Train Museum is about to open its new operating layout a couple of blocks from Huntingdon Pike. I have visited with them often and I can tell you that when it's finished it will be fantastic. Everyone who works there is a volunteer and it truly is a labor of love.
I have a confession. When it comes to technical things I am a Neanderthal. I just can't seem to join the twenty first century. Recently when I went to Best Buy to purchase a new phone for the house I walked past aisle after aisle of new electronic gadgets. To save my life I had no idea what they were, what they did or how they operated. As I was in a hurry and not eager to announce my stupidity to the world, I just grabbed a phone and left.
When I got back to the office I spotted a call from a chap called SmartHouse. Answer from Heaven. He not only installs electronic thermostats and lots of other devises …. he teaches you how to use them. Sign me up! Mr. Dummy has an instructor. I will be able to impress my kids and grandchildren. Zayde isn't so slow after all. Check out his ad on page 31.
I am now able to program my thermostat for when I am home and when I am out and when I am asleep, etc. It will save a great deal of energy and will help with global warming. Plus, I will save a great deal of money. And…. I understand how to use it. Whoopee! I also can now talk to my TV and Alexa and I can put out the lights at night. How smart am I?
We welcomed a new restaurant to the Carrier Pigeon last month, Alarz Restaurant & Grill. Located in in Bensalem, Linda and I checked it out last week. In two words, thumbs up, but I'll let you read Linda's review. She does a much better job at describing restaurants. I just go to eat. You can find her review in this issue.
And if you're suffering from a leaky roof or need your gutters cleaned, make a call to the folks at Huntingdon Valley Exteriors. They do it all: skylights, rubber roofs, vinyl siding repairs and more. They've been doing it for a long time in Bucks, Montgomery and Philadelphia Counties. Tell Joe, the owner, you heard about him here. He's easy to work with and really goes all the way when it comes to customer service with a smile.
One last shout out… Have you heard of Pulsed Electro-Magnetic Field Therapy or PEMF Therapy, for short? It's a kind of non-invasive therapy that could make a difference in the pain you experience in your joints, bone and soft tissue. Look in this issue and you'll see someone offering a free trial of this magnet therapy. I haven't tried it yet, but I do have some friends who have and have found some success with it. It might be worth your consideration. P.S. Apparently they've had success applying this therapy on animals including dogs, horses, etc.
That's it for this month, FINALLY! This column is longer than usual, but I've been traveling more than usual! Enjoy the summer. Please be safe. Above all enjoy!