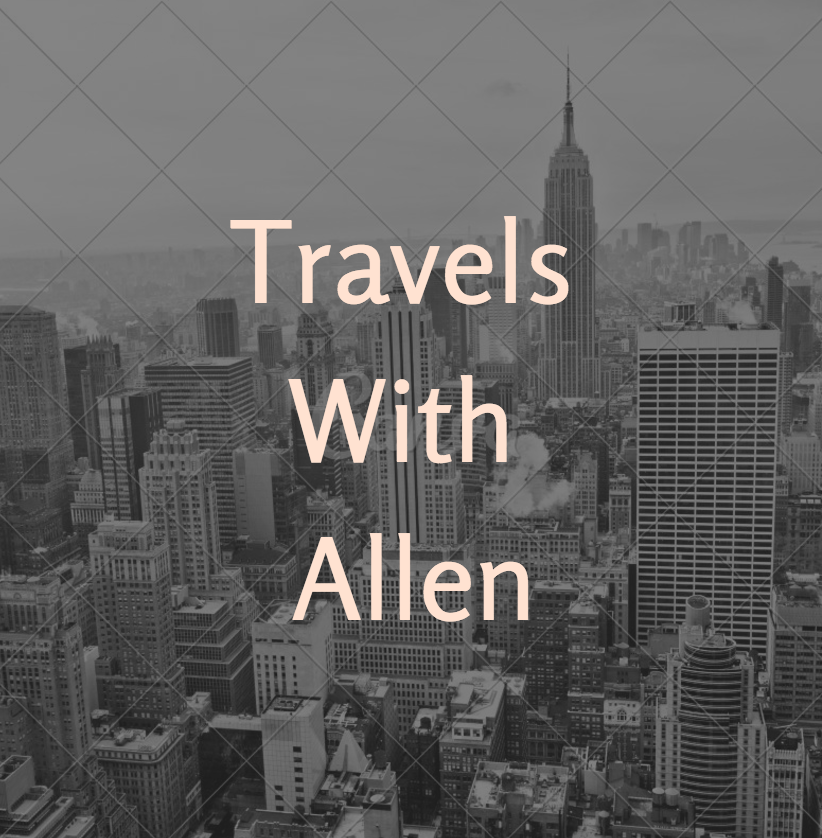 More Travels with Allen
By Allen Herman
This was a very quiet New Year's Eve for us. Our son and our daughter-in-law were invited to a wedding in Washington and we agreed to have our two young grandchildren spend the weekend with us. Everyone had a great time. But I will confess that after just two days we realized that we weren't twenty years old anymore. Two kids are like a tag team match …. one is always in the ring. When they left we just laid on the floor moaning and groaning. Trust me, it wasn't sexual. We were exhausted!
Before the Holidays started I decided to clean my iPhone. Over the past years I have taken so many wonderful pictures that elicit such wonderful memories, I decided to head over to New York Camera on Street Road. One of their talented people sat with me and helped me pick out the best of the best. We then cropped them and I ordered several various size prints to decorate the walls of my new office.
They came out great! For less than sixty bucks I created a wall of memories. Sad to say I had to do it all over again because my sister-in-law and our kids loved the pictures also. In the blink of an eye they were gone. I had to go back and have more prints made.
During our office move I also found some really old 8-millimeter films that I took to New York Camera and had them turned into a video to watch on our TV. Once upon a time I was young.
I learned my lesson, everything is now stored in our vault. Can't trust my own family. Just kidding. But when I urge you to head to New York Camera to save your memories and enjoy your memories, I kid you not.
We have a new advertiser. His name is Jerry Gross. I met him one night during a big party. I knew immediately that he would become a friend. He was bright, funny and very interesting. While enjoying the evening I learned that he was, amongst other things, a financial advisor. Of course, you know that it took a millisecond for me to suggest he advertise in the Bird and the Suburbanite.
Several weeks later he was in Costco and decided to pay us a visit. We had a lot of fun together when he came in. Linda came in and took one look at the two of us and quickly announced that we were kindred spirits and walked out shaking her head. She then walked in laughing and announced that at least Jerry didn't like toy trains.
But to be serious, he is now an advertiser. I will confess that I was so impressed with his financial ability that I decided Linda and I would trust a portion of our retirement fund (which now exceeds thirty dollars) to Jerry for him to supervise. I really am not well versed in investments. I was always too busy when I was younger worrying about "paying bills today" than to worry about "financing tomorrow."
Since we made this decision he has opened our eyes to some great ideas that will help us relax in the near future. To all our friends who read this article every month, if you feel insecure about how your retirement funds are being handled, please call him. I would not say this if I didn't believe it.
Several months ago, I wrote about Insurance Shops on Bustleton Avenue in Feasterville. I stated that health insurance was a mind-boggling adventure into insanity and most of us really have no idea what to purchase. I further stated that the "fear factor" makes us jump into anything that we believe will protect us.
Then I met Ron Hyman and his wife. They PROVED to me that they had the ability and the interest to save their clients big bucks on health insurance. They began to advertise and he began to see a significant growth in his business, (Hint to potential advertisers.) I mention this because Linda and I began to receive calls and personal messages from people who visited them. They really did save thousands of dollars per year for our own next door neighbor when they reviewed their health insurance.
The number of comments we received was so large that they appeared in this column every month. Until the little editor screamed, "Enough!" So, being well versed in the "Yes Dear" philosophy my father taught me many years ago, I have keep quiet. Until now.
Ron challenged me to review my homeowners, life, auto …. You know as Zorba the Greek said, "The full catastrophe." Ron has become a friend as well as an advisor, so I took the challenge. I knew I had done "due diligence" and had already gotten as low a rate for a reputable company as possible. So I bet him a dinner that he couldn't do better for me.
I owe him a dinner. While I had chopped almost two hundred bucks a month off my monthly bill just the past year, he still saved me an additional thirty five bucks a month. More important, he discovered certain serious gaps in my insurance that he was able to correct and still save me over four hundred bucks a year more. Enough said.
Last month I mentioned that a new restaurant had reopened in the Victorian Village complex, Sam's Pizza & Bistro. As I said, Sam was the fourth or fifth in a line of people who tried to make a go of this location. Sam, in my opinion, is here to stay.
His little restaurant has a great menu, the prices are definitely right and the food is good and abundant. But most important, and I have never heard Linda say this before, "The quality was incredible." Linda is not a "raver." I often joke and suggest that I am more of a "common sore" than a connoisseur. This place is good. The man takes pride with what he puts on a plate and the attractive little restaurant earns a visit. I have been very impressed by the number of "repeaters" we meet when we eat there. He's got a great 2 for $20 Special running Monday through Thursday. And he's a BYOB. Give him a try.
Before I forget … Linda and I will be at Richboro Coffee, 6:30pm-8:30pm on January 16, 2018. Scott Zeigen, the owner, and I have been friends ever since we met when I was in the optical industry some two hundred years ago. He is a nice guy and an extremely talented Ophthalmologist. His goal at Richboro Coffee is to have a place for locals to enjoy a good cup of coffee and conversation. So you coffee lovers, stop in and say hello. We really hope there is a large turn out. We have never done anything like this before during our twelve plus years with the Uptight Suburbanite and it may turn into something more regular.
I have spent a great deal of time with Mitchell Schultz, owner of D.Schultz Interiors. I enjoy both Mitchell and his staff. I always take time to wish him a happy New Year and check on his family. One of his sons remains in the military and his dad remains quite proud of him. What impresses me most about Mitch's services is how he and his group of talented design professionals can help make your home more attractive, affordably. Wall coverings, flooring, window fashions… they have it all. No joke, they are good! And, price wise, they are in the ball park. Did I mention that he owns another business – adjacent to D.Schultz – that concentrates on new and used office furniture? He's a good guy to know.
Finally, Dr. Jon Fisher reminds everyone that it's a New Year, you can be a Better You. I like that. With the assistance of Dr. Fisher you can meet that most coveted of new year resolutions, a "Better You." Talk to Dr. Fisher and you'll see how you can be the best, and healthiest, you can be.
That's it for now. Once this cold subsides, I'll be out and about looking for new "stuff" to fill our pages. Stay warm and safe. See you in February…. and dare I say, "Go Eagles!"