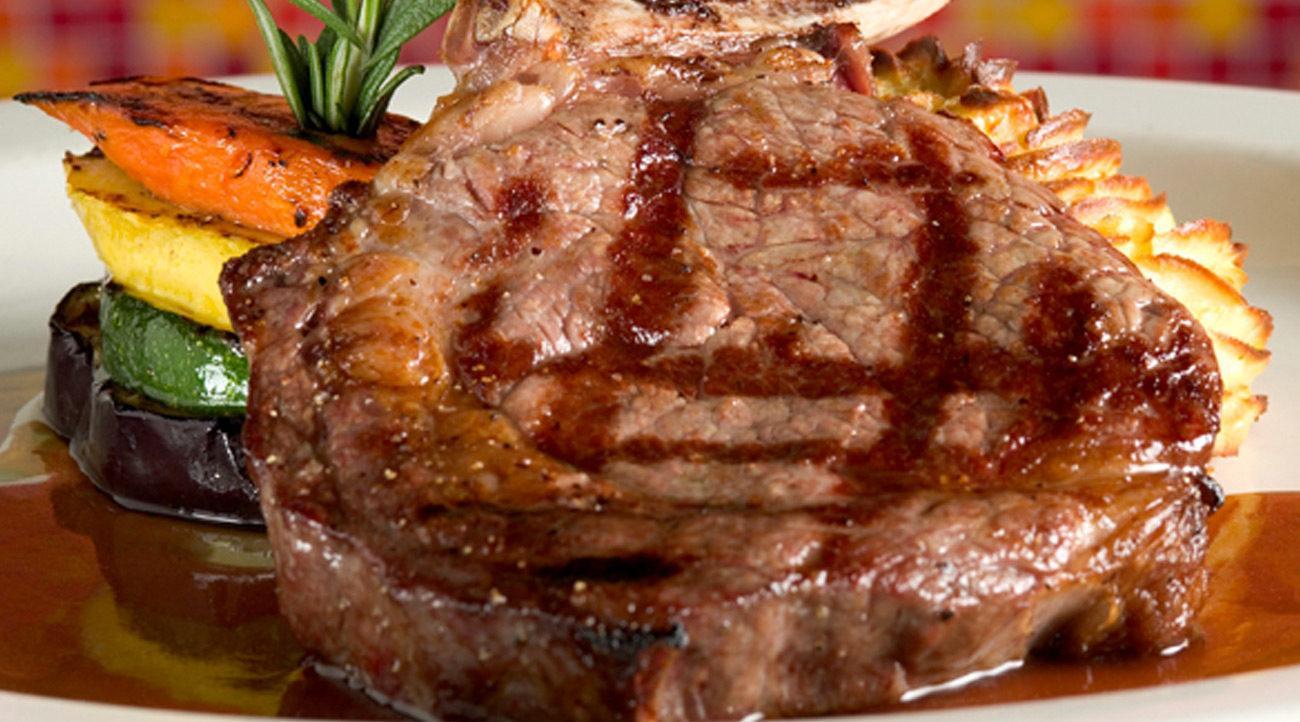 KC Prime
I just finished reading a recent issue of Bon Appetit magazine. In his Editor's Letter, Adam Rapoport urged readers to give lunch a shot this summer. Not a quick, at your desk kind of lunch, but the kind of lunch that encourages you to linger and savor the moment. I would suggest this is good advice year 'round. Perhaps not everyday-advice, but certainly advice that we can follow every now and then. And that's what I did in August… I took a long lunch in the middle of a busy work week. It was the perfect calm for my ragged nerves!!
I had wanted to check out a newish restaurant on Easton Road in Warrington, KC Prime. It's a sister location to the popular KC Prime in Lawrenceville, New Jersey. Located in what was originally a typical "chain-designed restaurant," KC Prime in Warrington is anything but that now. Enter this open, clean-lined dining room, you're welcomed by cool greys and pristine booths. Comfortable, without an ounce of pomp and circumstance, it's the perfect venue for intimate meals or group festivities. And along one wall you'll see a tremendous treasure trove of wines for your enjoyment.
KC Prime, as its name would suggest, is a steakhouse. But it's a whole lot more. On this visit, my partner enjoyed a special salad with shrimp the size of baseballs. Ok, perhaps they were the size of large golf balls, but we both agreed we had never seen shrimp like these before. Grilled to perfection, tender and meaty, in a lightly dressed salad, this plate more than satisfied the he-man appetite of my lunch partner.
The lunch menu offers a selection of appetizers, soups, wraps, entrees and of course, steak. My guest enjoyed one of the soups. Creamy and lightly seasoned it was the just right overture to his salad.
Our pleasant server urged me to consider the special burger on the afternoon menu. "It's the best burger around. I've never had a burger that's this good," she said. "Ok," I said. After all, it is her job to recommend the best offerings, no?! Well, she was right! My burger was delivered just the way I like it. Thick and juicy, with carmelized onions and Gouda, it was delicious. Encased in a roll that was not "too much roll," I was eating MEAT and it sure tasted like it. I was not disappointed. Need I say it was large? It was… so much so, that my guest finally acquiesced to eating the last quarter. Truth is, it was so yummy that we would leave not a crumb of the sandwich on my plate.
Prior to our visit, I Googled KC Prime to get some input vis a vis what to expect and what to look for. A lot of comments referred to their homemade fries, or at least what the restaurant calls "fries." I had to try these. Another home run! Thick and tasty, not greasy, they lived up to my every expectation.
As we lingered over our meals we thought we were finished… until we heard the dessert menu. Do not leave without dessert! We shared a warm brownie topped with Dulce de Leche and whipped cream. The cool confection on top of the brownie really had our mouths saying, "more please, more." Heavenly. My guest, who usually is not a big fan of these kinds of "chocolate, fudgy" desserts, proved otherwise this time. We had to toss for the last bite! I won!
KC Prime offered us a delightful afternoon break. Dinner time is busier but the service is equally attentive. We found the waitstaff pleasant and unobtrusive… and very helpful with their recommendations. And as we looked at other meals being delivered to surrounding tables we could tell the room was filled with satisfied diners.
Whether you're looking for soup or salad, a sandwich, wrap or a 12 oz. filet mignon, I think you might find it at KC Prime. It's got all the right stuff you'd expect at a traditional steakhouse and then some that might not be as traditional. Their Sunday Brunch is a real treat. Offering soup-to-nuts… rather eggs-to-steak, their buffet table table is beautifully presented with brunch favorites. And did I tell you that we found the prices comparatively modest for a steakhouse?
Check out KC Prime. Go for lunch when you can relish the time away from the stress and strain of office and work. Of course they're great for dinner, but for something different and very special, lunch is a wonderfully delicious opportunity. And remember to try their hamburgers. I have to agree, they're the best around!
KC Prime
267-483-8075
580 Easton Road
Warrington
kcprimesteakhouse.com