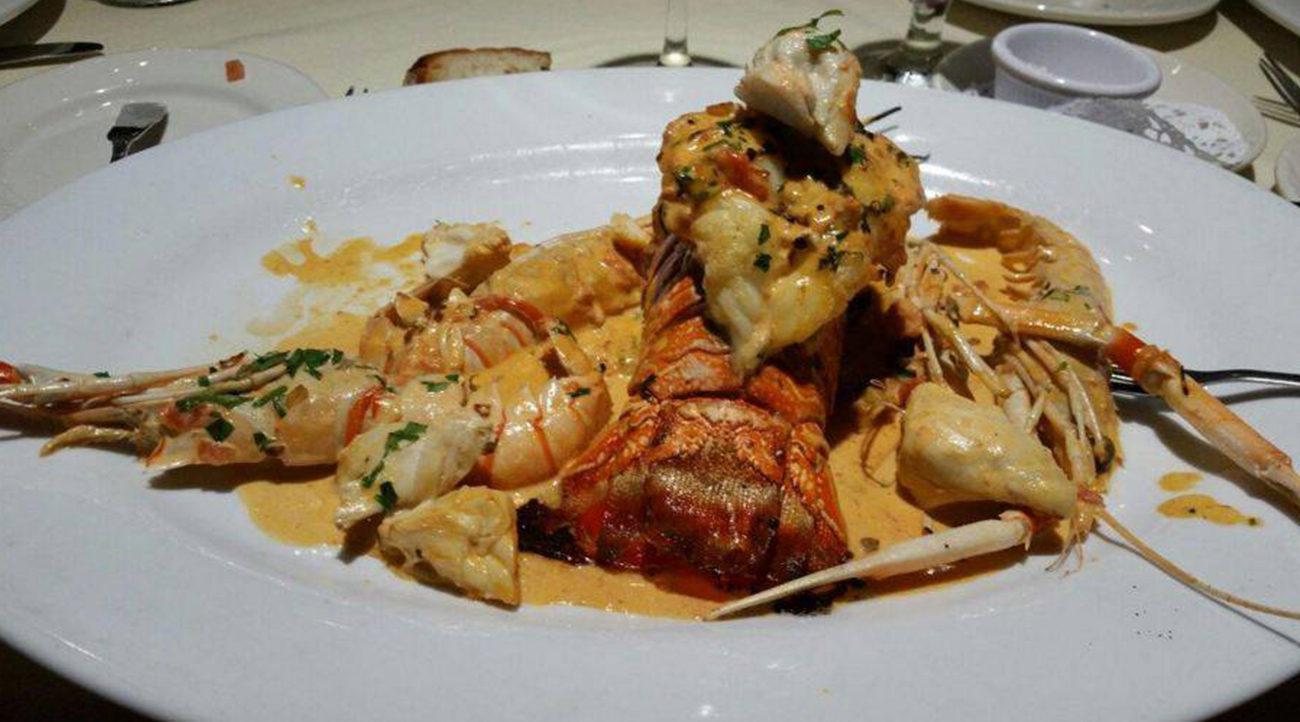 La Cena Ristorante
By Linda Herman
La Cena Ristorante, like its name when translated, is simply a Supper Restaurant…. in the most classic of descriptions. And there's nothing simple about that!!!
Along with our good friends, Sandy and Hank, we dined at this hidden treasure in Bensalem; a true destination restaurant in what some may think is a sleepy suburb of Philadelphia. Well, Bensalem may be "sleepy" but La Cena is anything but, sleepy, that is.
You can find La Cena at the end of a little strip center on Galloway Road. Don't be deceived by its humble location. When you enter its beautiful doors you enter the world of gracious dining and entertainment; a true Supper Restaurant. Big and open, looking like something from a grand old movie, we were welcomed and seated on an adjacent landing with a perfect view of the evening's band. Almost immediately our evening kicked up a notch by the enthusiastic welcome of Massimo Fazzina, the General Manager of  La Cena.
It can be said that a good dining experience is the combination of wonderful food, solicitous servers and the professional staff charged with running a smooth operation. After our wonderful evening at La Cena, I'm thinking achieving a superior menu is the easy part for a successful restauranteur. I propose it's the staff that really distinguishes a fine restuaruant. More of that later.
Once settled at our table, we met our server, Walter. He presented us with a platter of bruschetta, perhaps the best I've ever had. We relished each and every bite. In fact, we asked for a few more pieces. I commented to Sandy that I tasted garlic on the thin slices of toast underneath the tomatoes, providing a "complete" brushetta. I think we could have made a meal of it!
As we enjoyed the brushetta and sipped our wine, the charming Massimo came over to our table again. Walter had already shared the evening's specials and we were reviewing the menu. I asked Massimo was there something he would recommend. With an impish smile he commented that anything we selected would not disappoint. Hank asked about different dishes, while suddenly Massimo asked him where he hailed from. Guess he sensed a fellow "relative" from the Mediterranean!! We discovered Massimo enjoyed soccer, played on a variety of teams, has three young sons, etc. Allen suggested it might be time for another!!! We just had a grand time "schmoozing." And I noticed throughout our evening, he showed no preferences. This is one General Manager who circles the room, visiting every table, making certain that all is well with his guests… creating a lot of laughter and good feelings along the way!
It's was finally time to order…. we started with the Antipasto Mediterraneo. Shared by all, it was a wonderful selection of imported cured meats, cheeses and marinated vegetables. The light dressing was seasoned with fresh herbs. And as we enjoyed our antipasti, I was thinking that this alone could be a meal unto itself…. especially if partnered with the bruschetta or some of the wonderfully crusty bread served on every table.
We all decided to order something different. That way, we would have a bit of a tasting of alternate dishes. I ordered a wonderful Fettucine alle Capesante composed of homemade saffron Fettucine, scallops and wild mushrooms. The scallops were tender and sizable; easily four bites to a scallop. And oh, how delicious! Sandy agreed.
Hank ordered the Salmone Livornese. A grilled fresh Norwegian salmon with tomato, capers, olives and scallion, the dish was accompanied with some fresh vegetables. The salmon melted in my mouth as I savored my taste. Hank thought the sauce was just perfect. He's quite particular about red sauce, often requesting a bit more on the side when we dine out. No such thing happened at La Cena. "The capers provided a wonderful taste, the perfect compliment to my salmon," he said. Allen was more pedestrian in his order. He asked for his tried-and-true Piccata al Limone, a chicken in lemon butter with wine sauce with capers. (Veal is also available.) Served with some fresh broccoli and mashed potatoes, he soaked up the sauce with some of the delicious bread. Did I tell you he thoroughly loved his tried-and-true dish?! I did too!!!
The real surprise came with Sandy's meal. Not because hers was any more delicious than ours, but because it was the more "exotic" dish. She ordered one of the evening specials, Grilled Grouper with pasta. Proving that it pays to be adventuresome, we all agreed after tasting her grouper, that our fish preferences had expanded! Meaty and firm, the grouper was really special. Sandy also cheered the al dente pasta and sauce that came with it. Massimo visited as we were eating and we shared our excitement over our new discovery: grouper. Off course, our new "discovery" was only made so because of the wonderful treatment given it by La Cena's head chef, Norberto Urena. Bravo!!
The evening was enchanting. The music was delightful. Listening to tunes we could sing to, hum to, and if we wanted, dance to, we were still able to enjoy our animated dinner conversation. And it was animated. Massimo saw to it that we were engaged diners. And Walter, our server, was sure to attend to every and any need. Not overbearing, both professionals were the quintessential compliment to the delicious food.
Yes, we were satisfied, but we had to have dessert. Why finish our evening before the last curtain call?! Coffee for all but Hank. He ordered a yummy looking cappucino. Warm and tall, that might have sufficed for dessert, except for what was offered on the tray presented by Walter! We ordered four desserts, lots of forks. You know the drill!!
Hank's Tiramisu was light, fluffy and not too eggy. The pastry chef makes it on site, along with their other delicacies. I enjoyed a piece of Chocolate Death. Thank heavens I could share it. Rich and dense, it's the perfect dish for any chocolate lover, or two or three! Sandy ordered a Pear Torte. Not too sweet, it was something to be ordered again. And Allen, the always tried-and-true diner, ordered Lemon-Lime Cheesecake. Of course, the piece he enjoyed was anything but "tried-and-true."
Our tummies full, our faces wearing broad smiles, we just sat back to enjoy the evening's sweet present of good food, good music and good friends. It was truly a night to remember.
La Cena has music four days a week. On weeknights, Monday through Thursday, they offer a prix fix menu. It's a three course menu including appetizer, entree and dessert, for $19.95 per person. P.S. Tiramisu is on that menu too!! They also serve a full lunch menu Monday through Friday. In the evenings, Monday thru Friday, 4:30-6:30, they have a Happy Hour offering a complimentary buffet. Their beautiful bar says it all. Terrific seating, great drinks, live music, it's a perfect prelude to a wonderful meal.
I could further describe the menu. Go into details about the many specials to choose from, etc. Instead, I'll urge you to visit La Cena. In a time where gracious, attentive service can be found only in the world's most cosmopolitan cities, it's alive and well just down the road in nearby Bensalem. Combine that with its five-star food, and we have a gem of a dining experience waiting to welcome us.
So, we were almost ready to leave, Massimo came over, urged us to take one more curtain call… his own Limoncello. Need I say we were game?! Ahhhhhhhh.
We all had a wonderful time at La Cena. And while the grouper was the surprise "dish" of the evening, La Cena was the surprise package. Soup to nuts, nothing was overlooked. Ask Sandy and Hank. We will definitely be back. Whether we're celebrating something special or want a midweek break, or just want to enjoy a light repast and dance the night away, La Cena will be our destination. Make it yours. And when you go, be sure to tell Massimo we sent you. He'll be delighted. You'll be delighted. This is one dining spot not to be missed.
La Cena Ristorante
2233 Galloway Road
Bensalem, PA 19020
215-639-9969