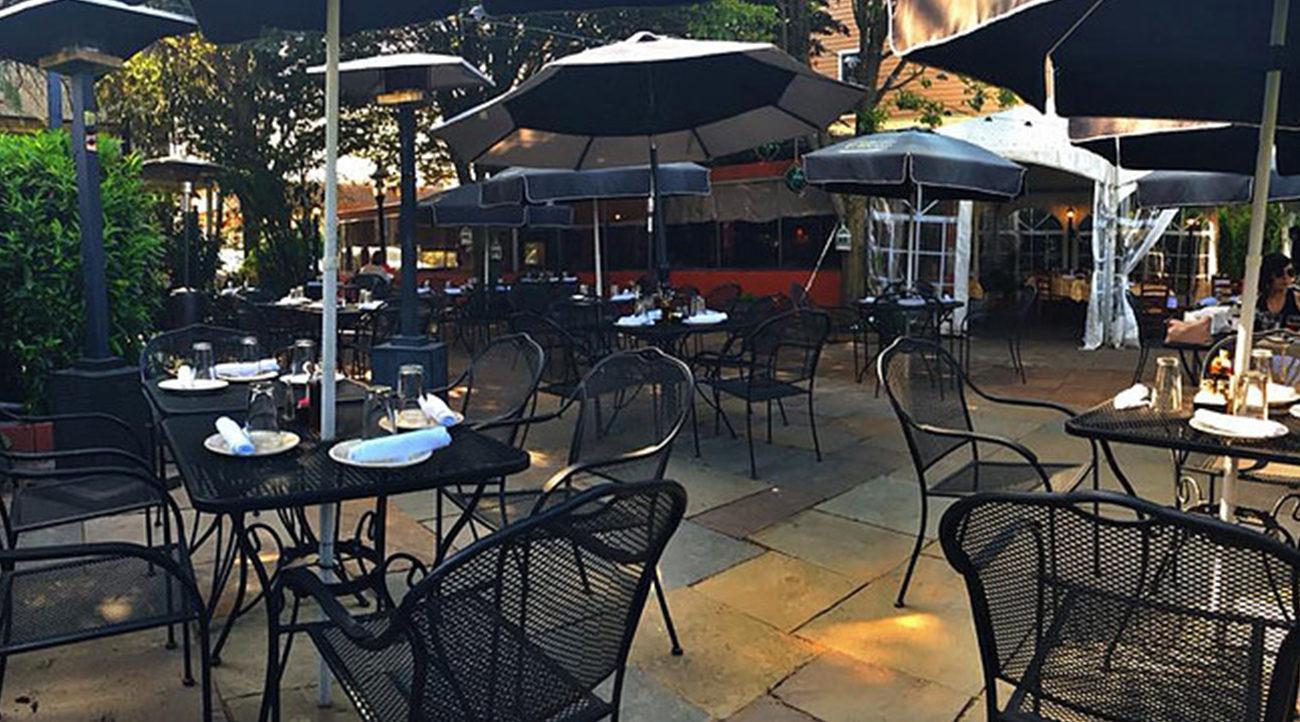 First Impressions Do Count
By Linda Herman
They say that first impressions count. And they do, especially with restaurants!
I'm not VERY good at making advanced reservations. I rarely know what my family is doing tonight yet alone two weeks in advance as some restaurants require. This weekend after Allen and I talked about dinner, I consulted with our friends Susan and Harris, and on Saturday around 12pm I called Vecchia Osteria, a neat restaurant, slightly hidden away in the heart of Newtown. I thought we could confirm our plans without difficulty. I was wrong, almost.
Kelly, the "attentive operator" taking reservations, clearly heard my disappointment when she told me all seatings were booked. But she made a really big difference when she indicated that should an opening appear, she would get back to me. She promised. I must admit I was somewhat skeptical and quickly called Susan. We started mapping out Plan "B." Done!
A short while later the phone rang. Kelly had kept her promise and informed me that, "We have an opening for 8:30." I shared my appreciation but said 8:30 was a bit too late for us. Our men like to eat earlier. "Ok" she said. "If anything pops up earlier, I'll be sure to call." Truth is, I was thrilled she called back once. I certainly never expected another call.  It's not often that a busy restaurant takes the time and effort to seat an unknown customer… you know, someone who is not a regular. And then the phone rang again! "It's Kelly from Vecchia Osteria. We have a reservation available for four at 7:30 tonight." "Really!" I said. "Thank you so much. Will you be there when we come in this evening?" "Definitely," she answered. Susan and I spoke for the third or fourth time. It was a "go." Reservations had been made to dine at Vecchia Osteria at a time that suited us perfectly.
I think I was more excited about meeting Kelly than dining at what is justifiably recognized as a very fine restaurant. And thanks to Kelly, I was already predisposed to having a wonderful dining experience. Her caring attention truly distinquished this restaurant from many, many others. She could have easily just waited for the reservation list to fill up. She was not obligated to seat me or our friends, but instead, she made that extra effort that really impresses and makes a difference in how one feels about a restaurant. It's the kind of difference that separates a fine restaurant from one not as fine. Indeed, Vecchia Osteria had already distinguished itself in my eyes.
That evening the restaurant was filled to capacity. Hungry diners were enjoying the beautifully prepared food. We could sense the excitement of happy diners as we were escorted to our table. We sat down, handed over our bottles of wine to be uncorked and began to check out the menu. Along the way we were presented with crusty bread and herb-filled oil for dipping. (With our wine, we probably could have stopped there!)
Susan and I always share. And we are always ready to order first….. we don't fool around when it comes to ordering food! We ordered a Caprese Salad with vine-riped tomatoes, buffalo mozzarella, extra virgin olive oil, fresh basil and kalamata olives… and a few extra olives on the side. We also ordered a Siciliana Salad; mixed greens with extra virgin olive oil and citrus dressing. For our main course we ordered Pollo Sorrentino, chicken breast topped with eggplant and a light marinara sauce. As requested, the dish was prepared without the usual prosciutto. The salads were perfect.  Our chicken and eggplant dish was yummy. We thoroughly enjoyed the light, not to "acidy" sauce. It's definitely something to order again.
Harris ordered one of the many evening specials presented by our waiter, Massimo. His Seafood Special was filled with a ton of seafood, including scallops, calamari, shrimp and mussels….. Harris approved immediately. The crusty bread helped get the most from the delicious sauce. Allen ordered the Pollo ai Funghi, chicken with wild mushrooms, sundried tomatoes and extra virgin olive oil in a port wine sauce. The sauce on his plate disappeared from sight!
I'd have to say that the sauces accompanying all our dishes were superlative. Light, with a very slight taste of sweetness, they offered a wonderful transition to dessert. And yes, it didn't take long for me to suggest we consider dessert. Smart move!
We ordered so the whole table could share and enjoy a sampling of what might be the best that Vecchia Osteria offers. I wanted the best, so I asked Massimo for his recommendation. "Amaretto Cake and our Cannolis." Amaretto Cake and Cannolis it was…. with four forks. Wow! The Amaretto Cake was deeeelish. Light and fluffy, and with a very slight hint of Amaretto. Even the men gobbled it up. The Cannolis were "mega yum" crisp with a not-too-sweet ricotta filling. The dessert plate was "clean" when we finished.
It was only after our meal that we revealed to Massimo who we were and if it would be possible to thank Pasquale, the chief-owner, for the marvelous meal. Our gracious host came over to our table, as he does to almost all the tables in the restaurant, and thanked us as we thanked him for the delicious meal. And THEN he asked, looking at me, "Do you like limoncello?" I smiled a big YES. So limoncello it was for the finale of our wonderful meal. A special treat from Pasquale. He told us that his lovely wife, Anna,  makes this warming liquor herself. And as we sipped this bold, yet comforting nectar, one could only imagine the attention it requires. Soothing to the palate, later that evening I thought how comforting a sip might be when I'm on deadline!!!
We also had the chance to meet Pasquale's daughter, Carmela. Bubbly and welcoming, and NOTHING like Tony Soprano's "Carmela," this Carmela is a hardworking partner to her father, Pasquale. We didn't get to meet Pasqueale's son, Gennaro, that evening. He was busy serving tables and making sure diners were well cared for. We look forward to meeting him another time. But clearly, Vecchia Osteria's success  attests to the combined efforts, dedication and commitment of family and staff.
We had such a wonderful time that evening that we returned shortly after on a weeknight. This time our son Gabe joined us. Again, our meal was without fault We enjoyed the food, the service and the weeknight ambiance. It was a wonderful respite after a hard day's work.
As we were leaving, the restaurant was filling up. Truth be told, I think we enjoyed the intimacy of a less-filled restaurant. An open and scenic environment, one could really appreciate it. However we understood that a restaurant like Vecchia Osteria is bound to be a preferred dining spot. Pasquale presents beautifully prepared meals. The food is delicious. The ambiance is inviting. And the staff treats the diners with attention and care. One doesn't always find all of these elements in one restaurant. And besides, a jam-packed restaurant exudes a certain kind of energy that is absent in a calm, less-filled environment. When it comes to Vecchia Osteria, one can enjoy both.
So, if you're looking for a delicious dining experience where it's clear that care is taken with what you eat and how you're treated, check out Vecchia Osteria by Pasquale. Parking is easy, bring a bottle of wine and enjoy. Just remember, reservations are definitely recommended on weekends. If you're in a jam though, talk to Kelly. She just may be able to help you. No promises, but I assure you, she and the rest of the gang at Vecchia Osteria will make the effort… with a smile!
Vecchia Osteria
20 Richboro Road
Newtown, PA 18940
215-860-7774
www.vecchiaosteriabypasquale.com