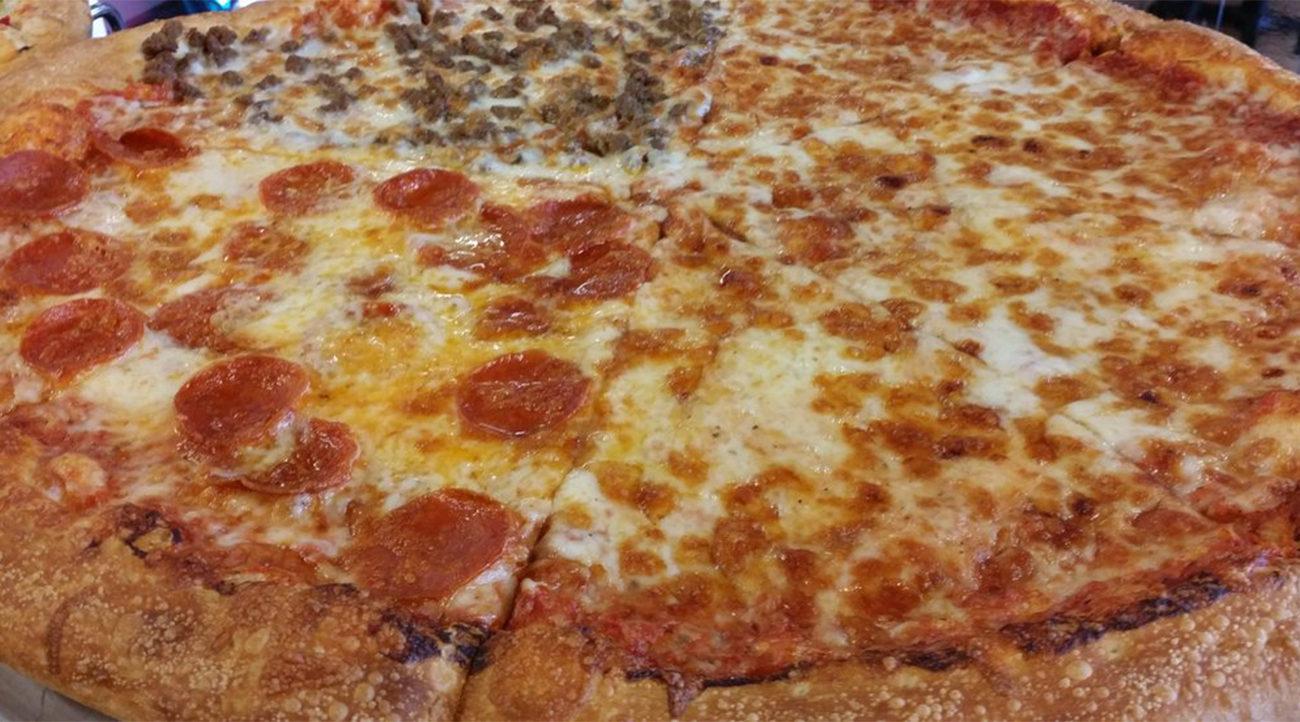 Big Sam's Pizza
By Linda Herman
We don't normally review strictly "pick-up" kinds of eateries. But just one visit to Big Sam's Pizza made us re-think and re-consider our existing guidelines for "restaurant" reviews. Big Sam's is definitely an exception to the rule.
You don't sit in Big Sam's. If you do, it's on a cushy leather chair while you're waiting for your order to be prepared…ONLY if you didn't call ahead. And chances are you won't have much time to get too comfortable because it won't take too much time for your order to be ready.
Our first visit was supposed to be brief. Neither Allen or I were too hungry but we wanted to stop in and introduce ourselves. We had heard through our advertiser grapevine that Big Sam's was a special kind of "pizza place." And it is. Owned and managed by Zafarjon "Big Sam" Halimov, Big Sam's is a whirlwind of activity. Cooks are busy working the grills, up-front staff are busy answering phones and taking orders, and then others are busy filling bags and boxes and readying the pick-up orders. This is no small take-out operation. No under-staffing. Everyone is hardworking and congenial. They'd better be because Big Sam is there almost 24/7 with his hands right in the middle of all the work!
I said we weren't hungry. Regardless, we ordered some food for later in the evening. Our first go-round included a Bella Calzone, large size. More like a piece of art, this beautiful half-moon shaped pastry was filled to capacity with red peppers, mushrooms, spinach, red onion, ricotta and mozzarella cheese. It was huge and could easily serve 4-6 people. All this for $11.95.
We also ordered a Philly Hot Wrapper. Again, stuffed until overflowing with meat, this wrapper was filled with steak, fried onions, mozzarella cheese and sauce. The "wrapping" was thin, not thick, and you knew you were eating much more steak than you were bread. It would be hard to eat a complete wrapper in one sitting…. a half would do just fine. And the price was almost unbelievable at $3.95.
Sam persuaded us to try a salad. We ordered the Caesar and found it crispy and tasty. The dressing was not too strong and the croutons, yummy.
It was not an easy task to place this order. Big Sam's menu is extensive. Including all kinds of pizzas, from the usual to the gourmet like, Florentine with olive oil, garlic, spinach, mushrooms, onion, Feta Cheese and Mozzarella, or Apple with roasted Fuji apples, syrup, and Mozzarella cheese. He now offers the "big momma" of Big Sam's Pizza, a 28″ pizza for any hungry crowd you're serving.
He carries a variety of strombolis for a variety of preferences. Even the veggiest of vegetarians can find something to their liking. We took a large Steak Stromboli to a friend's house and EVERYONE gobbled it up. It was filled to the max with meat.
Big Sam's menu includes, Quesadillas with an Italian twist, paninis, hoagies, grinders, wraps, burgers, ciabatta, homemade soups and more! There are specials everyday of the week. Wings, fries and salads. You can pick from a whole menu of dinners like, Fettuccini Alfredo with Scallops or Shrimp, or Pasta Dinners with Scampi or Ravioli.
If you're getting ready for "Super Bowl" or any "Bowl," Big Sam's has the "big food" for those "big appetites." Poppers, petals, wings, potato skins, shrimp jammers, fried calamari. Just add the paper goods and the soda and even you can watch the game….. thanks to Big Sam!
But back to our visit…. we had some time to chat with Big Sam while we awaited our order. Hardworking and proud of his product, he runs a tight ship. He has to. He's got four young sons at home! And it's clear he likes doing what he does. His walls are filled with letters of "pizza" appreciation from area children. It was sweet to see them in a place of honor.
Before we left with our order, I commented that I noticed a lot of milkshakes had been ordered for pick-up. (I think I missed the boat this time around!) Big Sam just smiled. It seems that along with his pizza, his milkshakes are BIG favorites.
So, set your table, light the candles and make a phone call. Big Sam's Pizza will fill in the rest. It's Big Taste and Big Value…… and don't forget the milkshake!
1371 Bridgetown Pike
Feasterville, PA 19053
215-942-9933
215-942-9323
Mon-Thurs: 10am-10pm
Fri & Sat: 10am-11pm
Sun: 12 noon-10pm