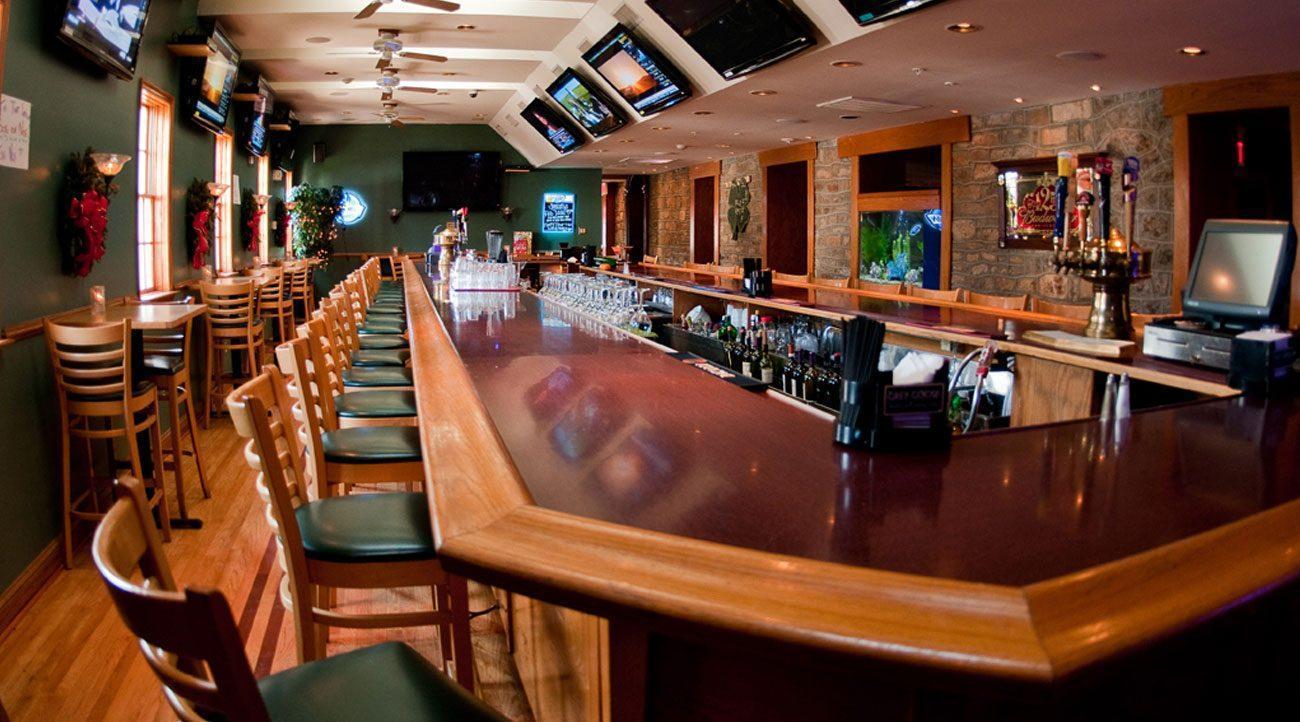 Johnny Apples Restaurant & Bar
Last month Allen and I tried, what is for us is, a new restaurant. Johnny Apples Restaurant & Bar has long been a staple along the Buck Road corridor in Southampton. Known for its historic building and great bar life, we wanted to check out what many of our Bucks neighbors already know.
Our adventure was on a weeknight, and as we entered the restaurant, the neat little rooms within eyesight let us know the building itself has had many lives. Dark, heavy wood, glistening doorways, a beautiful stone fireplace filling a room off to the side; it was pretty neat.
We were shown to our table and greeted by charming "Sara." She quickly said she would be our server as she filled our water glasses and gave us our menus. Throughout the evening she proved a delightful surprise to our adventure, and served as knowledgeable tour guide when we asked about the restaurant. But more of Sara later.
The menu at Johnny Apples is very comfortable. I know that sounds "weird," but what I mean is that the food was "familiar." This is not a pretentious dining establishment. Beautiful surroundings and linen tablecloths, yes…. but no pretention. Dishes include a full range of appetizers, salads, soups, meat, fish, chicken and sandwiches. Sweet Sara confirmed this impression and proved forthright with her recommendations. (P.S. She was quite accurate.)
As we checked out the menu, we noticed quite a few fish dishes and appetizers. The appetizers included Scallops Rochelle, Seafood Spring Rolls, Clams Casino, Crab Bread, Calamari and more. Allen was tempted, and ordered the Crab Bisque to start his meal. Full bodied and meaty, he gobbled it up.
As is the case in many restaurants, diners can select chicken or veal and choose Piccante, Marsala, Florentine, Parmesan, etc. I had heard their Filet and Meat options were excellent. However, after some deliberation, Allen ordered the Veal Marsala, one of his favorites. Served with mashed potatoes (one of my favorites!) and stringbeans, he found the sauce perfect for sopping up with the garlic bread. Oh, yes, did I mention the garlic bread? Served on every table, with your meal, it's quite tasty. The perfect "go-with" for our salads and sauces!!
For my entree I chose one of the evening's specials, per Sara. The Grilled Chicken with Vodka Penne was just the comfort food I was looking for. It was really something that could be shared… but I didn't (!) and I left with lunch for two days after!! A substantial portion of chicken on top of a creamy vodka sauce with penne, I enjoyed it.
Allen and I looked at each other, we were full. Sara was very attentive throughout. She made sure our glasses were filled. She checked our bread basket. And she was thoroughly concerned that we were enjoying ourselves, our first time at Johnny Apples. We learned that she's a local girl, who's been working at the restaurant for five years. She shared the history of the building and its many incarnations. Very interesting, and really a historic piece of the Bucks County landscape.
After we chatted a bit and rested even longer from our meal, Sara posed the ultimate question, "Dessert?" How could we not if we're giving a report of our evening out?!! Minutes later she arrived at our table with a tray filled with wonderful choices. Lots of chocolate, cream cheese or cheescake-filled layers, raspberry flavored, grand marnier topped, etc. You get the idea. We chose a chocolate cake with a raspberry tinged cream cheese filling. It had just a touch of bourbon or some other liqueur that hit the spot. Dense, but not too sweet. I asked if the cakes were baked on site. She commented that many of the cakes come from the infamous Classic Cake in Jersey…. again, my favorite!!
While we were off in our cozy dining room, we could sense the adjacent bar was filling up. Apparently, Johnny Apples has a very loyal, fun, bar scene. It seemed like there were many regulars and not-so regulars enjoying Happy Hour with its discounted drinks and appetizers. I'm thinking it might be neat to check out the bar for another visit.
The restaurant has specials regularly. On Thursday you can get a $5 burger, ALL day. Beef or turkey, your burger comes with toppings and fries. And the fries are FREE. Yum! You can stop in for Light Fare until 11pm. And the bar is open until 2am. It's nice to have a place in the 'burbs for a late night cocktail.
We had a very pleasant evening at Johnny Apples Restaurant & Bar. Our meal was good, the prices were in line with the market and the service was warm and friendly. You might want to check out this Buck Road staple… just tell them you saw them between our covers. And to the owners of Johnny Apples: Sara is a keeper. She's the perfect complement to any dining experience. Thank you, Sara!!
Johnny Apples Restaurant & Bar
215-953-9900
184 Buck Road
Holland, PA 18966
johnnyapplesrestaurant.com