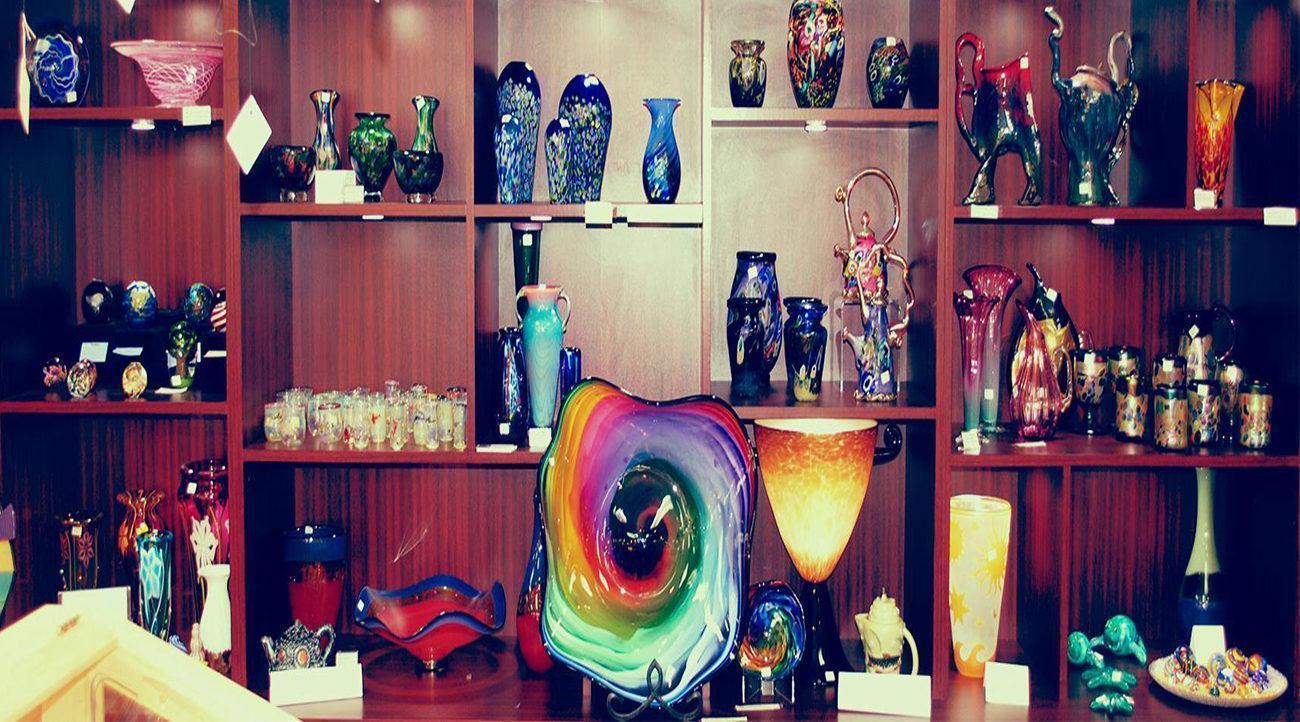 Meet Domenic Graziano & Joanne D'Alfonso from the Artisan Marketplace
By Linda Herman
If you follow James Way in Southampton, the street so famously known as home to the old Carrier Pigeon, you'll end up in front of the area's newest go-to showroom for all that is artisan-made. And while it may be only seven months young, the Artisan Marketplace is already established as a great place for unique, handcrafted gifts – all made in America.
This month I met with Domenic Graziano, one of the partners in this jewel of a store. Joanne D'Alfonso, the other partner, was preparing for one of their many business trips seeking the unusual and beautiful for the Marketplace. Like their products, Domenic and Joanne are "locally grown." Domenic is a native of Upper Moreland and Joanne is from the Hatboro/ Horsham area. Neither has flown far from home!
As I talked with Domenic, (you probably recognize his name) I was a bit distracted by the aroma of the beautiful flowers next door in the flower shop. According to Domenic, he started working with flowers when he was twelve and hasn't stopped since. He opened his first flower store in 1978 in the Hatboro/Warminster area, at a time when the area was in its earliest of development.
Joanne has a background in flowers also. Between them, they've covered the full scope of the industry including, wholesale, retail, expansive wedding design, and, of course, beautiful bouquets that say "I love you." And if you've visited one of the Dominic Graziano Flower Shops, it's not a stretch to imagine the affinity they would have for specially handmade crafts.
The Artisan Marketplace houses a wonderful collection of American-made, handcrafted, quality product. You can find over 150 artists represented nationally. Almost 30% of those craftsmen are from the Greater Delaware Valley. As Domenic explained, "It's hard to believe and yet so exciting to discover the talent that's hidden almost unbeknownest to anyone! Naturally, we showcase the work of many professional artists; you know, those people who might exhibit in galleries, specialty shops, etc. But we also highlight those artists who come to the craft table in retirement, maybe after illness, etc. We've partnered with the Center for Creative Works, a place where mentally challenged adults create artistically valuable work. Many of their projects are on display, ready for purchase. I've got to say, that providing an outlet for these kinds of artists is especially rewarding."
A quick perusal of the shelves at the Artisan Marketplace is a feast for the eyes. I would be hard pressed to select just one gift. Truth is, I'd have to buy a few just to have them ready for giving!! Whether it's wood design, glass, greeting cards, wall hangings, pottery, jewelry and more, you're sure to find something for that someone special. And there's something for everyone's pocketbook. In fact, if you need to take your child or grandchild shopping for a special present for an adult…. I did this many times with our son… they are sure to find something fun, practical and in their budget. The aisles are wide, there's lots to look at AND it's ALL American made! You're never too young to buy American made!
I wanted to find out how this happened, that everything IS American made in the Artisan Marketplace. "It just sort of happened. As we were putting
together the store, and identified the artists we'd
want to showcase, they all seemed to be producing American made pieces. Through happenstance, by just selecting what we wanted to showcase, our unusual gifts and craftsmanship was that of artists found in our 50 states. And we couldn't be happier. Certainly our customers love the beautiful work that we've assembled, but they also really appreciate supporting home-grown talent and product. Visitors, and yes, foreign visitors, want to take home American made pottery or glassware. They don't want to visit the U.S. and take stuff made in China to their home in Ireland," said Domenic.
It's clear that Domenic Graziano is passionate about his "new baby." "Sure I can make a beautiful flower arrangement, but I can't draw a straight line. These are artists." Of course, I commented that I saw a definite correlation between the beautiful arrangements and the beautiful pieces of glass or metal work. Art is present in many mediums, and most of them can be seen at the Artisan Marketplace!
Domenic reminded me that every gift is accompanied with an artist card and wrapped, if requested. AND, you can arrange for your gift to be delivered. Isn't that fun? Have your gift delivered, last minute or days later?! It's service with a smile… the only kind Domenic knows.
He shared that the store is expanding, and that around the first of February he'll be welcoming another group of fifty new artists to the the Marketplace. (That's a total of some  200 artists represented in what will be 1500 square feet of showroom!) Perfect timing with Valentine's Day around the corner. Sounds like another trip for me!!! I've already got my eyes on a few things.
You might want to visit also and see if you can eye a few things! The Artisan Marketplace is truly candy for the senses. It smells delicious, looks beautiful and is bound to put a smile on your face and a twinkle in your eye. Trust me… it will! Thanks to Domenic and Joanne, it's a job well-done. And it's American made too!!
The Artisan Marketplace
60 Jamesway #2
Southampton, PA 18966
267-989-1481
www.LocalArtisanMarket.com