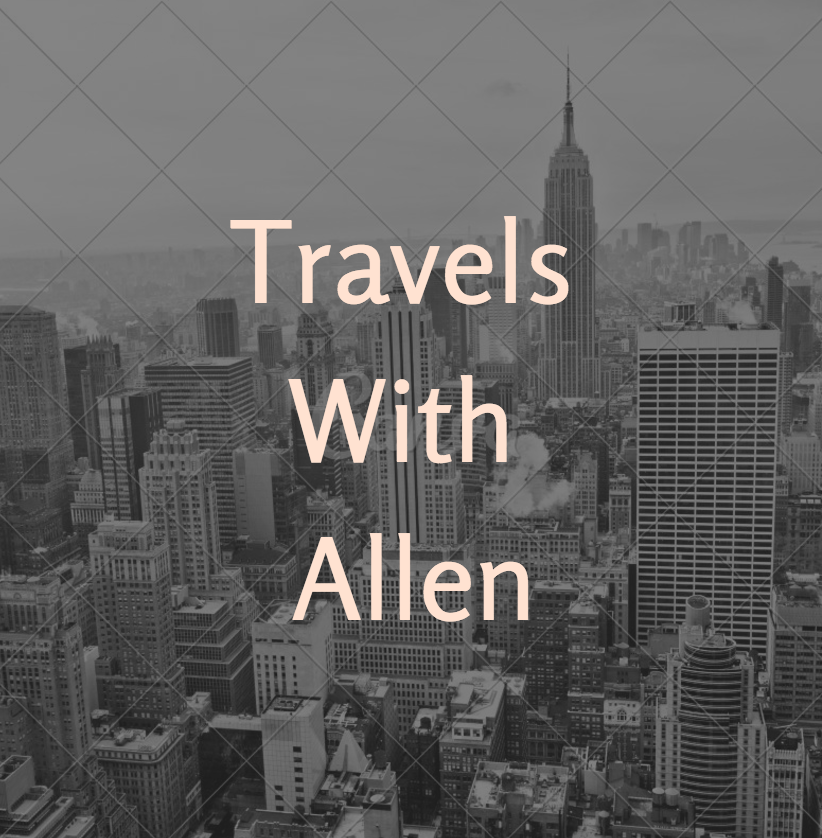 More Travels with Allen
Recently, friends of ours mentioned that they had just been to Moishe and Itzy's Deli on the Route 413 Bypass Shopping Center in Langhorne for an enjoyable evening of good-eating-outside and music. Sign us up! Anything to safely escape the condo for a couple of hours. (Let me just mention that we learned they only have entertainment on Saturday evenings.) No matter.
The Deli did an incredible job of turning a portion of the parking lot into a wonderful little oasis. The entire area was blocked off and about twenty beautiful tables and chairs were arranged with social distancing in mind. Each table had a huge umbrella that reminded us of a NASA tracking antenna. And each table was situated on an individual carpet. Dear readers, this was no slapped-together-for-the-moment pop up. Management spent big bucks to do it right. I suspect this will be a long term arrangement for certain seasons of the year.
We were very pleasantly surprised when the waitress gave us our menus. The selections equaled Katz's in New York. (And that's saying something!) Meat, dairy, fish … all the traditional items that Jewish delis offer … they had it all. Take out, eat in, eat out and curb service are all available options. We were quite satisfied with our selections. The prices are more than fair and part of our selections ending up coming home with us.
As fate would have it, one of the owners was working outside while we were there. A nice guy, we enjoyed a brief conversation with him. We discussed how hard it is for any business (magazine or deli) to remain profitable during these trying times. As an aside, he mentioned that he was forced to get his tables and chairs from a hotel supply firm because no local firms had adequate inventory remaining. If you're going on Saturday night for music, etc, better call ahead and make a reservation. Happy Hour and BYOB are available also.
Speaking about outdoor furniture, we learned from Better Homes Hearth & Patio that, unlike so many firms that are hurting, their business is booming. Many people who have been forced to remain at home during this lockdown are now investing in their patios and lawns. Manufacturers are having trouble keeping up with demand and many retailers are having trouble finding competent staff for assembly and deliveries.
Pete, the owner, and Randy, his long time number two man, have been in business for many years, have retained adequate staff and have been able to call in "several favors" for merchandise. So, unlike many of their competitors, they have inventory and installers. I have purchased items for our home and have also purchased a magnificent outdoor set for our son from them. Like Wendy's, they have the goods. And Pete maintains that despite the shortages, he has kept his prices "pre-pandemic."
One last thing, winter is not that far ahead. If you want to see an amazing collection of different types of fireplaces or equipment, Better Homes Hearth & Patio should be on your visit list. Wood, gas or pellets, they've got it. And if your fireplace requires maintenance, they definitely should be on your short list.
We also ended up in Bristol during one of our save-your-sanity-evening-eighty-mile-go-nowhere drives. We spotted a cute little restaurant on Otter Street near Radcliffe Street. They had about fifteen tables outside and most were empty. When we entered they informed us that they would only seat us inside. We politely refused their "generous offer" and left. As we were leaving Linda grabbed a menu for future use. We quickly discovered how lucky we were; dinner for the two of us would have topped out at over one hundred bucks. Perhaps we'll re-visit when we have something special to celebrate.
As we headed down Radcliffe Street towards the Turnpike we came across Cesare's. We have eaten there many times and I believe we have already reviewed this spot in these pages. It is a FABULOUS old time South Philly-type place. They have set up a big tent with many tables under and near the tent. So, Linda and I stopped for a good old fashion great-for-under-fifty-bucks dinner that was a bargain.
Their menu is comprehensive. It reminds me of my childhood friend Moo Esposito's mother's cooking. It was all there. All the old great, but not fancy, meals. And Cesare's is one of the few spots that still offers veal. Every time we come there we end up ordering something different. We have never been disappointed. Everything always tastes delicious. Prices are fair and portions are massive. The service is always excellent and the owner frequently wanders from table to table making sure everything is as it should be.
If you like Mac and Cheese you are going to have the treat of the pandemic at Old School Burger. This spot shares a location with a Rita's Water Ice on York Road in a former gas station in Willow Grove. Only noticed the spot because I was having Rita's "Goodies" with a soft pretzel next door. When I spotted their sign bragging about their various meals, including Mac and Cheese, I made a mental note for an escape on another boring pandemic evening.
Last night was one of those evenings and Linda and I decided to try their M and C. In a very brief statement, it was the best I have ever tasted. (Sorry Mom!) The blend was perfect, the taste just right …it was great. An eight dollar meal serves two and you'll still have some leftover!! We took three extra containers home. Next boring evening we will go back to sample one of their exotic steak sandwiches.
Note, they don't even advertise with us …YET!
If you're going nuts and looking for an escape, jump in your car and head up US 202 past New Hope, cross over the bridge into Jersey and stay on 202 until you hit NJ 179. On the northwest corner is a large farmers market with an incredible selection of some of the finest fruit and produce from the immediate area.
We head up there about once a month and load up. Their cherries, peaches, plums and corn are tops. I could go on for two or three more paragraphs describing their watermelon, tomatoes, celery and on and on. I think you get the idea, this is the place to hit on a boring pandemic weekend. Just grab a cart and enjoy.
Before I close, I want mention Domenic Graziano's and Artisans Marketplace. The Jewish holidays will start soon. Linda and I have used his flower shop on special occasions for years. The recipients of our beautiful flowers have always been thrilled. Two years ago we visited my son and daughter in Seattle. The flowers we ordered were magnificent. We couldn't thank him enough.
The same buildings also house Artisans Marketplace. Wow, what a wonderful collection of really original pieces. These stores should be on Fifth Avenue. And this is a great time to visit because there is a ton of Judaica on display.
That's about it for this month. Say hello to Fall and all its glory! Please be careful … mask on and six feet apart.
Moish & Itzy's
21-22 Summit Square Shopping Center
Langhorne, PA 19047
215-860-4601
Better Homes Hearth & Patio
386 Lincoln Hwy.
Fairless Hills, PA 19030
215-269-990
Jules @ Market
111 Market Street
Bristol, PA 19007
215-458-7622
Cesare's Ristorante
1407 Radcliffe Street
Bristol, PA
215-788-3831
Old School Burger
1135 York Road
Willow Grove, PA
215-657-5309
Domenic Graziano Florist/Artisans Marketplace
60 James Way #3
Southampton, PA 18966
1800-352-1550
518 York Road
Warminster, PA 18974
215-675-2271
134 Veterans Lane
Doylestown, PA 18901
215-355-1550