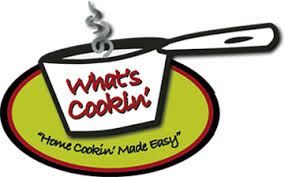 In The Kitchen
You can tell we're feeling the approach of Fall. Casseroles, soups…. Stuff we can prepare and freeze until they're ready to use. Makes life easier – especially during this bit of chaos we're all living through right now. Check'um out and see how they might make your table a little tastier and your "kitchen duty" a bit lighter. I highly recommend the bean soup. Enjoy!
CHUNKY APPLESAUCE W/CRANBERRIES
3 lbs. golden delicious apples, peeled, quartered, cut
1½ C. apple juice or apple cider
1½ C. fresh cranberries (can use frozen cranberries)
½ C. sugar
Combine all ingredients in heavy large saucepan over high heat. Bring to boil, stirring occasionally. Reduce heat and simmer in covered pot until apples are tender. Serve chilled or warm.
LIGHTER THAN MOM'S TUNA NOODLE CASSEROLE
¼ C. dry white wine
4 tsp. cornstarch
1/3 C. flour
1½ C. low-fat milk
1 C. vegetable broth
1 tsp. dried thyme
2 Tbsp. reduced-fat cream cheese
1 6-oz. can solid white tuna packed in water, undrained
1 6-oz. can chunk light tuna packed in water, undrained
1 C. frozen petite peas, unthawed
8 oz. farfalle pasta
½ C. crushed baked potato chips
Preheat oven to 400ºF. Prepare 8x8x2-inch baking pan with nonstick spray.
Whisk wine and cornstarch in small bowl. Set aside. Whisk flour in heavy medium saucepan to remove any lumps. Gradually add milk to flour, whisking until smooth. Add broth and thyme and whisk over medium heat until sauce thickens and boils. Add cornstarch mixture and whisk until liquid boils and is smooth. Remove from heat.
Add cream cheese and whisk until melted. Stir in both cans of tuna with their liquid and frozen pea. Season to taste.
Prepare pasta al dente. Drain and return to pot. Add tuna mixture to pasta and stir to blend. Transfer to prepared baking pan. Sprinkle with crushed potato chips. Bake until top is golden brown and sauce bubbles around edges about 25 minutes.
NOODLE KUGEL (PUDDING)
½ lb. medium noodles
2 Tbsp. butter (mix while noodles are hot)
1 tsp. vanilla
½ lb. pot cottage cheese
Small pkg. cream cheese
½ pint sour cream
3 eggs beaten separately then added to batter
1 flat can crushed pineapple, drained
4Tbsp. sugar
¾ C. milk
Mix first 9 ingredients together. Pour mixture into prepared pan. Pour milk over top of kugel. Sprinkle cinnamon over top. Bake 350ºF for approximately 60 minutes until top is golden brown. Freezes well.
BLACK BEAN SOUP
1 lb. canned black beans
2 Tbsp. olive oil
1 3/4 C. chopped onions
1 C. finely chopped celery
3/4 C. finely chopped carrot
½ C. tomato paste
2 Tbsp. ground cumin
2 Tbsp. ground coriander
1½ C. dry red wine
4 14½ oz. cans vegetable broth
Rinse beans and let stand in large pot.
Heat oil in large pot over medium high heat. Add onions, celery and carrots. Saute until tender. Add tomato paste, cumin and coriander. Reduce heat to medium, cook ten minutes stirring often. Add wine and simmer 5 minutes. Add drained beans and broth. Cover and simmer until beans are tender about 45 minutes, stirring occasionally. Season to taste with salt and pepper.
CHOCOLATE MARBLE POUND CAKE
½ C. semisweet chocolate chips
¾ C. butter
¾ C. sugar
3 large eggs
¼ C. milk
1 tsp almond extract
1½ C. flour
¾ tsp. baking powder
Preheat oven 350ºF. Prepare large loaf pan; 8½x4½x2½.
In small saucepan over very low heat stir chocolate chips until melted and smooth. Remove from heat.
In large bowl beat batter and sugar until light and fluffy. Beat in eggs, milk, almond extract, flour, baking powder. Blend well.
Remove 1 C. of batter to small bowl, stir in reserved melted chocolate and blend. Spoon plain and chocolate batters alternately into prepared pan. Run thin knife through batters to produce marbled effect. Bake 50 or 55 minutes until tester comes out clean. Cool cake before serving. Freezes well!