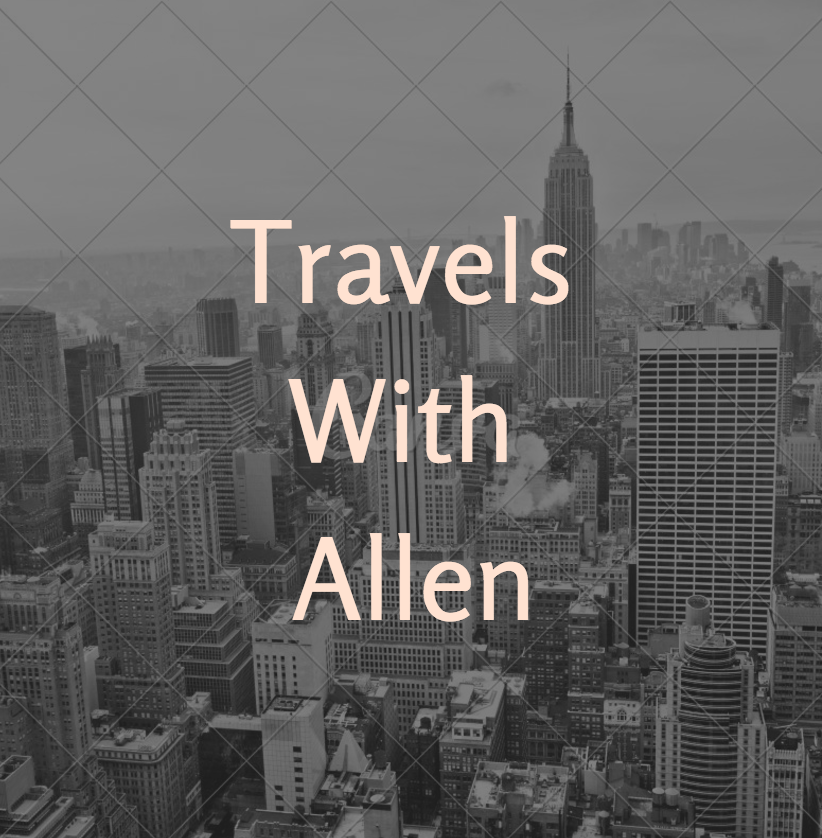 More Travels with Allen
Every month I normally try to write about where Linda and I travel. I review, and often recommend, the different sites, stores and restaurants we visit. This month, I have decided to mention some of the different hospitals, doctors and clinics I have "visited" during the past several months. The names and places may not be as exciting, but sad to say, most of us will end up in need of serious medical attention at some point in our lives.
Let me start with with Doylestown Hospital. If you ever need to visit a hospital for any reason, I URGE YOU to head towards this medical facility. In just a two word description, it's marvelous! Trust me, others may be equal, but they don't come any better. During the last six months I have become an expert. It's great. They are in the midst of a huge expansion and their facilities promise to be better, as well as bigger, than ever. Did I mention bright and cheerful?
What makes this hospital so special, among other things, is their staff. From the people that admit you to the people involved in your release, they care. They were marvelous. In the lengthy time I spent there, I met just one person that, as my mother would have said, "she could live without." The doctors, the nurses, the orderlies, the janitorial staff, even the parking lot attendants, they were competent, concerned, caring and capable. It was obvious that the administration's message sent out to every employee was "take good care of all patients." Even the food was better than I ever expected hospital food to be. It was tasty and varied.
I want to mention Dr. Bruce Morrison. He is our family physician. He is a GP and also has a concierge practice located in his same Mason's Mill offices on Byberry Road in Lower Moreland. Let me be blunt. I don't know enough superlatives to describe his ability. He has saved my life, and that is not a figure of speech, on two separate occasions! My older son, who is now the Chief of Primary Care and Population Health at Oregon Health and Science University (Yeh, I got bragging rights!), has constantly expressed great respect for the speed and accuracy of Dr. Morrison's diagnostic observations. My son has agreed with every action he has recommended. Linda and I have suggested several people visit him when they mentioned various health issues to us. None have been disappointed. As an aside, Doc is also the proud owner of the Jessie Creek Vineyard in Cape May Courthouse, New Jersey. You might say that if he can't cure your ills he can at least make you forget them!!!
Dr. Melchiore (Mitch) Vernace is another doctor I want to mention. He has also become part our adopted family. A nephrologist, affiliated with Doylestown Hospital he is, as my mother would also say, a real mensch. He is a caring and sensitive human being, as well as being an extremely competent kidney doctor. He always has time for his patients. One day when I mentioned I was leaving our offices to visit him I learned that two members of our staff were also patients of his. (Must be the drinking water.) P.S. My son, the doctor, (It's those bragging rights again!) gives him constant thumbs up. Should you need a kidney specialist, he's the guy.
One last "medical" mention… I spotted a drug store that had a big sign in the window that stated "We carry all the things you hoped you would never need." That sign hangs in the window of Max-Well Pharmacy on Street Road. They are more than a pharmacy. They carry chairs, walkers, canes and a huge number of other products that people with health issues may require. And, they are extremely helpful and knowledgeable
Now let's move from "pills" to "plates." I have mentioned Poke in the Warrington Plaza on Easton Road before, but I never mentioned that they serve Hawaiian food which I can only describe as a blend of American, Chinese and Japanese. Most important, everything is fresh (with a capital "F") and tastes great. Even better, for twelve bucks you can order a lunch or dinner that has more shrimp and crabmeat than you can imagine. This chain now recently opened another store in the new Giant Center on Street Road in Feasterville. It's definitely worth a try. Once the word gets out, they are going to be busy.
We are heading into the holiday season and for many of us that means shopping for gifts. Domenic Graziano offers a double header. He has flower shops in Southampton, Warminster and Doylestown and Artisan Marketplaces in the same locations. The stores should be located in New Hope and Manhattan. The eclectic collection of different artists' work is amazing. From pens to wall art to sculpture and Judaica, it's all there. I guarantee that you will find a seasonal gift for just about anyone on your list.
I have sent flowers to family locally on the Main Line as well as to Seattle, Denver and California, and Graziano's has never disappointed. The arrangements have constantly been fresh, magnificent and delivered promptly. The recipients have always been thrilled and the prices have always been fair. This is a good name, at this time of year, to keep on your refrigerator door.
There is a new "Grocery Outlet" that has recently opened on County Line Road in Warminster. The name and size intrigued us so we tried it out. The aisles are surprisingly wide, the offerings were somewhat limited, but their own brands were interesting and made up for the lack of some products. The boss lady (She purchases and removes my selections while I push the cart) was impressed with their prices and selections. The entire store was spotless. Be warned, their bakery products were almost non-existent. Other customers we met seemed quite happy. It's definitely a "bargain market" worth a visit.
Finally, I finish my thoughts with a wish for our readers: Happy Holidays to everyone. If I might suggest, stay away from politics this year. If not, you might end up in Doylestown Hospital or Holy Redeemer Hospital or Lower Bucks Hospital, two other fine local hospitals!
Once again I want to thank our readers and advertisers for their support… this year, more than ever, during our most trying times, they have been here for us. We, Linda and I, sincerely appreciate it. We wish all a happy Hanukkah, a merry Christmas and a happy and healthy New Year ahead. May our nation continue to prosper and remain at peace.