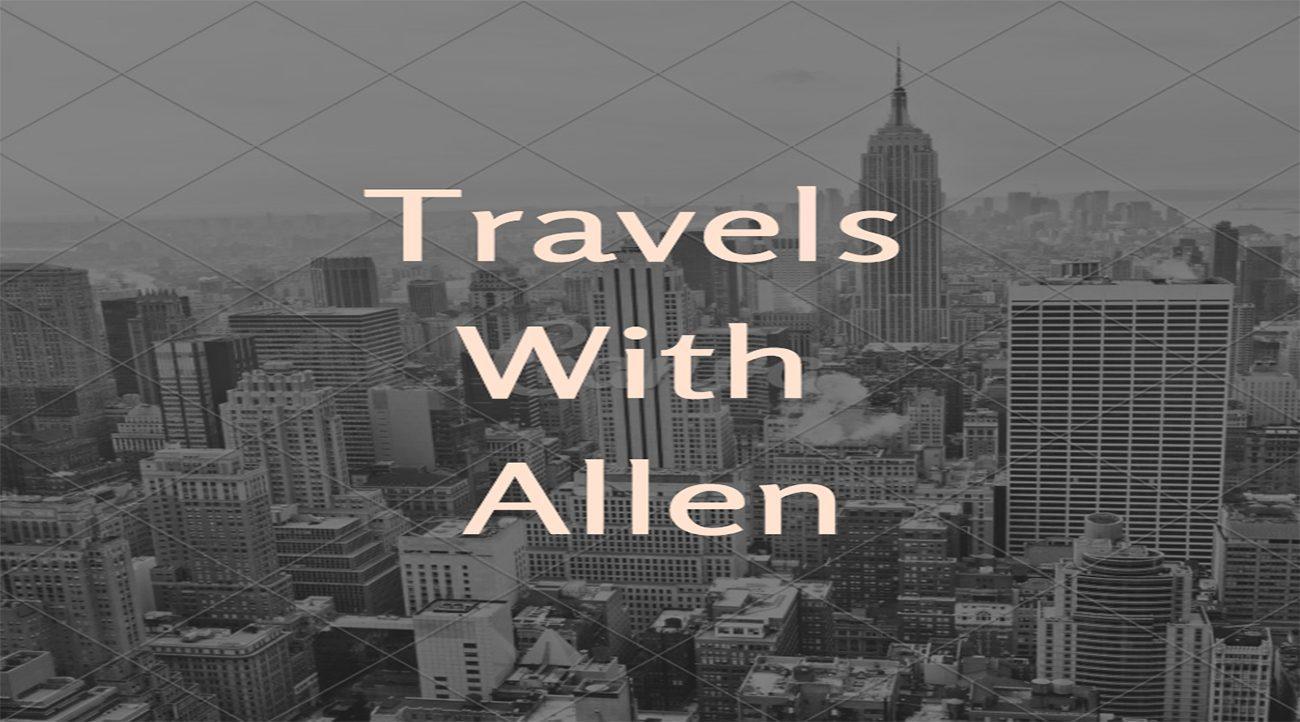 More Travels With Allen
By Allen Herman
We are in! After nine years in one location we were told to "pack up and get out in thirty days." Linda packed while I looked for space. My job was far easier than hers. Anyway we are now in our new spot and we are thrilled. Everything is finished, except the train room. You are welcome to visit.
I had to take several items over to our new spot one evening and had to stop and reflect. We really have been very fortunate. The Lord above has been kind to us. Our advertisers and readers have been great. When we first started publishing during the nineties we really were broke. We used the fourth bedroom on the second floor (Suite 204) of our home as an office and the kitchen for graphics. We now print almost 100,000 copies every month and can be found in eighteen zip codes. We have taken some serious risks and worked very hard, but as I have said, we have been very fortunate and are extremely thankful!
Before I start discussing my travels let me mention that we require additional help. We have openings for two part-time and one full time salaried sales reps. We also now have space for a telephone solicitor and a part time account representative. Also, as we are expanding the circulation of both publications, we will need two additional drivers with insured vehicles.
Now out of the new offices and back on the street!
2nd Street Pike Grill is a new restaurant, just opened in the Redwood Shopping Center on 2nd Street Pike in Southampton. By accident I met with the owners the day before they opened. They are a very nice couple (eager to succeed) whose claim to fame is "healthy" as well as tasty and imaginative meals. I was impressed. I have a feeling they may do well. Healthy is good. Their menu is certainly impressive. If you have time this Holiday Season stop in for a bite and welcome them to the neighborhood.
Sam's Pizza and Bistro has just opened in the Victorian Village complex in Hatboro. Linda and I have been there three times now. The menu is both comprehensive and very imaginative. The prices are VERY right and the service has been great. This is the third or fourth time this neighborhood restaurant has opened under new ownership. I believe that Sam will make it. Their pizza is great. His dinners are quite good. We enjoyed their falafel and the veal dish I had was right on. The people we know who have eaten here have been pleased. You might also want to try them for lunch.
Warminster has a new ice cream store. Uncle Mike's Ice Cream has just opened in a strip center on York Road near Street Road. The little store is privately owned by a husband and wife and their son. They all have interesting backrounds in a variety of professions.The son is a Temple grad and his dad was a chemist for Rohm and Haas in Bristol. Not sure why, but they got the "bug" to open an ice cream store. They began to investigate and they ultimately went to a special ice cream school in Florida and learned about the equipment they would need and picked up a variety of interesting recipes along the way. They are now open for business, making their own ice cream on premises and hoping for the best. "Old Al" sampled several different items and I can give then a thumbs up. Good stuff! Their butterscotch, to quote Linda, was "yummy."
I must mention Danmar Jewelers in Center Point Place on Street Road in Warminster. In a sentence, the owner is a true gentleman and his staff is the best. After many years of depending on my cell phone to tell the time of day I decided to go back to wearing a watch. Smart move, glad I did. But all of my watches had been stored in a little box for years. I gathered them up and headed over to Danmar for batteries and repairs. It was a huge job but the total cost was less than twenty five bucks. Before I left I spotted another watch I liked … they have a gigantic collection of all types and brands. The prices are really good and I now have another watch in my collection. This is one firm I can recommend very highly. The are a class act. My wife agrees and will be going their shortly for an attractive ring she spotted.
If you're looking to give your family a present they'll use and enjoy for years, you might talk to the folks at B.Q. Basement Systems. I know from personal experience that a finished, well designed basement can add hours of fun for both young and old alike. Just ask our son who had an original man-cave on Fisher Road! But we had water concerns that sometimes plagued those good times.
B.Q. Systems specializes in curing the "wet" in your basement. They can help make certain that space is safe and secure from water and mold, inside and outside your house, and ready for a design that will suit your purposes. Brian Quinn, general manager, cautions how important it is to work with a company specializing in the basement environment when looking to renovate. That's where these guys come in. Their expertise can insure a healthy, useful and valuable addition to your living space. It's worth a call if this is something you're considering.
Santucci's on Street Road in Warminster has great Italian food. We love their pizza and their flat breads are BINGO. I mention them again because they are a very nice hard working family and they have an incredible sauce. Now they are selling this sauce. So not only can you get a "goodie box" of leftovers, you can bring home a jar of their sauce.
Level 1 Medical Products is new advertiser that provides life-saving products for people with respiratory problems. If you require oxygen, or are a CPAP user, Level 1 may be of great help to you. I have never met the owner in person but my telephone conversations have led me to believe he is experienced, sincere and eager to help. I know from personal experience that breathing problems can be life altering. So if you have problems I suggest you talk to this firm. They definitely can answer the needs of many people and make their lives much more enjoyable.
And check out Stay & Play Pet Resort located in Southampton. Specializing in pet care, Stay & Play offers your favorite family member the same care you give it when he or she is home. Steve and his wife, Carol, are filled with hugs and smiles for these little creatures, big and small. From someone who's had a pet, I think the best thing is that your pet is NEVER left alone. They provide 24/hour care and you can choose day or overnight boarding. It's a great place filled with happiness. Hey, your pet might not want to come home!
That's about it for this month. Enjoy the holidays. I wish all a very happy New Year and again … thanks for your support and kind wishes.