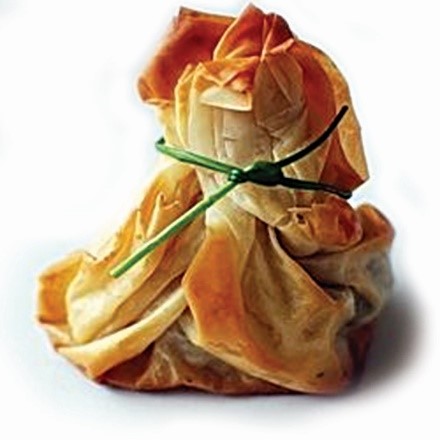 What's Cookin
'Tis the season for more than gift giving…. It's a time of being with friends and family, and enjoying good food and good cheer. The recipes this month can help with the "good food and good cheer" part of any gathering you're planning. They'll be a terrific addition to any host's table you're invited to. The Upscale Mac'n Cheese, portioned out for an appetizer will make any cocktail evening fun. And the Phyllo Purses…. Well, they're a favorite. Try them and you'll see what I mean. Deeeelish is our final word! Enjoy!!!
TOASTED MINI BAGELS
W/SMOKED SALMON & CAVIAR
12 plain mini bagels
¼ C. unsalted butter, melted
Fresh spinach leaves
4 oz. thinly sliced smoked salmon
caviar
Preheat oven to 300°F. Halve bagels horizontally. Arrange cut side up on large baking sheet. Brush bagels with butter and bake until light golden brown, about 8 minutes. Cool slightly.
Arrange spinach on large platter for decoration, garnishing. Spread each bagel half with sour cream. Cover with salmon. Top with small dollop of sour cream and some caviar. Sprinkle with pepper. Serve with ice cold vodka!!
HERBED PHYLLO PURSES
W/ CAMEMBERT & WALNUTS
8 oz. Camembert cheese, cut into cubes w/rind,
room temperature
1 tsp. dried rosemary.
¼ tsp. cayenne pepper
1 egg, beaten to blend
3 Tbsp. coarsely chopped walnuts
15 phyllo pastry sheets
1 C. unsalted butter, melted
Using electric mixer, beat cheese in small bowl until smooth. Beat in rosemary, cayenne and egg. Mix in nuts.
Butter large baking sheets. Place 1 phyllo sheet on work surface. Bruch phyllo lightly with melted butter. Top with second sheet. Brush lightly with butter. Top with third and do the same. Cut stacked, buttered phyllo lengthwise into 3½-inch wide strips. Then cut crosswise into 3½-inch squares.
Place 1 tsp. cheese filling in center of each square. Gather corners together over center and crimp firmly to form purse.
Transfer to prepared baking sheet, spacing purses about 1-inch apart. Brush tops lightly with butter. Repeat until all phyllo is used. Refrigerate at least an hour before baking. Can be made a day ahead.
Preheat oven to 350°F. Bake until golden brown about 20 minutes. Do not over bake!
UPSCALE MAC'N CHEESE
2 Tbsp. butter
3 large red bell peppers, cut into ½-inch pieces
5 celery stalks, chopped
1½ C. whipping cream
1½ C. half & half
1 lb. Blue Cheese, crumbled
1 tsp. celery seeds
3 egg yolks
½ C. chopped celery leaves
1 lb. Penne
¾ C. grated Parmesan cheese
Melt butter in heavy skillet cover medium-high heat. Add bell peppers and celery and saute until just tender, about 7 minutes. Remove vegetables from heat and season to taste.
Combine cream, half and half, AND Blue Cheese in medium saucepan. Stir over low heat until cheese melts. Remove from heat. Add celery seeds. Season sauce with cayenne, salt and pepper.
Beat yolks in medium bowl to blend. Gradually whisk in half of cheese sauce. Return mixture to saucepan and whisk to blend. Add chopped celery leaves to sauce.
Prepare a 4-quart baking dish. Cook pasta until just tender, al dente. Drain and return to pot. Add sauce and vegetables. Stir to blend. Transfer to baking dish. Let stand 1 hour before baking.
Preheat oven to 400°F. Sprinkle parmesan cheese on top. Bake until pasta is heated through and sauce is bubbling and top is beginning to brown.
SPICY-SMOKY PEANUTS
2 cups shelled peanuts
4 tsp. Worcestershire sauce
1 Tbsp. liquid smoke flavoring
2 Tbsp. butter
2 tsp. white vinegar
2 tsp. hot sauce
¾ tsp. salt
⅛ tsp. cayenne
In a bowl, toss peanuts in Worcestershire sauce and liquid smoke. Let marinate about 30 minutes. Stir occasionally.
Preheat oven 325°F.
Melt butter in skillet. Stir in vinegar, hot pepper sauce, salt and cayenne. Return skillet to heat.
Scrape in nuts and marinade. Stir to coat nuts, about 30 seconds. Place nuts on a prepared cookie sheet and bake until golden brown, about 20 minutes.
Cool and keep uncovered about 6 hours before serving. Store in air-tight container.