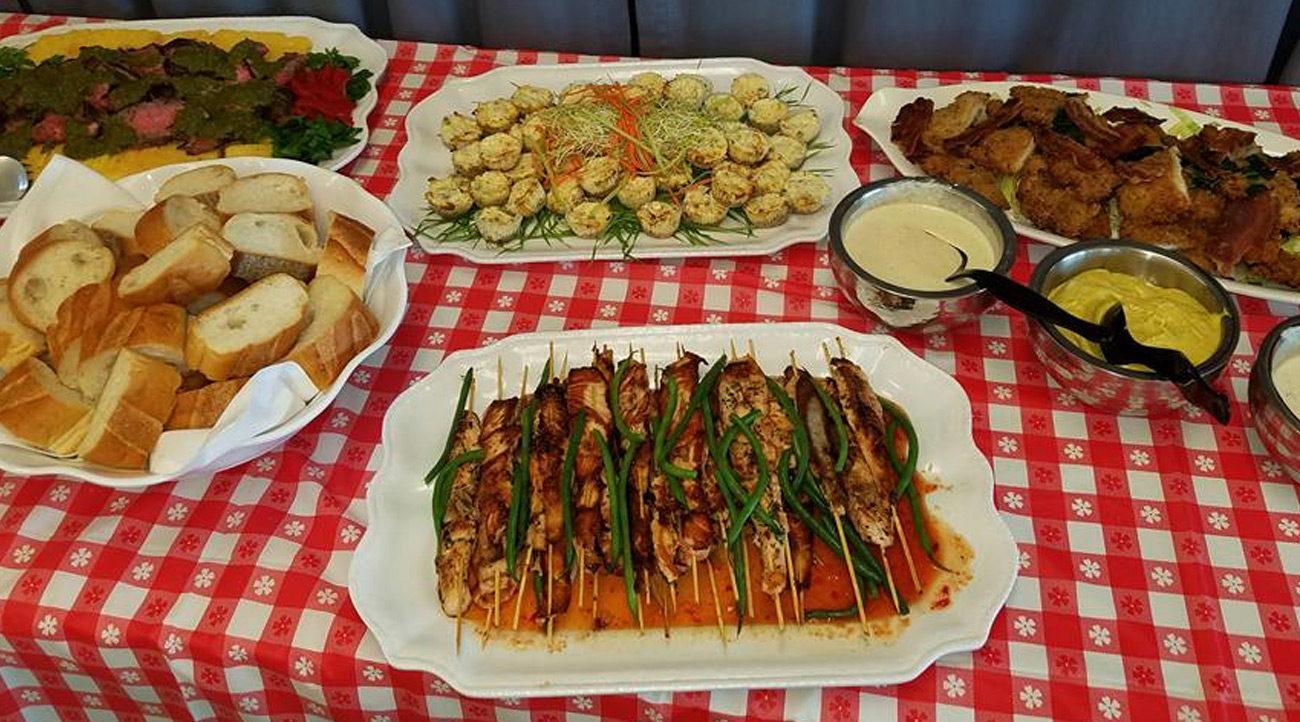 TAPAS on York
There's a new restaurant in our area and it's worth a visit… or two. Tapas On York, located on York Road in Jamison, is open and bright. It's got a freshness about it that compliments the food served.
According to the menu, "Tapas are plates of various types of food. They can be simple or complex flavors served in small portions to be enjoyed by individuals, couples or groups of friends." Its origin is Spain and was (is)featured in bars and taverns offering patrons a chance to enjoy different types of food at one sitting. Tapas On York provides that and a bit more. It has "created dishes with both a global inspiration and the best of regional American favorites." And because we're indulging in "tapas," we're talking about a lot of fun vis a vis the dining experience.
Allen and I squirreled away some time recently and visited Tapas on York for lunch. Long standing signs had forewarned us that the restaurant was soon-to-open. So we were happy to see the parking lot busy and some tables filled this beautiful afternoon.
We were greeted with a smile and escorted to a table and handed our menus. And then, our interest really piqued. The lunch menu, while not huge, is substantial and offers something for every taste. Whether it's something more exotic and something more "down-home," you'll be able to satisfy that yen.
They offer a "Create Your Own Lunch" selection from which you pick a specific sandwich filling, then you select your bread and then you pick your "style." The "style" provides a topping or condiment for your sandwich which could make it a la California Fusion with avocado, sprouts, artichoke spread and cheddar cheese, or New Orleans Cajun/Creole with spicy mayo, tomato pepper relish, tasso ham, andouille sausage and lettuce. There are other "styles" from which to choose, it's your choice.
Sandwich "fillings" are varied including but not limited to Savory Beef Brisket, Hand-Carved Turkey, Chicken Fried Chicken, Beef or Turkey Burger and Cajun Voodoo Pork. Allen chose the Savory Beef Brisket and was not dissappointed. Tender and dripping with gravy, he had it served on a ciabatta roll a la Spanish Influence/Southwest with guacamole, fajita style peppers and onions, pico de gallo, shredded cheese and sofrito. Very good.
He actually started off his meal with one of the few soup offerings; avgolemono. This lemon, chicken, and rice soup was a little different than the norm but equally delicious. More broth-like than what we are accustomed, still deliciously light and lemony.
Salad Bowls are another lunch option. All prepared with fresh ingredients, vegetarian and non-vegetarian can be satisfied. I ordered the Maryland Crab and Avocado which came with jumbo lump crab, baby greens, tomato medley, Green Goddess Dressing and Feta cheese. Very good. The Feta cheese was mild and did not detract from the lump crab. Yum!
Both dishes could have been shared, as if they were "little plates." I would suggest ordering another plate if you are two people eating. (And if you're really sharing, you might order three plates…. that's the nature of "tapas"…. sharing.) Allen ordered the full size brisket sandwich… and we recommend ordering the full size. First, because it's SO delicious, and second, if you're plannning on sharing any of it, you'll want to make sure you have plenty for yourself. P.S. I would say the same thing about the salad I ordered!
The service was congenial and attentive. Our server returned with a pitcher of water to fill our glasses as needed… without being asked. And there were lots of smiles going 'round. I noticed quite a few pick-ups at the register. The restaurant is in the thick of many area businesses and it looks like they've caught on to the value of Tapas On York. The food is good and the prices are right. It's a good recipe for success.
They're open for breakfast and dinner, and if you check out the menu for both you'll see much to picque your interest. I mentioned to Allen, I need to re-visit and check out the Pastrami Kugel with layers of potato, shredded pastrami, onions and wrapped in egg. They serve this for breakfast and dinner. For breakfast, among the list of specials, you can design your own egg whether it be an omelet, hash, frittata or scrambled. Choose from an extensive list of add-ons and whamo! you'll have your own personally designed egg. The breakfast menu is neat, including a Deviled Crab Ramekin, Filet Benedict, Brisket Hash, Pittsburgh Pancake, Omega Oatmeal and more… lots more. They even have a kid's menu for breakfast.
Their full dinner menu really invites diners to take advantage of the tapas tradition with lots of different plates intended to be shared (or enjoy solo). There's a Baked Brie in Pastry, a Charcuterie Plate with assorted meats, fruit, olives, bread and strawberry basil jam, Shrimp and Dumplings Chesapeake, Southwest Calamari, Classic New York Strip, Jambalaya, Lamb Porterhouse Chops and yes, more. They make something called "poutine" which I will order next time around. Crispy french fries, smothered in rich gravy and melted cheese curd, this is a regional favorite in Quebec, Canada.
Tapas On York is a delicious addition to the many restaurants in our area. Its owners bring a world of catering and restaurant experience to this venture. The restaurant's variety and regional twists will delight your appetite, and if you go the traditional route of "tapas," your entire gang will enjoy the mix of global flavors. Whether you share or go "solo", you're sure to enjoy and come back for more. And remember, tell them you saw them in The Uptight Suburbanite!
Tapas on York
2244 York Road
Jamison, PA 18929
267.483.8235