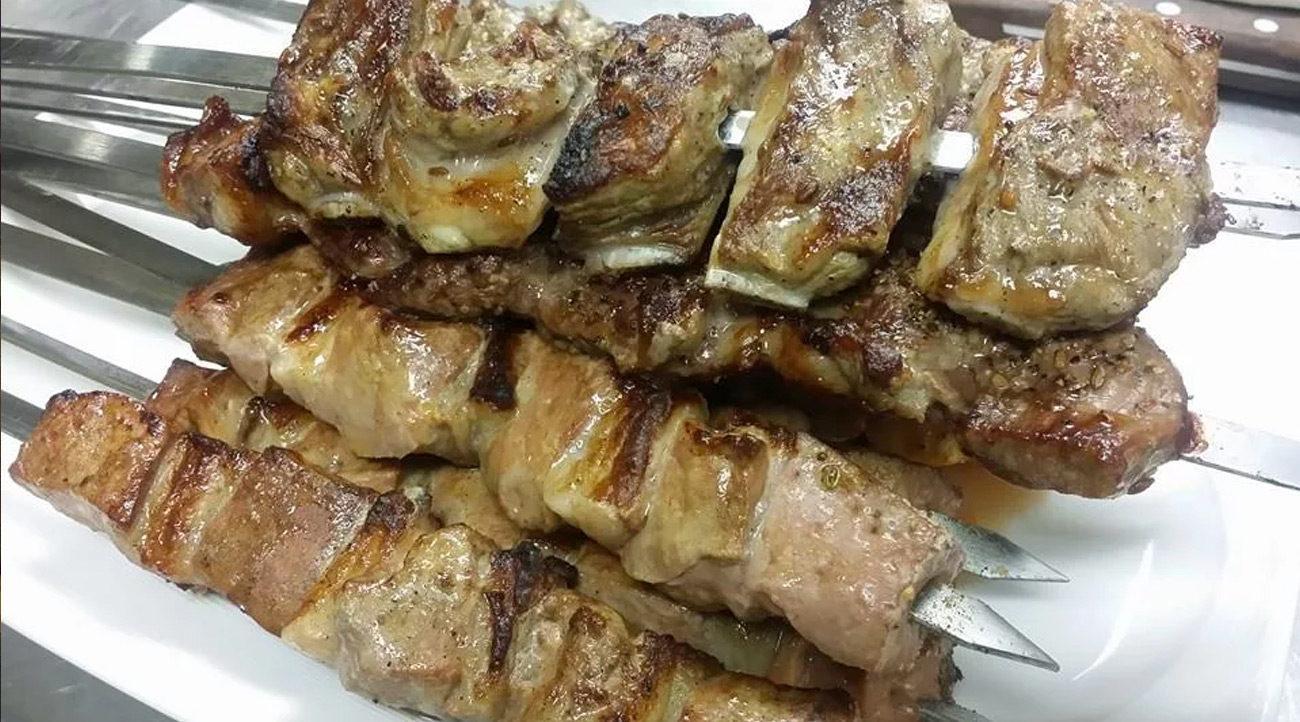 Samarkand Restaurant
Are you looking for a fun evening? Lively entertainment? Good food? Then head on over to Samarkand Restaurant in Feasterville for a taste of Uzbek-Central Asian cuisine.
We checked out this restaurant on a recent Saturday night. Joined by our good friends, Beth and Bruce, their son Edward and my sister, Michele, we had a great time… although I'm not sure if Bruce's entertainment was better than that of the restaurant's belly dancer!!! But more of that later.
We arrived around 7:00 p.m. and were seated at a lovely, linen-clad table, not too far from the dance floor. The music starts around 7:30 or so and the place starts warming up to the tunes of Uzbekistan and America. It "spoke" to me. Don't know if it's because of some Russian blood in my background or Dr. Zhivago in my dreams, but my body was definitely moving to the music.
As we settled in, our waiter handed out the menus and took charge immediately. I was familiar with the menu so we required minimal explanation. But he was ready for the asking and free with honest recommendations. I informed everyone that many of the dishes afforded sharing… Beth looked at me, "Bruce doesn't share." I have to admit, I sort of knew that… so the men "didn't share" but the women did… Ok, we'll plan accordingly.
Samarkand may serve Uzbek-Central Asian cuisine but you shouldn't hesitate to go there. And its origin may sound strange, but you are certain to find something you like. Trust me. Wonderful salads, delicious shish kebabs, lamb, stronganoff, fresh fish… You'll find food you recognize albeit with a slightly different flavor
or seasoning.
We started our meal with their signature homemade bread. It comes as a round disc that you tear apart. A hummus was very smooth, almost tahini-like. The Vostochny Salad with sauteed eggplant, tomatoes, peppers, dill and spices was a hit. And we enjoyed the Pastushy Salad with tomatoes, red peppers, onions and feta cheese. The feta cheese was mild so not to overwhelm the delicious tomatoes. Edward ordered the Fresh Mozzarella and Tomatoes. Allen enjoyed the Lobster Bisque soup, and Bruce ordered the Caesar Salad. Poor Bruce! When his Caesar Salad arrived it was a huge portion of Romaine lettuce, Parmesan cheese, grilled chicken, croutons and Caesar dressing. Need I say he broke down and shared his beautiful salad… he just had to! In fact, all of these dishes could be shared. Portions were generous and beautifully presented. And with each proceeding dish we just ooh'ed and ahh'ed.
And all along the music was playing, the dance floor was filling up, and the wine was flowing. What fun!
While we were lapping up our appetizers, our waiter reminded us the belly dancer performed around 8:30. This was a cue to slow down, perhaps, so we could enjoy the show. We took the hint and patiently awaited our main course.
I already reported the women shared… the men didn't. (What else is new?!) The men ordered grilled fish, Allen got Coconut Shrimp… not very exciting considering where we were dining, but very delicious. All dishes were served with rice and vegetables, garnished pleasingly.
It's the women who ordered "appropriately." (Of course!!) We ordered Pilaf Samarkand, a mix of wonderfully seasoned rice and carrots with lamb. We also ordered the Assorted Shish Kebab Samarkand which included Ribs, Chicken and Ground Beef Shish Kebabs accompanied with home-style fried potatoes. It was the perfect way to get a taste of the variety of foods prepared at Samarkand. The little ribs were especially good. So were the potatoes.
Again, our waiter was very attentive; making sure we had enough water and asking if we were happy with our dishes, removing empty plates, refilling our glasses, etc. I don't think I ever had a more solicitous waiter. And as I looked around the huge hall of a restaurant, I saw all the servers running, bending, talking and helping their respective tables. We agreed that service is without equal at Samarkand.
So it was almost time for the belly dancer. I commented to our table that Samarkand is reminiscent of those long ago dinner clubs, where couples dined and danced away the evening. It's a great place to go with a group. Tables of 10 or more were not uncommon, especially on a Saturday evening.
So back to the belly dancer. As she made her way down from the dance floor, she visited different tables, teasing the diners as she moved through the room. She saw a willing subject in our pal, Bruce, and stopped. She was dancing, he was moving his arms, she was dancing, he was still moving his arms until he finally stood up and wiggled his way around our table. Bruce and the belly-dancer; a sight to behold, enjoyed by all. It was fun! Who knew?!? Beth??!
We ordered one dessert, just so we could sample a dessert. The Chocolate Bombe provided the right amount of "sweet" for our lovely dinner. And yes, we all shared, a spoonful for everyone.
We had a great time at Samarkand. We enjoyed the food and the ambiance. It was fun. Take some wine, vodka, or whatever, and an appetite. Bring along your buddies. If you're going on Saturday, make a reservation. The place starts to fill up around 9:00. If you're looking for a quieter evening, go earlier. If you're looking for more excitement, go later. And don't be bashful to ask your server for suggestions, etc. He or she can guide you in making the perfect meal selections. And remember to bring your dancing shoes. The floor welcomes all who feel the rhythm! And if you're so inclined, like our good friend Bruce, the belly dancer is there ready to accept a partner!!
Samarkand Restaurant
1135 Bustleton Pike
Feasterville/Trevose
267-288-5077
267-988-4153