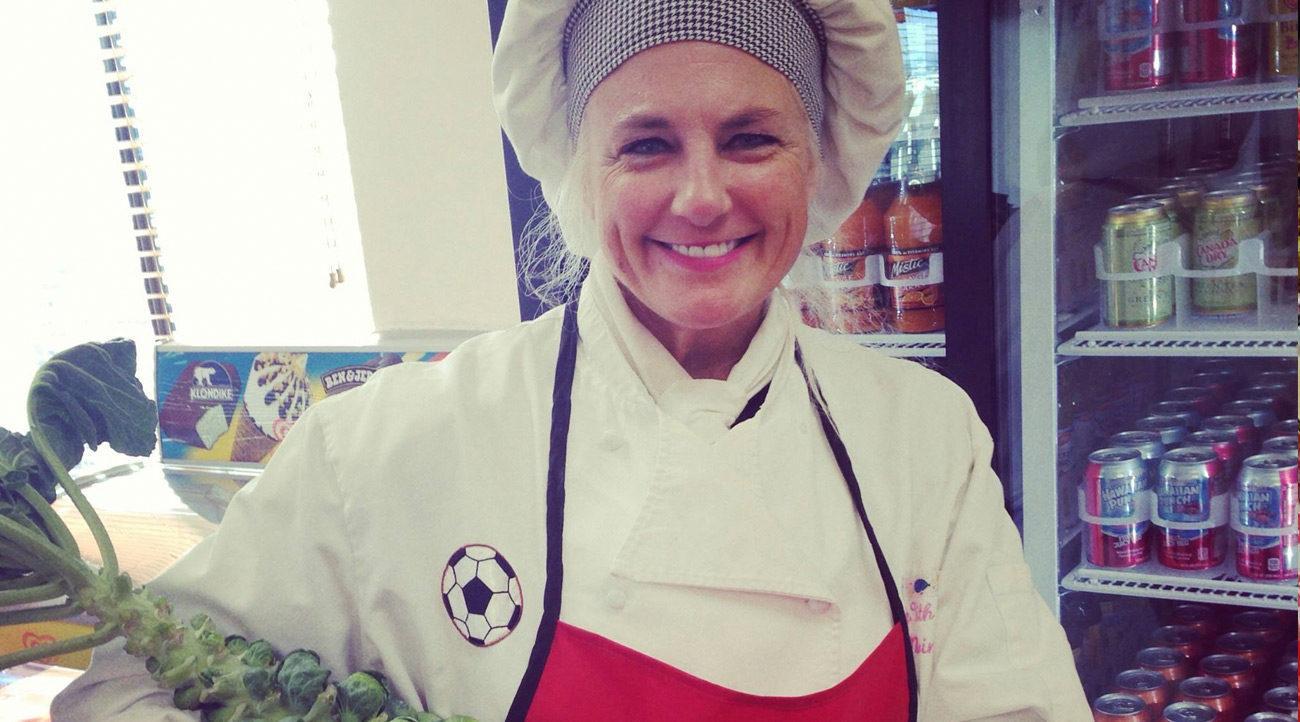 Cucina Marina
Let me start by saying Cucina Marina is not your typical restaurant.
It is NOT typical in the slightest. It's especially not typical for a resort restaurant often catering to the tastes of Zagat-reading patrons. All this being said, this IS a restaurant worth your visit. The food will not disappoint and your pocketbook will wholly approve. This is a discovery in the making. Truly.
I read about Cucina Marina a while ago in one of the local Atlantic City papers… I'm not even sure where. But what stuck in my mind was the location – the Atlantic City Transportation Center. AND, that the blend of food was Caribbean and Italian Fusion. I couldn't even imagine what this meant, but my interest was peaked. So again, when I saw their ad in a local little magazine, I immediately said "We've got to check this out." And check it out we did, happily.
Address in hand, Allen and I drove to the Transportation Center off shore. Making a right hand turn into the complex, we stopped and a guard allowed us to go further. Don't be taken aback, after all, you're now entering the main transportation center for all of A.C. All the casino buses, tour buses and probably some limousines end up in this center in between their routes. They drop off their passengers, come to the Center and wait until it's time to pick them up for their return trip home. A level of security should be expected.
We parked our car and entered the Transportation Center, walking through until we arrived at the restaurant. "You owe me one" was my husband's admonishment. We sat down while I said, "We can leave if you want to." "No, no. We're here already." Like magic, an exuberant Marina Rizzi, the owner, welcomed us. I said I had read about her and when I saw her ad…. well you know the story. (You see, I, too, can be influenced by the power of advertising.)
She directed us to the specials on a board and we reviewed the menu. Truth be told, you can order almost anything you want and Marina will cook it up. Just ask her adoring public, the hundreds of bus drivers who consider Cucina Marina their on little piece of heaven… or haven, as the case may be!
Allen was warming up, my eyes were already twinkling with wonderment. I love these type of eating establishments… even more so when they have a kooky owner who has her finger in everything that goes on… and Marina definitely knows what's going on. It's like her personal kitchen where she gets to feed people delicious food while nuturing their souls at the same time.
So we started to talk some more, focusing on what we would eat. "Have you ever tried chicken jerk? How 'bout collard greens? Let me bring some out while you're waiting for your meal…. I still have some remaining from today." Before she departed, Allen and I ordered our dinners. I ordered grilled chicken with red peppers, rice and broccoli rabe. He ordered a seafood and rigatoni dish with crab, lobster and shrimp. More of these meals later.
Moments later, Marina reappeared with what could have been our dinner! A plate of chicken jerk served with collard greens and another plate of baked rigatoni with the creamiest of cheeses. Then she made a return trip with a salad composed of mixed greens, feta and other cheese, and hearty garlic bread. THEN she asked, looking at me, "Do you like wine?" My eyes were still twinkling, "Yes." And she made a quick return with two glasses of homemade wine that her uncle from Calabria makes. (Remember, we had just ordered dinner!!!)
One dish was more delicious than the next. I love vegetables and the collard greens did not disappoint. Marina doesn't put any pork products in her vegetables as she serves a large clientele of rastafarians and muslims… pork products are a no-no. The chicken jerk had a thick Caribbean-Italian fusion taste and the meat just fell off the bone. My mother would have called it "gedempt." And Allen just gobbled up the rigatoni; thick, hearty, and not dry, it was really yummy. And the salad was fresh with juicy tomatoes and a light drizzle of balsamic vinegar and oil. (I did not owe my husband "nuttin"!!) We enjoyed the wine and learned we could have brought our own. We will next time. Marina's food demands good wine!
There were a few other guests, one of whom was just served his dinner. I commented to Allen that I thought the gentleman got more than he ordered… I could be wrong. Regardless, his meal looked full and delicous. Without comparison elsewhere. Marina doesn't let anyone leave hungry, even slightly!!
We were able to rest a bit until our meals arrived. Good thing, because we were filled with satisfaction and wondered where we'd put anything else. We struck up a conversation with James, one of the regulars. He affectionately referred to himself as Marina's stepson. "She takes such care of every diner. She can cater to any dietary requirement, on the spot, and she will! Her food is the best. I brought my son the other night and he flipped. Eating here is an unexpected delight, in more ways than one." And it is.
Did I mention our meals yet?! Our dinners arrived and Wow!! Allen's rigatoni and seafood was prepared with olive oil and light seasonings, packed with crab, shrimp and lobster. Some rigatoni, but not too much. This was definitely a seafood dish. Not creamy or overburdened with a heavy sauce, it really was the perfect follow-up to all we had sampled earlier. P.S. Half of it was put in a doggy bag and taken home.
My chicken with red peppers was perfect. Served with rice and broccoli rabe, even better. Marina introduced me to "ghost pepper." Apparently many diners use it in the slightest to "heat up" rice, vegetables, whatever. She served it in a miniature cup with an even smaller fork, cautioning me about its "fiery" qualities. I heeded her comments as I put some in my rice. Good thing because, although very tasty, it was hot! Hot! Hot!
We were done. I mean finished. Who could think of dessert?! But Marina insisted and brought over two hefty servings of tiramisu. Fortunately she took one back as we insisted there was no way we could eat both. No way!
So, I'm not really a tiramisu kind of gal. I find it oftentimes dry, sometimes "gunky" and for the most part, not very appealing. Marina's tiramisu is anything but… the chocolate layer was deep and chocolatey. The cake was moist and the cream was light, not sugary. She made a convert out of me. Her tiramisu is a must-have following one of her delicious meals. Just share. And be prepared to be sorry you didn't order more!!
Allen and I had a great time at Cucina Marina. And we'll be going back. It sits along the bay and we discovered you can eat outside on the deck. What a view as the boats go by! And even the restaurant assumed a very special glow as we savored Marina's delicacies. There's a lot to say about this spitfire of a woman. Her 7 year stint as a restauratuer in Trinidad puts the "Caribbean" in Cucina Marina. Many of the spices are shipped over and keep the "heat up" in Atlantic City! She serves breakfast, lunch and dinner and is open 9am-8pm everyday. Breakfast is served all day!
Truth be told, Marina's Cucina speaks for itself and her, and her partner, Mr. Paul. I'm thinking he brings some of that Caribbean bend to the table! I'm not sure the bus drivers and others "in-the-know" will be so happy to be "found" out. This is a sleeper among summer residents and tourists. And I suspect it's a sleeper among year-round residents. It shouldn't be.
The food is terrific, the prices are unbelieveable and the welcome is incomparable. And reservations are not required, unless, of course, you're going with a large group.
Find out for yourself and please, make sure you tell them The Uptight Suburbanite sent you. We hope you'll find Cucina Marina as intriguing as we did.
Cucina Marina
609-705-3558
1501 N. Albany Avenue
Atlantic City Transportation Center
(Across from Atlantic City High School)
Atlantic City, NJ