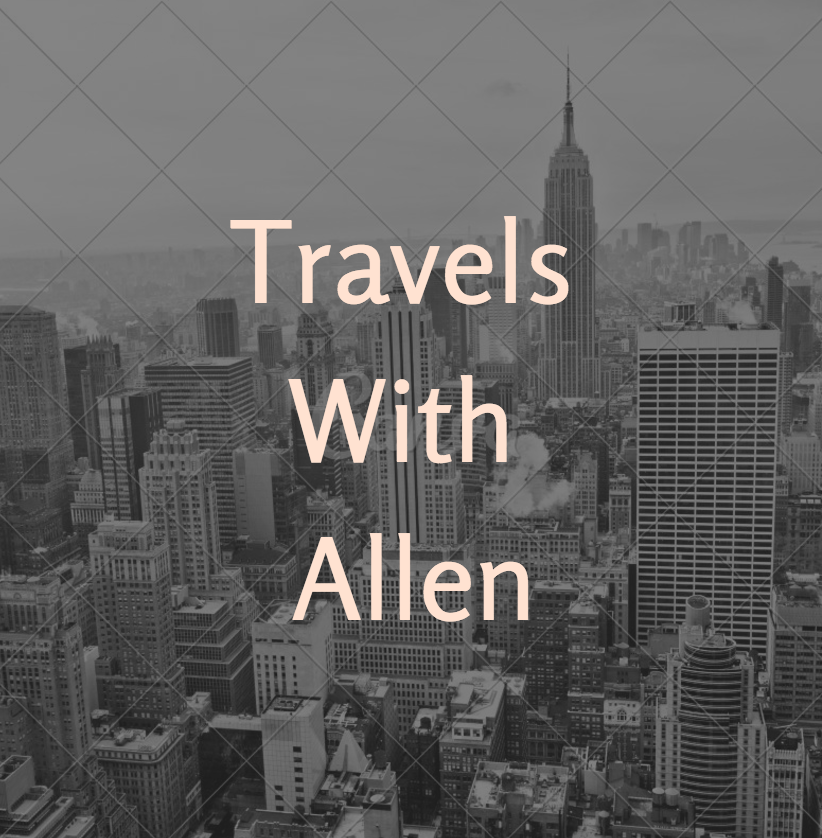 More Travels with Allen
There is a great furniture store in Southampton that has a fantastic selection of magnificent, quality furniture and accessories. I have written about Oskar Huber in previous editions, but recently they have been promoting a sizable discount series of sales that makes their items far more affordable. So, if you are heading down Second Street in Southampton and are doing any refurbishing, you should stop in. You won't be disappointed.
Further down Second Street Pike in the Redwood Shopping Center is Rococo, the Store for Men. The store, staffed by owner Richard Toll (we graduated Olney High and Temple University together) and his talented associate Jennifer, has a fabulous selection of fine European clothing. What always amazes me is that he stocks just about any size his customers may require. From Small to 4X, you will find what you need.
He took care of me for years before I took sick and now, some forty pounds lighter, they still have everything I want. His price points don't compare with Discount Schmeckle, but the quality, selection and workmanship he offers, from jeans to suits, casual to dress, is fabulous. He also offers a great selection of tuxes at very, very competitive prices. Alterations are free on premises.
Two or three doors down in the same center is Flip City Shakes. It's a fun spot with an upbeat and cheerful red and white "fifties type theme." Their selection is satisfying, portions are good and the prices are very fair. And the owners are nice guys.
What I want to mention, of great importance, is that there is a local internet blog that will print, and never correct, anything that has been posting on the site. Recently the site had several people posting Flip City Shakes had closed at the end of the year. Nothing could be further from the truth. In fact when I drove past their Second Street location there was a big sign for help. This type of unchecked information can put an establishment out of business!
Let me blunt, we have an obligation to the readers of our publications to be as accurate as possible. When we err, and we do, we make every effort to make the appropriate corrections as quickly as possible. Some papers and sites are not as dedicated and will print anything that comes to their attention. Innocent firms, businesses and individuals can be harmed badly. So, please, filter what you read and take some items with a grain of salt.
Further down on Huntingdon Pike in Huntingdon Valley you will find The Mens and Boys Store. My older son got his Bar Mitzvah suit from Bonnie when she was located in Fleets on Castor Avenue. She relocated to Huntingdon Valley many years ago and my younger son got his Bar Mitzvah suit at the new location. She also carries a very large selection of men's clothing for dads and granddads. Definitely worth a visit.
Head on down Grant Avenue for the shopping center you hit just before Bustleton Avenue. As I have mentioned many times before, Shish Kabob Palace is just great. We celebrated New Years there with four other couples who had never been there. Not only were they thrilled with our suggestion, two couples actually ordered extra meals to take home… and no, they weren't "doggie bags."
In the very rear of this shopping complex is Steve Stein's Famous Deli. It is a great old fashion Jewish deli with everything you would expect to find including a pickle barrel. And if you love cinnamon buns, this is the place. If you are an astronaut on the moon who likes these little square delights, take the next rocket back to Earth and head for Famous. They are really that good.
Before I forget, Hobby Lobby just opened a new store in Horsham. To be honest, we have yet to visit this chain. But now that they are in the area, we will hit their newest location. They enjoy a splendid reputation. Another chain in the area that we have visited often is Ollies. They have a store in Hatboro and another one in Bristol. The stores are a great place to just shop and cruise. The place is fun and you never know what you will find. Their prices are great and many of their selections are unique. They also have a vast book selection and a fabulous selection of small appliances.
I frequently mention the "parking lot" test when mentioning businesses and restaurants. Since the Country House Diner on York Road has opened, from day one, their lot is packed. We had breakfast there recently and it was easy to see why. Just like our other favorite diner, the Red Lion Diner owned and operated by Gus and his brother, George, their selections are incredible, portions are humongous, prices are very fair and everything we have tried since their reopening weeks ago has been excellent.
Before I forget, a new Mexican/Dominican restaurant, Gallo Tropical has opened on York Road in Hatboro. They were located in Centennial Station before making the move. We visited recently and were delighted with our meal. You can expect a more specific review down the road, but for now, we encourage you to step outside your comfort zone and see how comfortable you'll really be in Gallo Tropical! If you go, parking in the rear of the building is adequate, but a little tricky.
We've needed to ship some flowers to friends and family recently and we turned to Artisans Marketplace and Graziano's Flowers in Southampton and Warminster. Dominic and staff have an incredible selection of truly one-of-a-kind unique gifts and magnificent flowers under one roof. Linda and I were in Seattle for our grandson's Bar Mitzvah. We made arrangements for Graziano's to send flowers. Once again, they were gorgeous. Thank you.
If you are hungry in Newtown there are a large number of neat restaurants on the main drag. Linda and I have always enjoyed The Green Parrot. It is one of many restaurants that you will spot as you meander through the area. Oh, and don't forget the Farmers Market in the huge shopping complex in town.
Languishing for the taste of Thanksgiving? The Thanksgiving Specialty Sandwich at Johnny G's in Trevose will satisfy that yearning and a whole lot more! We like his White Fresh Garlic pizza loaded with spinach, tomatoes and garlic…. and we hear his pulled pork is REALLY something special. Call ahead and bring home some of the best pizza around. And tell Mandi, the owner, you heard about him in the Uptight Suburbanite!
And there's a neighborhood hospital in our greater area that truly serves the community. Lower Bucks Hospital in Bristol proclaims it's "Your neighbor for life." And it is… for all stages of life. Look for our column about this hospital in next month's issue.
That's about it. Many more spots I want to mention, but I'm out of space. (I'll have more next month!!) Please write to me and share your thoughts.