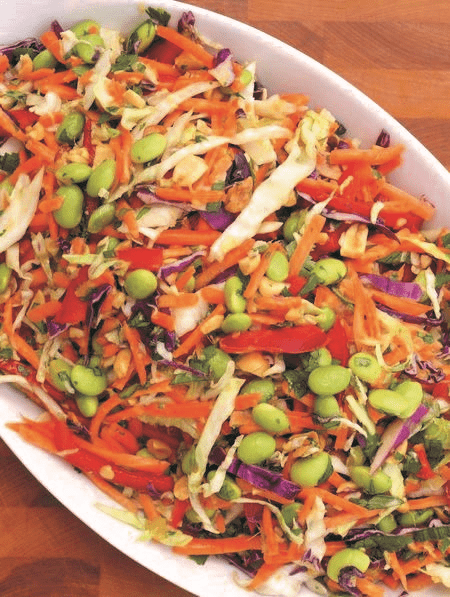 What's Cookin'
CAMPANELLE PASTA SALAD
1 lb. Campanelle pasta
½ C. olive oil
1 small red onion, chopped
2 Tbsp. minced garlic
1 6-oz. can tuna, drained
2 C. cherry tomatoes, halved
8 oz. artichoke hearts, thawed & quartered
2 Tbsp. capers, rinsed & drained
2 Tbsp. chopped fresh thyme leaves
½ C. chopped parsley
salt & pepper to taste
Prepare pasta al dente. Drain, reserving 1 C. pasta water.
In a large skillet, heat ¼ C. oil over medium heat. Saute onion until soft. Stir in garlic. Add tuna to skillet, breaking it into chunks. Spoon in cherry tomatoes, artichoke hearts, capers and thyme. Cook, stirring intermittently until tomatoes begin to soften.
Add remaining oil, parsley and tuna/tomato sauce to pasta. Gently mix until coated. If sauce needs thinning use some of the pasta water. Season to taste and serve either warm or room temperature. P.S. Can replace tuna with salmon or chicken.
BLACK BEAN & AVOCADO DIP
1 can black beans, cleaned, rinsed & drained
½ cucumber, peeled & diced
1 orange, peeled, sections cut in half
¼ C. chopped scallions
2 firm-ripe avocados, peeled, pitted & diced
2 Tbsp. white vinegar
2 Tbsp. olive oil
salt & pepper to taste
In a medium bowl, toss black beans, cucumber, orange and scallions. (If making ahead of serving, do not cut up avocado.)
Add diced avocado to bowl and drizzle with vinegar and oil. Season to taste.
ASPARAGUS WITH…
Dijon Vinaigrette
Add 2 Tbsp. grainy Dijon mustard to 1 C. good vinaigrette. Serve cold over asparagus.
Curry Mayonnaise
To 1C. mayonnaise add curry powder and Worcestershire to taste. Don't add too much curry as curry's flavor deepens and settles in time. (Could be a good dip with fresh veggies.)
RASPBERRY SAUCE
1 12-oz. package frozen, unsweetened raspberries, thawed & drained
⅓ C. sugar
2 Tbsp. Grand Marnier
Puree all ingredients in processor. Strain into bowl. Cover and chill about 1 hour. Delicious on pound cake, ice cream… just about everything. Can sit in the refrigerator for weeks.
ASIAN SLAW WITH PEANUTS
½ C. vegetable oil
½ C. rice vinegar
2 Tbsp. oriental sesame oil
1 tsp. soy sauce
6 C. thinly sliced Napa cabbage
6 scallions, sliced thinly
6 oz. snow peas, cleaned, sliced lengthwise
1 large red bell pepper, sliced thinly
½ C. roasted peanuts
Whisk first 4 ingredients in a small bowl.
Mix cabbage and remaining ingredients in a large bowl. Toss with enough dressing to coat. Season to taste. P.S. Can purchase already chopped greens, cabbage, etc. and just mix up dressing for salad. Don't skimp on roasted peanuts. They're a must!