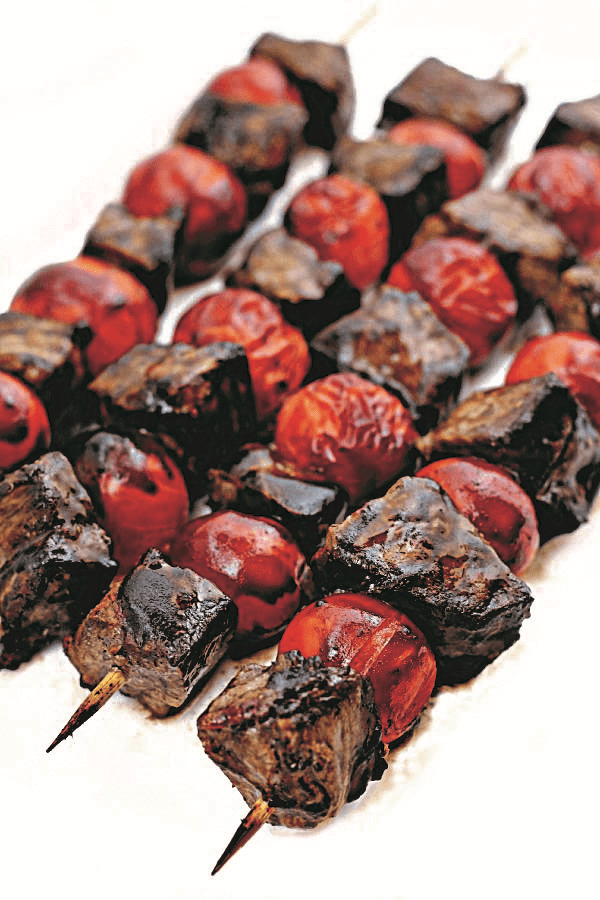 What's Cookin'
This month we offer a bit of everything! Ever notice how delicious AND easy it is to prepare our meats with a marinade? The recipes below are just that… easy and for sure, delicious. Just prep the marinade and you're done. The cream cheese dish and shake are great additions to your breakfast or snack regimen. So is the smoked fish! Again, simple to prepare and even more fun to enjoy, we always aim to update your dining table!! Enjoy!
MINI MARINATED BEEF SKEWERS
1 beef top round steak (1 lb.)
2 Tbsp. soy sauce
1 Tbsp. dry sherry
1 tsp. dark sesame oil
2 Tbsp. minced garlic
cherry tomatoes
Cut beef crosswise into ⅛-inch slices. Place in large resealable plastic food storage bag. Combine soy sauce, sherry, oil and garlic in cup. Pour over steak. Seal bag, turn to coat steak and marinate in refrigerator at least 30 minutes or up to 2 hours.
Soak 18 (6-inch) wooden skewers in water 20 minutes.
Drain steak and discard marinade. Weave beef accordion-style onto skewers.
Broil 2 minutes on one side, turn over and broil another 2 minutes or until beef is barely pink. (Cherry tomatoes can be skewered in between meat and broiled with meat.)
ORIENTAL FLANK STEAK
¾ C. Wish-Bone Italian Dressing
3 Tbsp. soy sauce
3 Tbsp. firmly packed brown sugar
½ tsp. ground ginger
1 to 1½ lbs. flank steak, top round or sirloin steak
In a small bowl, combine all ingredients except steak.
In a large resealable plastic bag pour ½ C. marinade over steak. Close bag and marinate in refrigerator 3-24 hours. Turn bag over occasionally. Refrigerate unused marinade.
Remove marinated steak from bag and broil, brushing with leftover marinade. Broil on both sides for desired doneness.
LEMON PEPPER CHICKEN
⅓ C. lemon juice
¼ C. chopped onion
¼ C. olive oil
1 Tbsp. brown sugar
1 Tbsp. cracked black pepper
3 Tbsp. minced garlic
2 tsp. grated lemon peel
6 chicken breasts – about 2 ½ lbs.
Combine lemon juice, onion, oil, sugar, pepper, garlic, and lemon peel in small bowl. Reserve 2 Tbsp. marinade. Combine remaining marinade and chicken in large resealable plastic food storage bag. Seal bag and turn to coat chicken. Store in refrigerator overnight.
Remove chicken from marinade and broil, turning several times and basting often. Baste chicken with leftover, reserved marinade. Should take about 15-20 minutes.
PEACHY CREAMY DIP
4 oz. reduced-fat cream cheese
⅓ C. peach preserves
Sugar to taste
½ tsp. vanilla
Place all ingredients in blender and process until smooth. Place mixture in serving bowl and sprinkle with cinnamon. It's ready for serving on toast, waffles…. Anything!
SPARKLING STRAWBERRY-LIME SHAKE
2 C. frozen whole unsweetened strawberries
1 ¼ C. lime-flavored sparkling water, divided
¼ C. half and half
1 tsp. sugar
Place strawberries in blender. Let thaw 5 minutes. Add
1 C. sparkling water, cream and sugar. Cover and blend until smooth. Mixture will be thick.
Gently stir in remaining sparkling water. Pour into 2 glasses. Garnish with lime wedges.
SEAFOOD SPREAD
1 pkg. (8oz.) cream cheese, softened
½ lb. smoked whitefish, skinned, bones and flaked
2 Tbsp. minced green onion
1 Tbsp. plus 1 tsp. chopped fresh dill
1 tsp. lemon juice
¼ tsp. black pepper
Beat cream cheese in medium bowl until smooth. Add remaining ingredients, mixing until well blended.
Refrigerate until ready to serve. Easy!