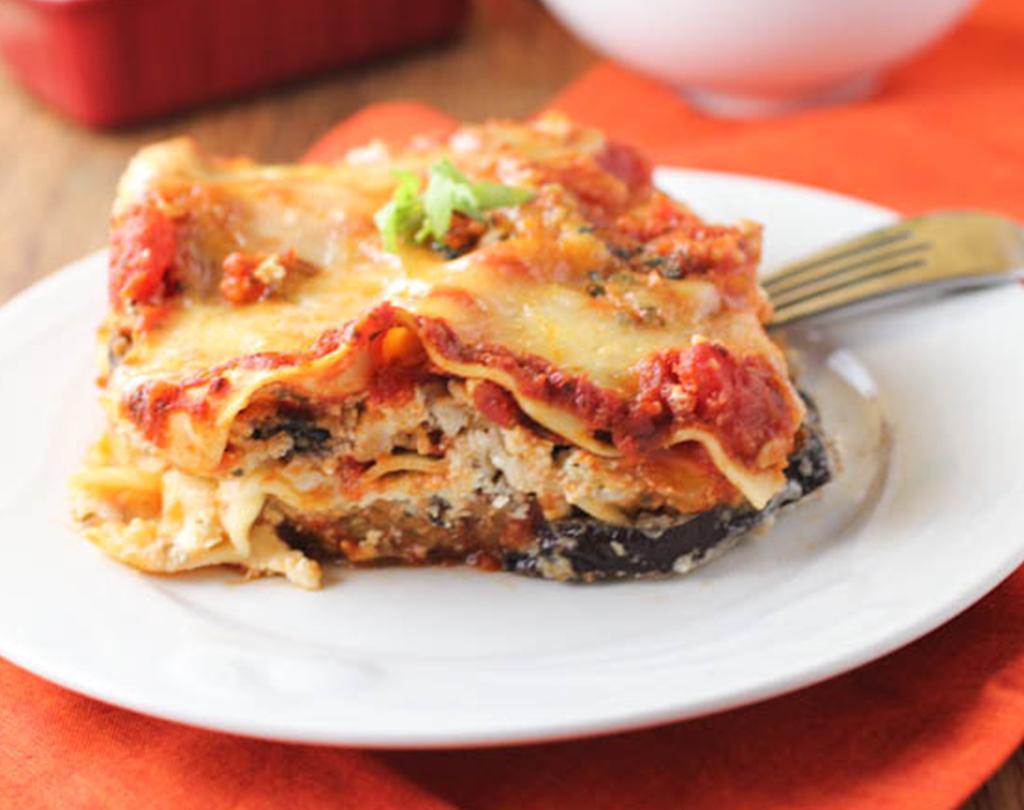 February's Recipe
Through the years, I've made no secret of my love for eggplant. I enjoy it no matter what form it takes. Hot, cold, either way, I find it satisfying and delicious.  Below is one of my favorite ways to prepare it: as a lasagna. Cook this up, serve it almost steaming hot, and it could be the ultimate comfort food. The Spiced Apple Crisp IS the ultimate comfort food. Even your pickiest of eaters will appreciate your effort in preparing this feel-good dish. Top it with some vanilla ice cream and WOW! Enough said.
Eggplant Parmesan Lasagna
1 Tbsp. olive oil
1 large egg plus 2 egg whites
1 C. panko crumbs
½ C. flour
2 medium eggplants
1 16-oz. container lowfat small-curd cottage cheese
1 15-oz container part-skim ricotta
6 oz. part-skim mozzarella, grated (1½ cups)
½ C. plus 2 Tbsp. grated Romano or Parmesan
1 C. fresh basil, chopped
½ C. fresh flat-leaf parsley, chopped
2½ C. marinara sauce
Heat oven to 450°F. Prepare 2 large rimmed baking sheets. Beat egg and egg whites together in shallow bowl. Place bread crumbs and flour in separate bowls. Add 1 Tbsp. oil to bread crumbs and mix to combine.
Slice eggplants into ½ inch thick rounds. Dip eggplant rounds in the flour, then the eggs (letting excess drip off), and then dip into the bread crumb mixture. Press gently so mixture sticks to eggplant. Place on prepared baking sheets. Roast until eggplant is golden brown about 15 minutes. Reduce oven temperature to 400°F.
In a large bowl, combine cottage cheese, ricotta, 1 C. mozzarella, ½ C. Romano and ½ tsp. pepper. Fold in
basil and parsley.
Spread ½ C. marinara on the bottom of a 9×13-in. baking dish. Top with a layer of eggplant (8-12 slices) and ½ C. marinara, and dollop with a third of the ricotta mixture (about 1½ C.). Repeat eggplant, marinara and ricotta layers twice. top with remaining ½ cup marinara. Sprinkle with remaining ½ C. of mozzarella and 2 Tsp. Romano.
Cover the dish tightly with an oiled piece of foil and bake for 20 minutes. Uncover and bake until top is light brown about 20 or 25 minutes. Let stand a bit before serving.
Spiced Apple Crisp
Topping
½ C. flour
⅓ C. light brown sugar
½ C. rolled oats
½ C. chopped pecans, walnuts or almonds
7 Tbsp. unsalted butter
Filling
2 lbs. baking apples, peeled, cored and sliced
¼ C. butter, melted
⅔ C. light brown sugar
½ tsp. each: cinnamon, nutmeg, ground ginger
2 Tbsp. cornstarch
1 lemon, juiced and zest
Topping
Add the flour, sugar, oats and nuts to the bowl of food processor. Pulse a few times. Add the butter and pulse until mixture resembles a coarse meal.
Filling
Heat oven to 375°F. Combine apples, butter, sugar, spices, cornstarch and lemon juice/zest in a bowl.
Place 8 6-oz baking dishes on baking sheet. (Can use one larger baking pan if desired.) Divide apple mixture among dishes, pressing firmly so apples are approximately ½ inch below top of dish. Top with crumbs, filling remaining ½ inch.
Bake until the apples are tender and topping is brown, about 25 minutes. Remove from oven and cool at least 30 minutes before serving.
Warm Chicken Salad w/Soy-Ginger Dressing
3 Tbsp. sake
3 Tbsp. soy sauce
1 egg, beaten to blend
2¼ tsp. sesame oil
2 skinless, boneless chicken breasts, cut into strips
¼ C. chicken broth
1½ tsp. chili sauce
1 Tbsp. minced green onion
1 Tbsp. fresh lemon juice
1 Tbsp. sugar
1 tsp. minced fresh ginger, peeled
1 small head iceberg lettuce, shredded
cornstarch
2 Tbsp. peanut oil
Combine sake, 1 Tbsp. soy, egg and 2 tsp. sesame oil in shallow dish. Season with pepper. Add chicken, turn to coat, cover and refrigerate up to 1 hour.
Combine broth, chili sauce, green onion, lemon juice, sugar, ginger, 2 Tbsp. soy and ¼ tsp. sesame  oil. Set dressing aside. Arrange lettuce on platter.
Drain chicken. Coat lightly with cornstarch. Heat peanut oil in large skillet over high heat. Add chicken and fry until just cooked through about 3  minutes. With slotted spoon, transfer chicken to lettuce. Drizzle with prepared dressing.
Sesame Broccoli Salad
2 Tbsp. soy sauce
2 Tbsp. rice vinegar
2 Tbsp. sesame oil
2 Tbsp. honey
salt & pepper
12 C. broccoli florets
½ C. sesame seeds
Whisk soy sauce, vinegar, oil and honey in large bowl until blended. Season to taste.
Steam broccoli about 5 minutes. Stir sesame seeds in large skillet, over medium heat until golden. Place in small bowl to cool.
Mix broccoli and half of sesame seeds into dressing. Let marinate at room temp about 30 minutes. Transfer to platter and pour dressing over broccoli. Sprinkle with remaining seeds.