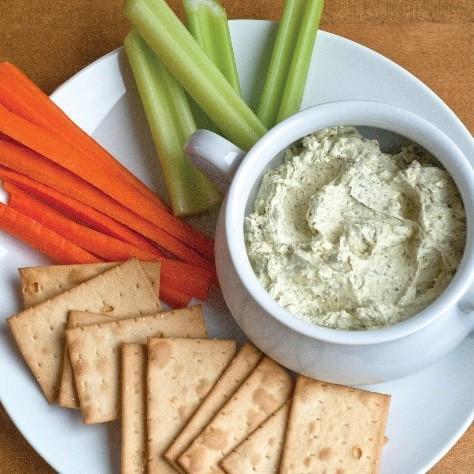 What's Cookin'
It's football time and "snacks" are part of the game atmosphere. I mean, how can you watch the game without a "chip?" This month we offer some help with what could be, and for many of us is, the best part of watching the "game." Have fun and may your team of choice prevail…. Go Eagles!!
P.S. I'm a big fan of Pesto. Hope you are, too!
ARTICHOKE CHILI DIP
1 can (14oz.) artichoke hearts
1 can (4oz.) green chili peppers
1 C. grated Parmesan cheese
1 C. mayonnaise
Preheat oven to 350˚F.
Drain artichoke hearts and chop. Rinse chili peppers, remove seeds and chop. Combine all ingredients and turn into an 8-inch round prepared baking dish. Bake for 20 minutes. Serve warm with tortilla chips, breadsticks or veggies.
PITA BREAD CHIPS
Split pita bread and spread halves with butter seasoned with Worcestershire sauce. Sprinkle with Parmesan cheese. Bake in 350˚F oven until crisp. Break into small pieces.
(Be careful not to over bake and burn.)
SOUTH OF THE BORDER MEATBALLS
½ C. chopped onion
½ C. chopped raisins
½ C. chopped parsley
2 lbs. ground beef
2 eggs
1 Tbsp. chopped garlic
1 can (6 oz.) tomato paste
2 Tbsp. cider vinegar
¾ tsp. cinnamon
½ tsp. Tabasco sauce
½ tsp. salt
⅛ tsp. pepper
Combine all ingredients and shape into 1-inch balls. Broil until brown. Can be frozen before using and reheated when ready to serve.
DILLY CHEESE DIP
½ C. grated cheddar cheese
½ C. sour cream
2 tsp. prepared white horseradish
¾ tsp. fresh dill (This MAKES this dip!)
Blend ingredients together. Place in bowl and chill until ready to serve.
PESTO SPREAD
1 pkg. (8oz.) cream cheese
2 Tbsp. sour cream
1 Tbsp. prepared Pesto
1 Tbsp. lemon juice
Soften cream cheese. Combine all ingredients and process until smooth. Serve as spread on crackers or bread points.
PESTO-CHEESE DIP
1 carton (8oz.) cottage cheese
2 Tbsp. sour cream
1 Tbsp. prepared Pesto
Combine all ingredients. Mix well and chill. Serve with veggies or chips.
NOW THIS IS A TASTY DIP!
2 C. mayonnaise
1 C. sour cream
1 pkg. (3oz.) cream cheese
2 Tbsp. chopped garlic
¼ tsp. curry powder
1 tsp. Worchestershire sauce
2 Tbsp. lemon juice
2 tsp. Italian herbs
¼ c. fresh parsley
1 medium red onion
1 jar (4oz.) capers, drained
Place the first nine ingredients in a food processor. Process until smooth. Add quartered red onion and pulse until finely chopped. Add capers and pulse to combine. Great dip for veggies.
Here are some helpful hints!
• Wash hands in vinegar or lemon juice to remove fish smell.
• Store sour cream upside down to prevent air from entering.
• Brush cut surface of a leftover roast or thick steak with drippings before refrigerating to keep meat from drying out.
• How 'bout making individual "dip dishes" with red cabbage leaves?
• When making chocolate cake, sprinkle greased cake pan with cocoa instead of flour.