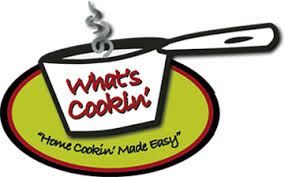 In The Kitchen
Here are some of my favorite ingredients; mushrooms, Dijon mustard, asparagus, pasta, potatoes, blue cheese and cherries. Throw them to together (or keep them apart!) and you come up with some terrific recipes. Easy to prepare, they'll be a welcome addition to your summertime table. P.S. Try using Blueberries instead of cherries for the Cherry Crisp. Use about 5 or 6 cups of fresh blueberries and you'll have a yummy alternative. Bon Appetit!
MUSHROOM CAESAR SALAD
¼ C. fresh lemon juice
4 anchovy fillets
2 large garlic cloves
2 tsp. drained capers
2 tsp. Dijon mustard
2 tsp. prepared white horseradish
1 tsp. Worcestershire sauce
2 dashes Tabasco
¾ C. olive oil
½ lb. mushrooms, thinly sliced
1 large head romaine lettuce, torn into bite-size pieces
2 C. purchased garlic-flavored croutons
½ C. parmesan cheese
Blend first 8 ingredients in processor until almost smooth. Gradually add oil and process until thick dressing forms. Season with salt and pepper. If made a day ahead, cover and refrigerate.
Toss mushrooms with 1/3 C. dressing in medium bowl. Let marinate 15 minutes. Place lettuce in large bowl. Add mushrooms, croutons and cheese. Toss with enough dressing to coat generously. Season to taste.
LOADED ASPARAGUS HASH BROWNS
½ lb. asparagus, cut into matchsticks
3 C. frozen shredded hash browns
2 Tbsp. olive oil
2 slices American cheese
Sauteed red sweet pepper & onion
In a bowl combine asparagus and shredded hash browns. In a skillet, heat olive oil over medium-high heat. Add asparagus mixture and press top with spatula. Cook 5-10 minutes without stirring. Invert onto a baking sheet to flip; return to skillet. Cook 5-6 minutes until browned. Top with American cheese. Serve with sauteed chopped asparagus, red sweet pepper and onion.
BLUE CHEESE DIPPING SAUCE
8 oz. blue cheese, finely crumbled
1 16-oz. container of sour cream
1/3 C. chopped fresh Italian parsley
Whisk blue cheese, sour cream and parsley in medium bowl until well blended. Season to taste.
CHERRY VANILLA CRISP
4 Tbsp. unsalted butter, melted
6 C. pitted cherries (thawed if frozen)
¾ C. sugar
2 tsp. ground cinnamon
¾ C. plus 2 Tbsp. flour
2/3 rolled oats
1/3 C. sliced almonds
Preheat oven to 350°F. Prepare a 9-inch square baking dish.
Toss cherries in a large bowl with ½ C. sugar, vanilla, cinnamon and 2 Tbsp. flour. Transfer to prepared baking dish.
Whisk the remaining ¼ C. flour, the oats, almonds and remaining sugar in a medium bowl. Stir in the melted butter until combined, then sprinkle mixture over the cherries.
Bake until filling is bubbling and topping is brown, about 50 minutes to 1 hour. Let cool a bit before serving.
FUSILLI W/YELLOW SQUASH & GRAPE TOMATOES
3 Tbsp. olive oil
1 medium yellow onion, halved, thinly sliced
1 lb. yellow squash
1 Tbsp. chopped fresh thyme
½ tsp. salt plus 1 Tbsp. divided
¼ C. pepper
2 C. grape tomatoes (about 6 oz.), halved lengthwise
12 oz. fusilli
Prepare fusilli al dente. Heat oil in large skillet over medium-high heat. Add onion to cook, stirring until light brown, about 4-8 minutes.
If yellow squash has "crookneck," cut off the neck, halve it lengthwise and cut into ¼-inch slices. Quarter the wider part lengthwise and cut into ¼-inch slices.
When onion is lightly brown, add squash, thyme, ½ tsp. salt and pepper. Cook over medium-high heat until squash releases most of its liquid and begins to brown slightly, about 7-10 minutes. Add tomatoes and cook until they break down, about 4-6 minutes.
Drain pasta and toss with veggies/sauce. It's ready to serve!