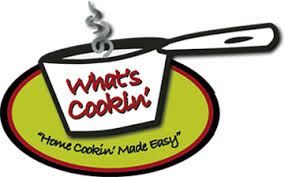 In The Kitchen
Who's ready for a picnic? Who's ready for some easy entertaining with friends and family? I am!!! And you can see the recipes this month really play to those emotions. The salads are simple to make with easy to find ingredients. The salmon, while a little different, will be a great hit. And the Apple Dumplings, well, who's going to say "no" to a baked apple encased in a yummy baked dough? Check'um out and see if these offerings make your dining-in table. It's the time of the year to be with people. Even the pandemic experts are in agreement. So let's do it. Enjoy!
CRUNCHY SESAME CHICKEN SALAD
4 C. shredded rotisserie chicken
1 pkg. 16oz. coleslaw mix (about 8 cups)
2 C. chow mein noodles
1 pkg. fresh sugar snap peas, strings removed, about 2 C.
1 C. shredded carrots for 10oz. pkg.
1¼ C. Asian toasted sesame dressing (from bottle)
3 medium green onions sliced
In large serving bowl toss chicken, coleslaw mix, noodles, sugar snap peas and carrots with dressing until evenly coated. Serve with sprinkled onions on top. (You could add honey-roasted dry peanuts to the salad if desired.)
APPLE DUMPLINGS
1 refrigerated pie crust
¼ C. sugar
½ tsp. ground cinnamon
4 small Braeburn apples, cored and peeled
2 Tbsp. butter, cubed
Heat oven to 375°F. Place piecrust on lightly floured surface and cut into 4 equal pieces. Roll out each piece into 8-inch square. Combine sugar and cinnamon in small bowl.
Place an apple in center of each square. Sprinkle with half the cinnamon sugar mixture. Then dot with butter. Fold edges over apples and pinch closed.
Place in baking dish coated with nonstick spray. Sprinkle remaining cinnamon sugar over dumplings. Bake 45 minutes until browned. Cool slightly and serve with whipped cream or ice cream. Yum!
SALMON EN CROUTE (SALMON IN PASTRY)
12 oz. puff pastry sheets (thawed)
2 6-7 oz. salmon fillets
2 Tbsp. chopped fresh parsley
2 Tbsp. chopped fresh basil
3 Tbsp. unsalted butter, softened
Salt and pepper to taste
1 egg, lightly beaten
Preheat oven to 400°F.
Using a rolling pin, roll pastry into four pieces each, about 5 by 8 inches.
Transfer 2 pieces to large baking dish lined with parchment paper. Remove skin from salmon and place fillet in center of dough pieces.
In small bowl, combine parsley, basil, and butter. Stir until herbs are thoroughly mixed. Season with salt and pepper. Spread mixture over top of salmon.
With a pastry brush, brush beaten egg wash on edges of pastry around salmon. Cover each piece with remaining pastry. Pinch pastry together to firmly seal, then lightly press edges with dinner fork for a decorative effect. Brush top of pastry with remaining egg wash.
Cut two small slits into top of pastry so steam can escape. Bake for about 20 minutes until pastry rises and is crisp and golden. Enjoy!
ASPARAGUS & PESTO LINGUINE
2 garlic cloves, sliced
½ C. fresh basil
½ C. fresh baby spinach
2 Tbsp. grated Parmesan cheese
6 Tbsp. olive oil
4½ C. vegetable broth
12 oz. linguine
1 small onion, sliced
1 lemon
½ lb. asparagus, sliced
1 C. sliced radishes
In processor, mince ½ the garlic, basil leaves, parsley, spinach and Parmesan cheese. With processor running, drizzle in 4 Tbsp. olive oil. Season to taste.
In large pot, layer remaining garlic and oil, broth, linguine, onion, 3 Tbsp. lemon juice and 1 tsp. lemon zest. Bring to a boil and simmer. Cook 15 minutes until pasta is al dente. Add asparagus and cook for 5 minutes. Most of liquid should be absorb