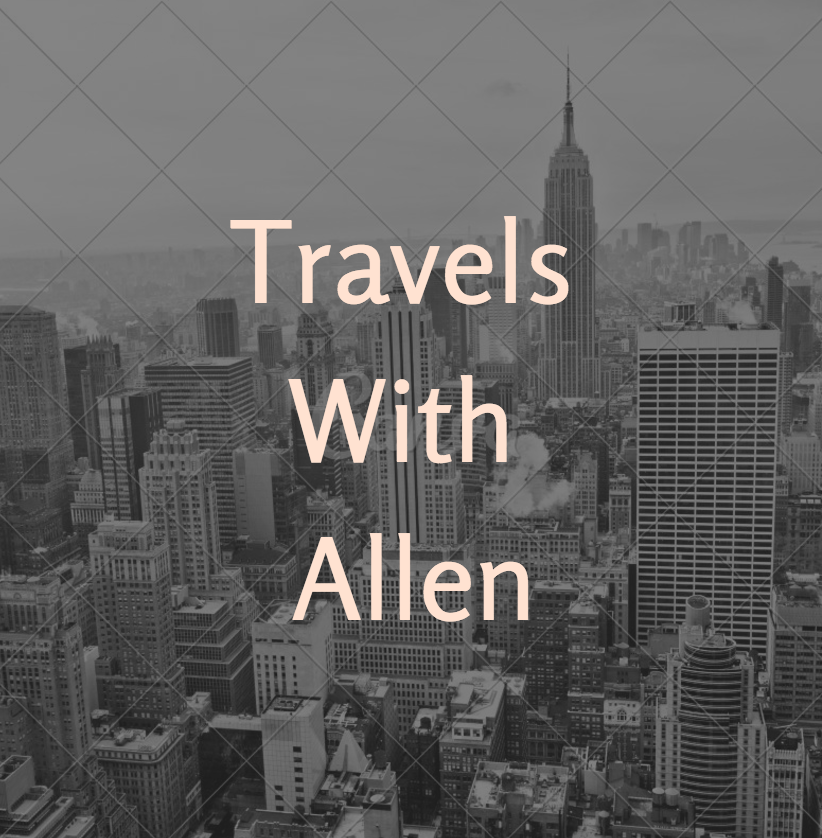 More Travels With Allen
For the Hermans, holiday season is usually a trip into insanity. We have visits from family, dinners with many friends and a ton of shopping to attend do. Plus, Linda and I have made it a habit of visiting with our advertisers this time of year to thank them for their patronage. Trust me, it's an Olympic trip into exhaustion. This year, coupled with some health issues, was no exception.
While we were making our rounds we discovered Baja Fresh on Street Road and Philmont Avenue in Feasterville/Trevose. It is a relatively new Mexican restaurant. The food is great, the décor is upbeat and the menu is comprehensive. Plus, the prices are really low. Great spot for a fast lunch or dinner.
Another bargain spot we hit this year was the Quakertown Farmers Market. It's much closer than it would appear and well worth the trip. I did not count the number of stalls but I can tell you the place is huge. We discovered all kinds of food and produce on sale. We also found many clothing spots and toys galore. We spotted home improvement firms, insurance companies and mortgage people spread through the Market. In one sentence, the place is fun and you can find lots of neat stuff at bargain prices. Plan on spending several enjoyable hours there.
This time of year many people receive their bills from December and look for "revenue sources." We have had an advertiser, Gold Guys, who have been between our covers for years. We've had rave review after rave review about Scott and his brother. Many have brought gold and silver jewelry, coins and a rafter of other items that have laid around the house to the brothers to convert to cash. They have always been fair with their customers. It looks like that prices for gold and silver are climbing again so this may be an opportune moment for you to convert your dust-collecting "closet goodies" into hard cash.
Another restaurant I can recommend very highly is the White Elephant Restaurant in the Huntingdon Valley Shopping Center. The décor is great, the prices are fair and the menu is both vast and original. Many of our friends insist we meet there for dinner. It's never disappointed and well worth a visit. P.S. It's a BYOB!
If you are thinking of having hardwood floors installed in your home let me recommend, very highly, Churchville Kitchens. I have written about them before. They have a large shop as well as a show room that they share with Anthony Charles Builders. Trust me, this is not your run of the mill "open the boxes they have been ordered from some factory to install" kitchen. Whether you look at their custom homes they have built along the Jersey shore or the kitchens they have created in the area, they are true craftsmen. Their work is spectacular and their new flooring division is just an extension of their creative work. Stop in to their Churchville showroom. It's something special.
If you love sushi I suggest you head over to The Kosher Market on Bustleton Avenue below Red Lion Road. Really!! I don't mean this as a joke, their Sushi is super. Linda and I often visit this spot for a variety of kosher products but we never expected to find kosher sushi. It really is good! While you are there you might want to look at some of the other items to test. You don't have to be Jewish, just curious.
Oskar Huber has a fantastic, repeat fantastic furniture store on Second Street Pike in Southampton. This huge store is just loaded with some of the best, and eclectic, furniture I have ever seen. You will not find this grade of furniture or styling in most of today's big-box furniture locations. Oskar Huber has schmaltz! If you're looking for furniture or décor, this is one spot you should hit.
New York Camera on Street Road is another location I have mentioned frequently. Now is the time to take a look at the four million pictures you have stored in your phone and make some choices. Before they get lost in the shuffle, let New York Camera make them into photos for your walls. Their service is surprisingly affordable and their help is the best. So, after Christmas, don't lose them, print them
And perhaps our favorite stop recently is the Phila Flea Market along Columbus Boulevard in Philadelphia. We had such a great time walking up and down the aisles. Linda was in seventh heaven examining all the vintage jewelry. They're running an ad in this issue so be sure to look for it. There's a whole schedule of when they're open. And let me add, all important, is that parking is SO CONVENIENT AND it's FREE. You couldn't want anything more from a Center City location, would you? Don't miss this stop, especially if you are on the hunt for anything vintage. It's a winner!
That's it for now… all's well on the home front and I'm looking forward to making some new stops in February. Maybe I'll surprise my Valentine with a new restaurant visit I have in mind. Stay tuned, I'll be sure to share!! See you in February….