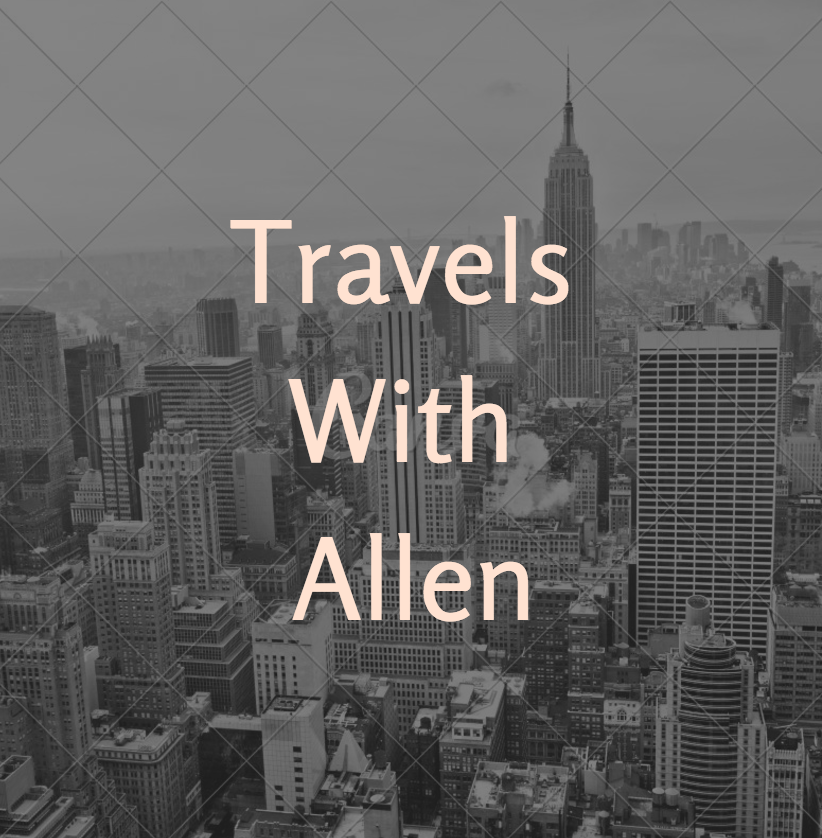 More Travels with Allen
I want to start with a 'thank you' to a very nice young man who works for the new Verizon store on Easton Road near the Pa Turnpike. His name is Adam Gillen and he recently arrived from Utah.
We visited this Verizon store in desperation when my phone died. I keep just about everything in this little gadget and not being able to access this information I store is the equivalent of having a lobotomy. I lost my phone numbers, pass codes, directions, stock quotes, notes and reminders. I was desperate …. aka … brain dead.
Adam took the time to help and explain everything. He restored the lost materials and demonstrated how we could fix things in the future. He even took the time to show us many neat things we could do that we never knew about. So … hats off to Adam at Verizon. If you need help with your phone, he's the guy to see. He's pleasant, considerate and sincere. He's a "mensch."
Back to food. Linda and I joined several friends for dinner at Ristorante Siciliano in Elkins Park, near the train station. It was our first time there and we have already returned again. We had a great time. The little bistro is pleasant, airy, great for people watching and has a marvelous menu. The staff is both friendly and professional. The food is Italian and really good. And it's a BYOB.
We were a table of twenty and everyone gave the restaurant a "thumbs up." Trust me, that's quite a compliment. This group never agrees on anything. Twenty people capable of thirty opinions. But civil … meaning Dems and Reps could break bread together.
I know I mention this place frequently but I just couldn't resist mentioning it one more time. I stopped in at Nickles to check their ad with Chris, the owner, and ended up doing some shopping. Believe this or not, I ended up purchasing two Hess trucks, a monitor for my computer, a set of tiny screw drivers and a diamond ring.
I kid you not. I purchased all of these items, including the diamond ring and a Betty Boop doll in the one store. The assortment of goods makes no sense, but it's a lot of fun and the prices, as well as the crazy assortment, are unbelievable.
Provecho Mexican Grill is now open on Philmont Avenue in Lower Moreland. While the road is under construction you definitely can reach it from either Red Lion Road or Pine Road. The detour doesn't affect their location.
Having said that let me tell you that this place is great. Nothing fancy, but the food is super and the prices are really, really low. I stop there frequently and order two shredded chicken tacos for three bucks each. I have tried some of their other items and they all get my "top tummy" award.
The owners are locals and nice people from the community. They're working really hard to build their new business. As you can imagine, the detour is very trying. So, give them a break. Try them for lunch or dinner. You will be doing a good thing and will have a good meal … reasonably. It's a win-win situation.
We have a marvelous advertiser I want to mention. Stay and Play Pet Resort is located in the damnedest spot you can image. Steve and his wife, Carol, operate out of an old office building in the very back of an industrial park in Huntingdon Valley. They love animals … have five dogs in their own home … and take wonderful care of their furry visitors. They are present twenty-four seven and tend to their charges with love and care. I cannot recommend them any higher.
If you're looking for a trusted firm to repair or close down your pool I can recommend Anton & Sons Pools. Many people have contacted us about the two brothers and their comments are always favorable. I spent time with them last year and came away impressed and with a big smile. I enjoyed my visit. Enough said.
We have a thief in our family. Every time I take my phone to New York Camera and have them make enlarged photos of our grandchildren they disappear. NYC does a great job. But when I bring the photos home they disappear. What is really strange is they reappear in our son's new home. Amazing.
Have you visited Mermaid Distillery? It's a craft distillery located in The Marketplace at Huntingdon Valley priding themselves on producing exceptional distilled spirits. Convenient and fun, they're a hub for tastings and special events. Check it out and see for yourself… just make sure you're of age!!
BQ Basement is ready to help you make sure your basement is ready for winter's cold. Now's the time to do all the prep work so you're not caught with severe issues discovered when the weather is rainy and or snowy. Give them a call so they can confirm your basement is sealed tight against water and dampness. You want to keep that kind of stuff away from your family!!
Our friends at Don Giovanni's Classic Bakery in Feasterville invite you to Grab & Go. Coming real soon to their already very busy bakery is an early morning Grab & Go service where you can get freshly brewed coffee, breakfast sandwiches, your favorite pastry or donut, and more. Stop in at 8am on your way to work then stop in again on your way home from work for a complete family take-home dinner. Debbie at Don Giovanni's has you covered coming and going!!!
And if you need to repair, renew and restore your driveway, check out the folks at SureSeal Seal Coating. I've talked to Joe, their operations manager, a few times and these folks are pros at restoring paving, concrete and the pavers on your patio. They've been serving the greater area for over 30 years and can help with shed pads, curb stops, drains and more. And you know that basketball pole you need to install, well, they can do that in a jiffy. Look for their ad in this issue and tell Joe we sent you. He and the crew at SureSeal have the BEST newsletter for October. Filled with the kind of stuff we like between our covers, he'll be happy to send you a copy.
It's that time of year, I have to mention my buddies at the Insurance Shops on Bustleton Pike in Feasterville. It's Open Enrollment for Medicare (October 15-December 7) and for ACA (November 1-December 15). There are many changes and terrific new options that can save you money and increase your benefits, and some of these might only be available through a broker. Get some helpful advice before you make a mistake and are locked into another year of a program that is not in your best interests.
Ron, the owner, shared that they have some great zero premium options for Seniors that are vastly improved. Who knew that employers can now offer plans with as few as 2 enrollees that can include 1099 or husband/wife-only groups? And the staff pharmacist at Insurance Shops can help with drug plan options. It's a one-stop insurance shop and there's not a better time than now to visit. Look for their phone number in this issue and ask for Ron. He'll help you through the healthcare maze.
Whew! That's it for this month. I've had it and the boss, aka Linda, is pulling the plug for October. See you in November. Let's see how far I can get then!!!