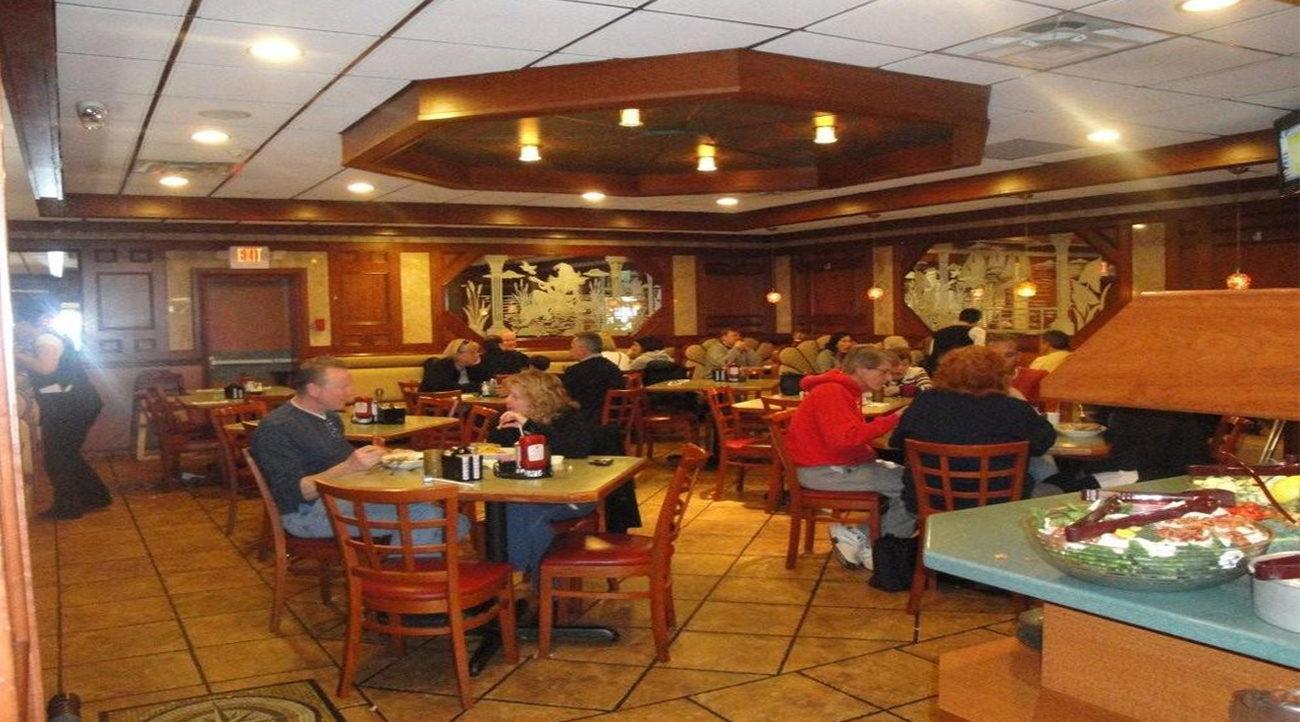 Suburban Diner
It doesn't matter what your tastebuds are craving or what time of day, you can go to Suburban Restaurant & Diner and satisfy that yen gnawing away at your stomach. Located in Feasterville, at the crossroads of Bustleton Pike and Street Road, Suburban Diner is a mainstay eatery for both the early bird and the night owl.
Suburban Diner is expertly run by its three owners, Gregory, George and Nick. Gregory is head chef and George is the baker. You can find Nick up front or with his hands in flour when George isn't around. Longtime buddies, they bought the diner in 1991 and gave it an extensive remodeling. (They have the nicest ladies room around!)
Check out their menu and you'll find both traditional diner fare and perhaps the not-so-traditional. Breakfast specialties include 3-egg omelettes stuffed with cheese, veggies, bacon, lox,– your choice– and served with home fries, toast and jelly. Their pancakes are yummy and waffles terrific, especially if you get them with ice cream. (Yeh, guess you don't eat ice cream for breakfast!) And you can have breakfast anytime. In this diner there's no time clock on when you can eat what you want to eat.
We are regular guests at Suburban. We go because we enjoy the food and the service. Every entree includes a trip to an extensive salad bar ( I like their chopped liver. My husband likes their apple butter and cornbread.) If you don't want salad you can choose to have soup from their daily offering. You also pick two vegetables from a list of healthy pickings.
Go for an Early Bird, Monday to Thursday, 3pm-7pm, Friday 3pm-6pm and Saturday and Sunday 2pm-5pm, you also get a beverage and dessert. Ranging in price starting at $9.45 for a full course meal – and it's FULL – you would be hard pressed to find a better deal in town. London Broil, Broiled Filet of Salmon, Maryland Deviled Crabs, Grilled Boneless Breast of Chicken, Fried Oysters……. Early Bird Specials at Suburban Diner mean delicious food at a great price.
They also have some sauteed specials that are a bit out of the ordinary. We've enjoyed the Chicken Francaise, Sauteed Chicken Spinacola, Chicken Marsala, Veal Marsala and others. All are light and tasty. And by the way, doggy bags are generally requested before leaving.
I think my favorite is their Moussaka. It's like a Greek lasagna made from eggplant, chopped beef and Besamela cheese on the top. Served with a Greek salad that can be enjoyed easily by two people, their Moussaka takes me back to my college days when I used to go to a sweet little Greek restaurant in Washington, D.C. It was a favorite for college students because of their hearty, delicious food and price. You could say the same about the Suburban Diner.
My husband loves their Veal Parmigiana… I like it with chicken. And when he orders this HUMONGOUS portion, either we share or someone at home will be enjoying what's leftover the next day! Portions are substantial and it's not unusual for dishes to be enjoyed by everyone at your table.
Service is always friendly and efficient. Tables are cleaned and the waitstaff is attentive. If you require a constant flow of drinking water, they know to bring a pitcher for the table! And refills on coffee and soda are handled promptly, with a smile.
You can always find people at the Suburban Diner. We used to run into our dear friend Mel (who recently passed away) late in the evenings when we would finish publishing. It is also a favorite for the folks from Wage Lighting, Hamberg Jewelers and a frequent last stop before going home for the guys at Don Giovanni's.
We had just returned from dropping our son off at the airport recently. It was 3:30 or 4:00 in the morning. We thought we'd have something to eat. It was empty. The staff was ready at attention. Allen got his favorite pancakes. They were real comfort food for so early in the morning. I ordered a lox and cream cheese sandwich/platter. We were both surprised. The lox was delicious and at 4 o'clock in the morning, for me, it was perrrrrrrrrrrfect. Once we finished, and again packed up our doggy bags, we noticed the tables were starting to fill up with regulars. Customers sitting down with their morning papers, enjoying hot cups of coffee, and heaping plates of eggs, sausage, hotcakes, etc. The window of "emptiness" had passed within minutes.
Suburban Diner does all their own baking. You'll definitely be tempted as you walk past the pastry display going to your table AND on your way out. Take note of the mile high meringues and other chocolate goodies so you'll be prepared when it comes to ordering dessert. I recommend their Apple Strudel. Filled with apples, real sticky and moist, it tastes like strudel should taste. Buy a piece and share… or sock it away in your fridge and have a piece with your coffee or a big glass of cold milk.
So, whether you're looking for big or small, morning or night, afternoon with the gang, Suburban Restaurant and Diner is sure to have what you're hankering. Check it out. Go alone or with a crowd before a movie, or after a movie. It's good food, good value and good service 24/7… and it's hard to come by all three in the same establishment. Enjoy!
Suburban Diner & Restaurant
14 W. Street Road
Feasterville, PA