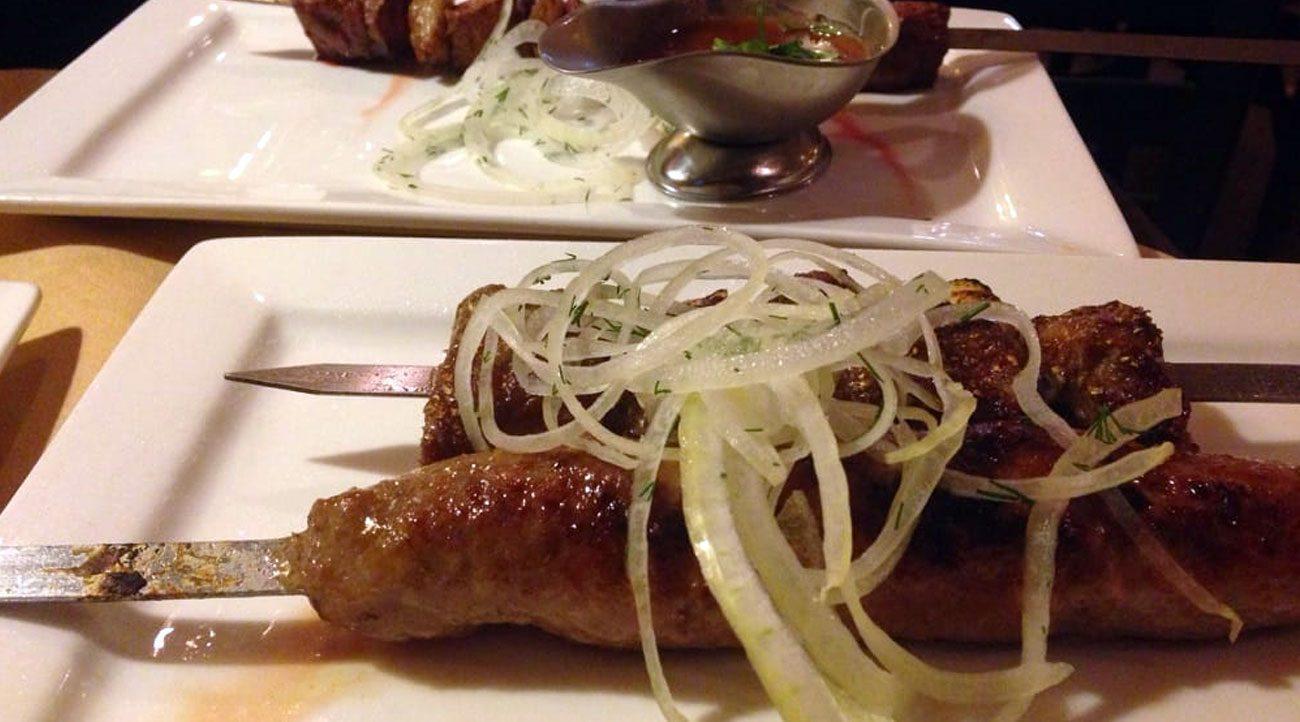 Shish-Kabob Palace
Let me be honest from the very beginning, Shish Kabob Palace is a gem of a restaurant hidden away in a northeast Philadelphia shopping center on Grant Avenue.
We love this restaurant and have never been disappointed in any meal ordered. P.S. Anyone we have taken there, and there have been many, they, too have found it enjoyable. Service is good and food is delivered promptly. And the prices are right. The portions are hefty and meant to be shared. That's part of the fun, and the experience of eating at Shish-Kabob Palace.
The cuisine is described as coming from Central Asia, Bukharia and Russia. There's also some Mediterranean dishes going on. You shouldn't be discouraged from trying this "gem" because of this. Just buy a bottle of red or white, or in this case you might prefer vodka, make a reservation if you're going on a weekend, and go!
If you've seen our restaurant reviews before, we talk about service, the atmosphere, the food, and we generally mention a few of the items we've tried. This review will be a bit different. This time we're offering very specific recommendations. It might help you feel more comfortable going into what you would think is a "Russian" restaurant. Hopefully you'll find these suggestions as delicious as we do, ALWAYS.
The first thing you do is order the bread. It's baked on the spot and it arrives at the table warm and crusty. You'll want the bread to help you scoop up every last drop of anything remaining on your plate! We always order the Greek Salad. Topped with Feta cheese, the cheese is more mild and creamy than the Feta you might be accustomed to. It could be a meal in itself. The Caesar Salad, the Avocado Salad and the Fresh Garden Salad also get a 2-thumbs up. I LOVE the Eggplant Sate. This is like a ratatouille, served cold, filled with eggplant, onions and peppers. The menu says it's "fried eggplant." It's not…. it's sauteed. We also order something called "Uzbek Meat Ravioli." These resemble gnocchi filled with meat. We get them boiled. Served with a side of some kind of light tomato sauce with a different taste (please don't ask me to describe it), they're delicious.
If you like potatoes, check out their Homemade Fried Potatoes. And if you like mushrooms, you can have them added for an additional two dollars. It's well worth it… as are the potatoes. Remember you share at Shish Kabob Palace, so you can order quite a variety of food. And if you're a few or many, don't expect leftovers. The food is just too delicious!!
And yes, you definitely order shish kabob at Shish Kabob Palace. This is one of the few things you won't share. Each kabob has about 5 or 6 pieces of meat. The skirt steak kabob is a big hit with our publisher. I've enjoyed the chicken and the salmon. Naturally, we can recommend them all. Friends have ordered the lamb kabob, and even the chicken hearts kabob. If you're really hungry you might order two kabobs. I usually order one. The kabobs are served on a metal skewer with a traditional bed of onions and, of course, the awesome sauce I mentioned earlier.
They also serve a fresh Bronzini fish, baked or fried, and stuffed with vegetables, Grilled Sea Bass and Salmon Steak. Their fish selections are as awesome as their meat selections. Trust me.
You can also order individual entree plates, which include a side such as rice or a vegetable. Reasonably priced, you might choose to go with a platter… although we recommend making selections from among the many soups, appetizers, salads and kabobs. We think it's fun. And we like to share at the Palace.
If you have room when you're all finished with your meal, they have some nice dessert offerings. Truth be told, we've only ordered dessert twice and that has been when we've taken guests. And dessert was good… but we've always been so satisfied by our dinner, that we just linger a bit longer over coffee.
Shish Kabob Palace is open for lunch and runs some lunch specials: $9.99 gets you a choice of soup, a hot entree with a side and a drink. It also includes their delicious bread.
This is a neighborhood restaurant. It's small, and on the weekends it can get noisy because regulars come in groups and enjoy each other's company and the good food. You might see long tables lined up with vodka, wine and a variety of libations. You'll need a reservation on weekends. Go on Thursday and Friday evening and you'll be entertained by live music. You won't need a reservation for that…
As an aside, the servers will be very helpful in recommending, and describing something you're eyeing on the menu. They're increasingly accustomed to English speaking patrons and are very pleasant. We have a favorite server, Kate, and she virtually knows from the minute we walk in what she'll be writing down on her order sheet for us!!
A review too glowing? Perhaps. But Shish Kabob Palace is an adventure you'll want to share. The food is great. The price is right. The service is good. And we've given you specifics to help ease your introduction to a great meal. Try it, you'll like it…. we hope. And please tell them you heard about them between our covers!
Shish-Kabob Palace
1683 Grant Avenue
Philadelphia, PA 19115
215-856-3404