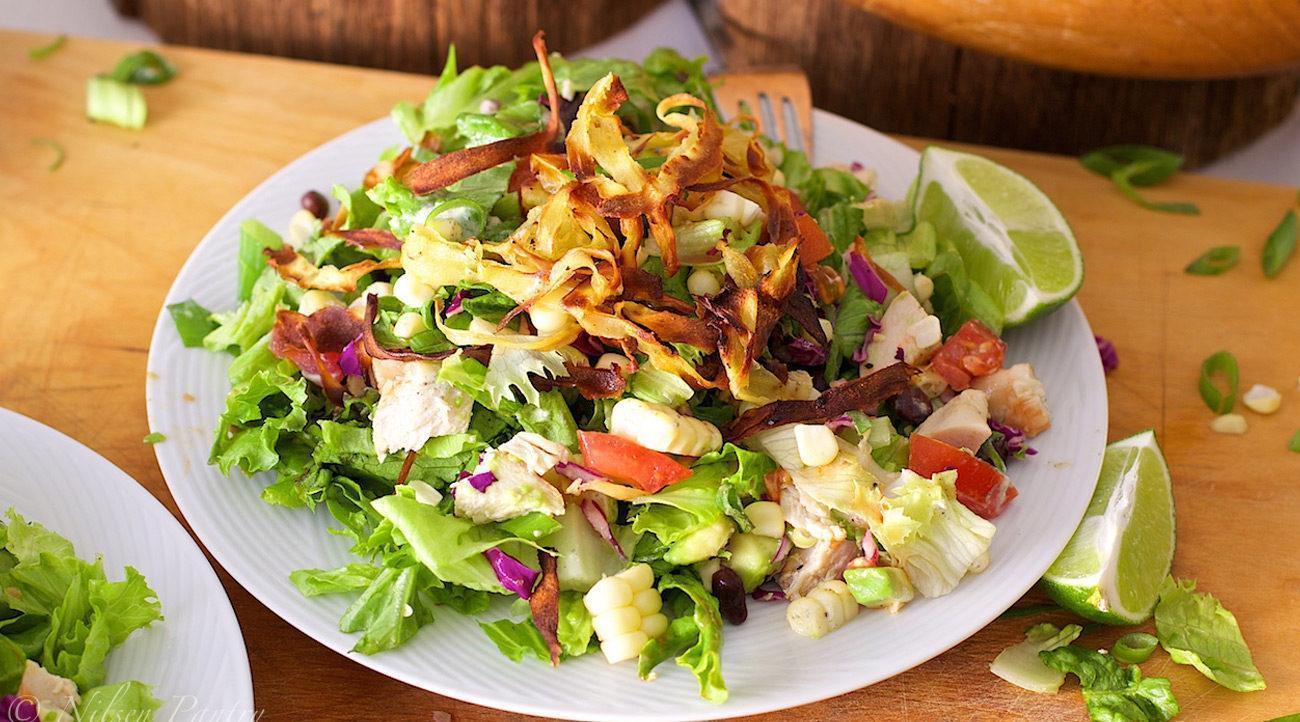 Santa Fe Chicken Salad, Sauteed Zucchini with Almonds and Olives
I love making chicken salad. It gives me a great reason to ready the broth for a chicken soup I can make down-the-road. All I have to do is save the broth after I've cooked the chicken. In turn, I'm left with chicken for that future soup or any other dish I'd like to make. Below are two of my favorites from by chicken salad "collection." Both can have a little kick, but that's how I like my chicken… with some zing! The Spinach Roll-Up is a favorite on my table. Guests and non-guests have enjoyed this easy-to-prepare dish. And it freezes great, so make enough for leftovers!!
Check out these dishes. Add some crusty bread and a bottle of red or white, whatever your preference, and you're certain to feel satisfied. Enjoy and let me know what you think.
Santa Fe Chicken Salad
Chili-Cumin Vinaigrette:
1/4 C. sherry vinegar
1 Tbsp. grainy, Dijon mustard
1/2 tsp, sugar
1 tsp. ground cumin
1/2 jalapeno pepper, seeded, cleaned & minced
1/2 C. olive oil
4 C. diced, cooked chicken
1 red pepper, seeded & diced
1 red or yellow pepper, roasted, cut into thin strips
4 green onions, thinly sliced
2 C. cooked corn kernals, fresh or frozen
2 C. cooked black beans (can use canned beans, rinsed well)
1/4 C. coarsely chopped cilantro
Combine vinaigrette ingredients until well blended.
Combine chicken, red pepper, roasted pepper, green onions, corn and beans in a large bowl. Toss with vinaigrette.
Season to taste with salt and pepper. Garnish with cilantro.
Spinach Roll-Ups
1lb. lasagne noodles
3 pkgs. (10oz. each) frozen chopped spinach, cooked and well drained
15 oz. lowfat Ricotta cheese
1 C. grated Parmesan cheese
1/4 lb. butter or margarine, melted
salt, pepper, nutmeg to taste
1 jar (1lb.) spaghetti sauce
Preheat oven to 350°F. Prepare lasagne according to package. Meanwhile, drain cooked spinach and combine cheeses and butter. Season to taste.
Place a few tablespoons of spaghetti sauce on bottom of baking dish. Lay lasagne noodle flat. Spread thinly some spinach mixture on noodle. Roll noodle and place in baking dish with wrap side down. Continue until all the spinach filling is used. Noodles should be placed in single layer. Top with spaghetti sauce. Bake in oven for 40 minutes, or until hot. If freezing for use at a later time, only cook for 30 minutes. No need to thaw, just stick in oven and cook. (These work great if frozen.)
Double-Mustard Chicken Salad
Dressing:
1 C. mayonnaise
3 Tbsp. sweet-hot mustard
3 Tbsp. grainy Dijon mustard
1/4 C. fresh lemon juice
season to taste with salt & pepper
6 C. diced, cooked chicken
4 celery stalks, sliced
1 red bell pepper, seeded and diced
1 head radicchio lettuce, halved, thinly sliced
Romaine lettuce leaves
1/2 C. chopped fresh parsley
Combine mayonnaise, mustards, lemon juice, salt and pepper in a bowl.
In a large bowl, combine chicken, celery, and radicchio. Toss with dressing.
Serve on a round plate surrounded by Romaine leaves.
Sauteed Zucchini with Almonds and Olives
3 Tbsp. olive oil
2 1/2 pounds small zucchini, trimmed, quartered lengthwise, cut crosswise into 2-inch pieces
3/4 C. brine-cured green olives, pitted, halved, divided
2/3 C. fresh Italian parsley
1/2 C. whole almonds, toasted, coarsely chopped
Heat oil in heavy large skillet over medium-high heat. Add zucchini and saute until beginning to brown. Season with salt & pepper. Mix in 1/2 C. olives and parsley. Transfer to shallow bowl. Sprinkle with almonds and remaining olives. Serve warms or room temperature.