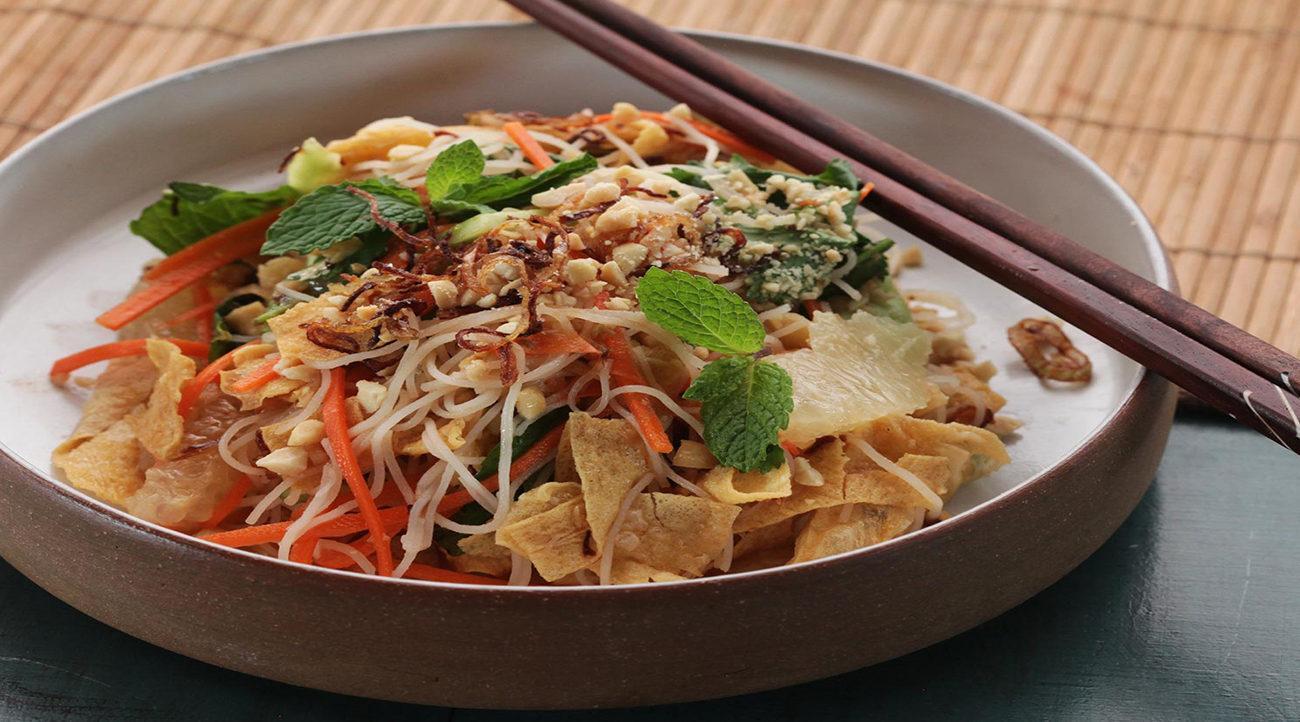 Little SAIGON…Vietnamese & Vegetarian Cuisine
No introduction. I'll just cut to the chase. If you're down at the South Jersey shore, Little SAIGON is a restaurant not to be missed. Period! And I say this at the risk of great personal sacrifice.
A small, unpretentious restaurant, off the beaten path, we have been loyal fans since our first introduction three years ago. We're not alone. An in-season visit definitely requires a reservation and even during the off-season you'll find the dining room humming with the excitement of gourmet delight. Tables are few and seating is close, but that's a good thing. It's easier to ask your neighbor what dish they're enjoying… and it's totally polite, if not invited, to make this inquiry.
Little SAIGON is artfully run by Chef Owner Lien-Pham and her brother Lai-Chau. Lien-Pham is the behind-the-scenes genius while Lai-Chau is the out-front man, welcoming diners in and trying to accommodate requests for seating on the busiest of evenings. He's also very gracious in helping with food selections. He and his sister have created a happy and alive environment for enjoying the best that Vietnamese cuisine has to offer.
Our first visit was as part of a group of twelve! Four or five tables were pushed together and the fun began. I remember our friend Karen was the "orderer" in charge. Allen and I were just enjoying "the ride" and the enthusiasm with which she ordered our meal.
At Little SAIGON you order food to be shared… unless you're so possessive of your favorite dish, and then you order a second dish of the same for the table! Soups, salads, meat, fish, chicken, broken rice, noodles, vermicelli; dishes are prepared for the most picky of eaters. Spicy and not so spicy, sauces are light, not overwhelming. And the dishes are presented with such care and pride, the beautifully adorned food is a treat for the eyes as well as the stomach.
We've got a few favorites. For appetizers, the Little SAIGON Vegetable Roll is a moist, plump vegetarian roll served with a light plum sauce and an even lighter-than-light not-quite duck sauce. Not fried, this roll is ready for dipping and has a fresh, light taste. We also like the Fried Spring Roll. Still lighter than your traditional spring roll, it has shrimp, and again comes with great dipping sauces. We also like their Char-broiled Beef on a skewer. Their Chicken Salad, yes, that's an appetizer, is terrific. It does not have a mayonnaise base and is made with shredded chicken, cabbage and other assorted veggies. It's a must. And their Mixed Salad with House Dressing can be ordered for whatever number of people will be enjoying it…. In fact, if you mention how many people will be eating a particular dish you will be counselled accordingly.
Allen always enjoys their soup. Chicken, vegetable, beef, whatever soup you order will be filled with what you are promised. We checked out their Wonton Soup recently and thoroughly enjoyed their take on a wonton. The wontons were firm and substantial, and I'm sure we'll order it again. The soups can be shared for two at a minimum, and for four at a max, or serve as an entire meal for one.
Check out their Chicken Sauteed with Mango or Cashew Nuts. Ask for both nuts and mango. It's yummy. The Charbroiled Beef is prepared a few different ways on rice vermicelli, and each variation is more delicious than the next. One evening a neighboring diner recommended the Spicy Shrimp in a Hot Pot…….. that's when close quarters are an advantage! Whole fish is a specialty. And every evening offers menu specials that are posted on a blackboard.
Little SAIGON has a full menu of desserts and of course, coffee and tea is available. To be honest, we have never had dessert… our appetites are always more than satisfied by our meal. Hopefully I'll get to sample their desserts at some point! The house provides orange slices at the end of your meal. They're a nice ending to a delicious dinner.
Yeh, I think this restaurant is almost perfect. Friends reminded us that after my strong recommendation they went to Little SAIGON and were disappointed. But a return visit, at my insistence, proved more than satisfying. So please, check out this restaurant. Attire is casual. No need for sweaters, it gets a little warm with all the energy circulating! And bring your favorite wine… It's one of the best BYOBs in A.C.
Make sure you tell Lai-Chau that Linda sent you… we told him of this review, and he promised not to change things! Enjoy and let us know what you think.
Little SAIGON
Vietnamese & Vegetarian Cuisine
2801 Arctic Avenue
Atlantic City, NJ 08401
(Corner of Iowa & Arctic)
Open 7 Days a Week
Monday-Sunday
12:00 Noon- 10:00 PM
(609)347-9119