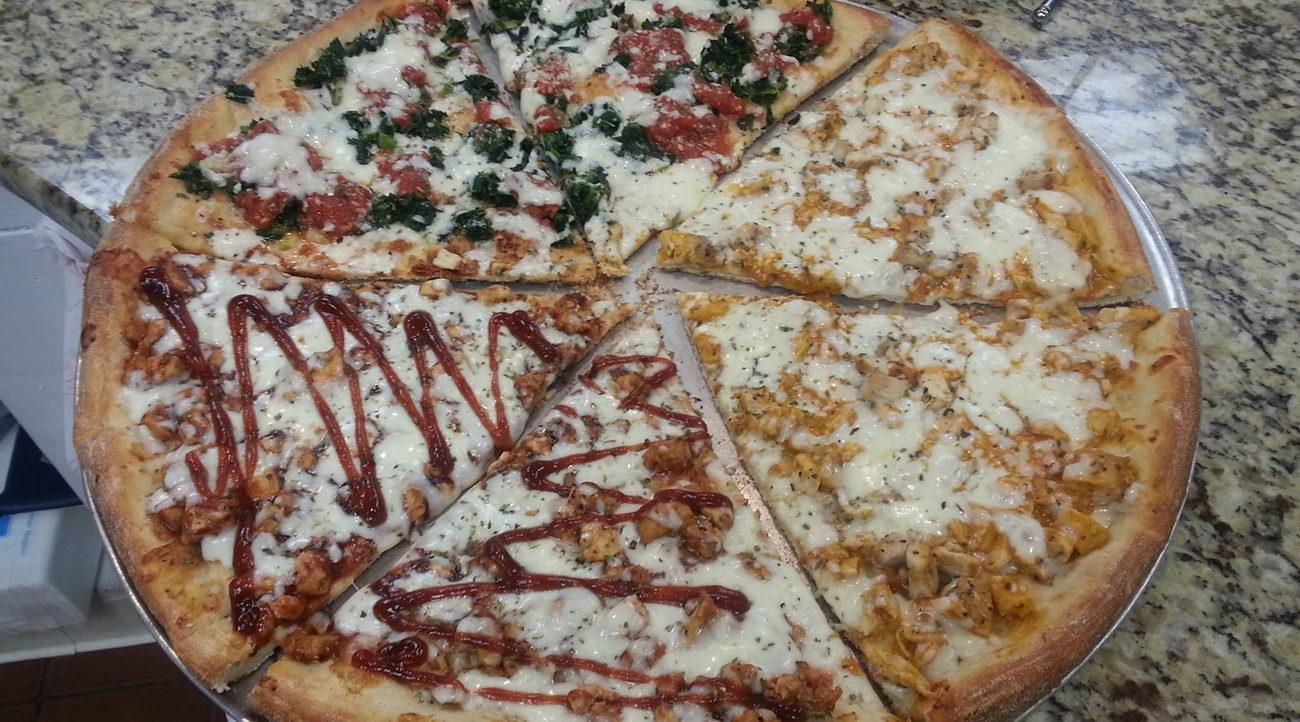 LaBella Italian Delight
It all started with a phone call from two or three readers.
"Please tell Linda and Allen to check out LaBella Italian Delight. The food is great and people need to hear about it!" P.S. It doesn't often happen that we get multiple calls about one restaurant so we felt compelled to sample LaBella. And sample we did!
Because our schedule has been pretty frenetic recently we decided to do something different. Joined by my sister Michele, we ordered take-out… We've never done this before… reviewed a restaurant starting with its take-out services. Perhaps a bit risky for the restaurant, but in this case the restaurant came out winningly.
Let me say we ordered too much. There were three of us…. could have been five. Should have been six!
We started with the Sicilian Salad filled with lettuce, tomato, roasted peppers, fresh garlic, mushrooms, artichokes mozzarella cheese and olive oil. Quite substantial, it was aptly described and equally delicious. It was more than enough for the three of us… we had leftovers!
I had heard their pizza was yummy through the grapevine. It's brick-oven baked. So naturally, we had to try a pizza… We ordered the Rustica. Thin crusted and white, it was covered with spinach, plum tomatoes, fresh garlic and Mozzarella Cheese. If you are a spinach lover, or any kind of veggie lover you will love this pizza. Michele and I are, so you can imagine how we attacked the Rustica.
Next on our menu was a "Special" stromboli. LaBella's stromboli dough has a slightly sweet, softer texture than most. This one was filled, really filled, with chicken, fried onions, roasted peppers and Mozzarella cheese. And it was real chicken, not processed. They sent us home with red sauce for dipping. We ordered a medium size and there was enough for four healthy servings. I'm thinking six could have enjoyed it, especially if they had a salad alongside.
And we had to order french fries!! I've got a thing for french fries and I can honestly say, LaBella has fries that are outstanding. Thick and fat, they were not too greasy, but instead were meaty and hearty. Just the way I like them… maybe too much the way I like them!! They've got them in all kids of variations, but I'm a purist and enjoy good old plain french fries with ketsup, sometimes with vinegar and salt.
Now because of what we ordered, and it was take-out, we could use a coupon for a free medium pizza. If you look on LaBella's take-out menu you'll see a lot of coupon options that can be used for take-out with almost any kind of order. Anyway, we wanted to taste one of their plain red pizzas and boy were we happy. Delish! And what a great way to try something we didn't order. We could have gotten a $5 discount, (another coupon option) but again chose the pizza. The savings is tempting, but more so is the pizza!! After all, you can never have too much pizza….
As is usually the case with an order one picks up, we called ahead and then did some errands before arriving at the restaurant. Our order was ready and waiting just as they said it would be. Piping hot, it remained so virtually until we landed home about 15 or 20 minutes later. Clearly, our food had not be sitting around cooling off until we got there.
The restaurant itself has just completed some remodeling and is open and airy. There were diners enjoying their meals at the booths. In fact we ran into a couple from our old neighborhood. They were there as part of a group having a nice, relaxing dinner.
Oh yes, did I say LaBella is a BYOB? YES, it's a BYOB and they're open for dining seven days a week, till 10pm Tuesday thru Saturday. I'm hoping Allen and I can get over before this goes to print to check out one or two of their Specialty Platters. They're all served with soup or salad, pasta and rolls. I've already got my eye on the Bella Platter with sauteed chicken, broccoli, fresh garlic, white wine or white sauce over pasta.
They have a full menu including gourmet pizza, calzones, wraps, burgers, hoagies and steak sandwiches, seafood and pasta, of course. The service is congeniel and the atmosphere is casual… So whether you're looking to dine-in or order out, consider LaBella Italian Delight. It really is a delight for family-dining or couple-dining. Just make sure to tell them you heard about them here, in The Uptight Suburbanite. They might have a special treat for you!!! And remember "fries." Oops! I mean pizza. It's delish!!
LaBella Italian Delight
485 E. County Line Road
Warminster/Hatboro, PA 19040
215-674-8118