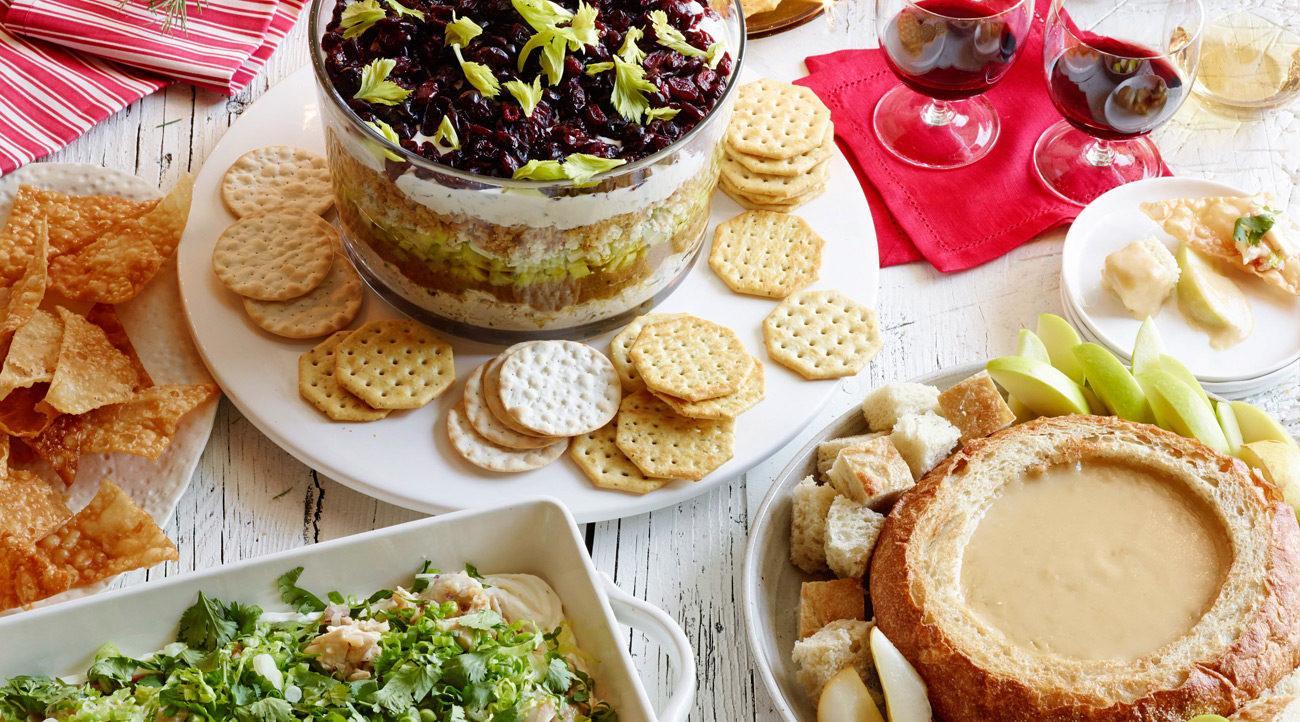 Party Time!
It looks like "party time" is upon us, again. Graduations, weddings, engagements, all sorts of celebrations are definitely in the air. Whether you're celebrating at home or out, you need to be prepared for company that's sharing your wonderful event. This month we offer the perfect answer to that last minute hospitality you'll be called upon to provide. Relax, our suggestions are easy
and can be prepared in advance for anything that arises. Enjoy! And congratulations… you're celebrating!!
Horseradish Dill Spread
8oz. whipped cream cheese
1/2 C. finely chopped fresh dill
1/4 C. prepared white horseradish
Mix cream cheese, dill and horseradish in small bowl. Season to taste. Can be made in advance and just kept in refridge until you need it!
Garlic Pita Chips
1/2 C. unsalted butter
1 large garlic clove, minced
1/2 tsp. fine sea salt
4 whole pita rounds
Melt butter with garlic and sea salt in small saucepan. Cut pita bread horizontally along outside edges, separating pita into 2 flat disks.
Preheat broiler. Place pita halves on baking sheet. Brush pita with butter mixture and broil until just toasted. Cool completely. Break pita into 2-3-inch pieces. Can be made ahead and stored in air-tight container. (Would be tasty with Horseradish Dill Spread.)
Caramelized Cashews w/Cayenne
2 C. unsalted cashews
1/2 C. pure maple syrup
1 1/2 tsp. cumin
1 tsp. sea salt
1/2 tsp. cayenne
Preheat oven to 350°F. Spray baking sheet with vegetable oil spray. Toss cashews and all other ingredients in medium bowl. Spread mixture evenly on prepared sheet.
Bake nuts until golden brown, about 20 minutes. Might need to cook a bit more until you see the maple syrup is dry. Mixture should show signs of crackling apart.
Remove from heat and let cool. After about 10 or 15 minutes you can start to break nuts apart into clusters. Can be made in advance and stored in air tight container.
Horseradish Salsa Verde
1 C. coarsely chopped flat leaf parsley
1 C. olive oil
1/3 C. chopped fresh tarragon
3/4 C. prepared horseradish
2 Tbsp. drained capers, chopped
1 Tbsp. chopped fresh thyme
1 Tbsp. chopped shallot
1 Tbsp. white wine vinegar
1/2 tsp. chopped garlic
kosher salt and black pepper for seasoning
Whisk first 9 ingredients. Season to taste with salt and pepper. Can be made ahead. Keep in refrigerator and serve at room temp. Delicious on toasted baguette or as a condiment for fish or grilled chicken.
Marinated Olives
1 C. brine-cured olives, assorted colors
3/4 C. fresh orange juice
1/2 C. olive oil
2 garlic cloves, sliced very thin
1/2 tsp. dried crushed red pepper
Mix first 4 ingredients in small bowl. Season to taste with red pepper and salt. Cover and refrigerate. Can be made ahead. Taste before serving to see if you want to "heat it up" a bit. Add red pepper as desired. (Good with drinks.)
Red Caviar Dip
1 C. sour cream
2 green onions, sliced thinly
1 Tbsp. fresh lemon juice
1 Tbsp. plus 1 tsp. chopped fresh chives
1/4 C. plus 3 Tbsp. salmon caviar, drained, gently rinsed
Mix sour cream, green onions, lemon juice and 1 Tbsp. chives in medium bowl. Gently fold in 1/4 C. caviar. Transfer to bowl. Refrigerate at least 6 hours before serving. Delish with pita chips and veggies.
Apple-Raspberry Cake
7 Tbsp. unsalted butter, room temp.
2 small Golden Delicious apples, peeled, cored,
cut into 1/2-inch cubes
2 Tbsp. plus 1 C. sugar
1 C. fresh raspberries
3 large eggs
2 Tbsp. fresh lemon juice
1 1/2 tsp. vanilla extract
1 1/2 C. flour
1 1/2 tsp. baking powder
1/2 tsp. salt
1/4 tsp. ground ginger
Preheat oven to 350°F. Prepare 9x9x2-inch baking sheet. (I use loaf pans.) Melt 1 Tbsp. butter in medium skillet. Add apples and sprinkle with 2 Tbsp. sugar. Saute until tender. Set aside to cool.
Mix in raspberries.
With electric mixer, beat remaining butter in medium bowl. Beat in remaining 1 C. sugar, then eggs. (Can use Splenda as sugar-substitute.) Beat in lemon juice and vanilla extract. Add flour, baking powder, salt and ginger. Beat well. Spread 13/4 C. batter in prepared pan. Sprinkle evenly with fruit. Drop remaining batter evenly on top using a teaspoon. Drop spoonfuls apart from each other.
Bake cake approximately 50 minutes, until golden brown and tester comes out clean. Let cool completely before serving. (Can be frozen and pulled out when needed. Also, can substitute blackberries for raspberries.)