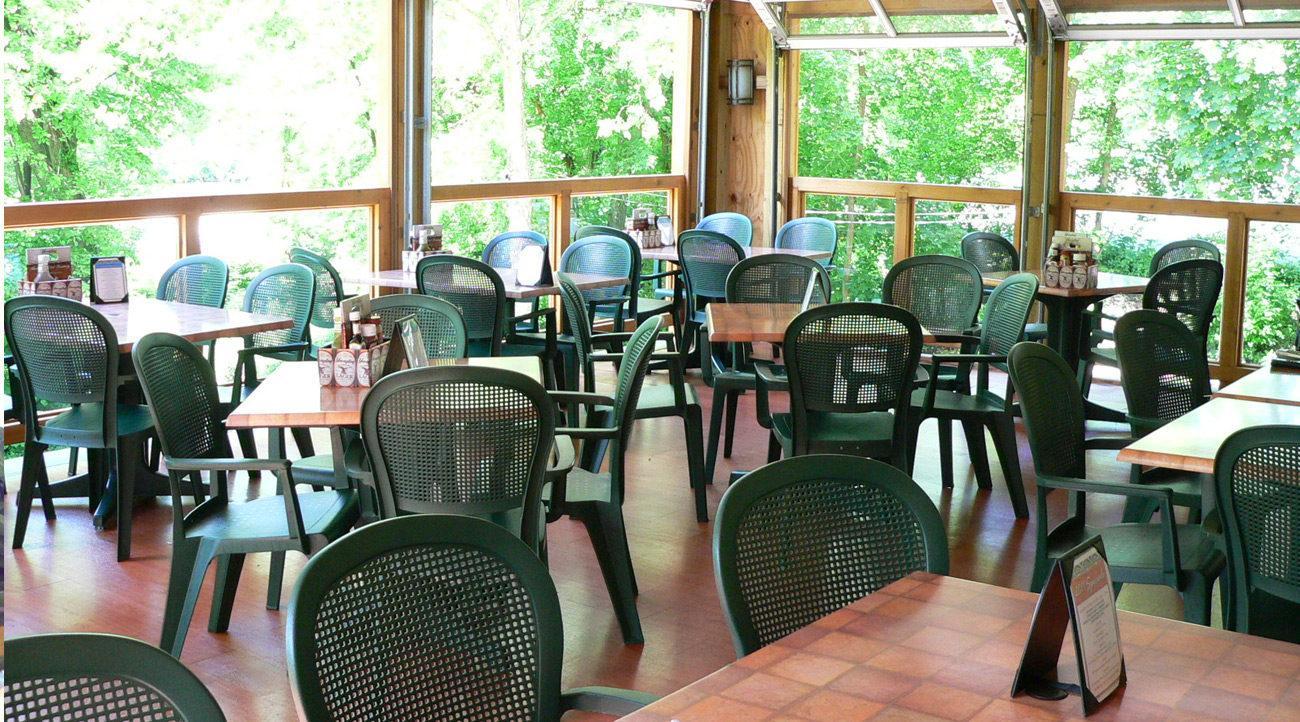 Dean Casmirri's Colonial Inn
Allen and I did something a little different this month. We checked out a restaurant off the beaten path. Perhaps its name was the attraction or location. We really were more curious than anything else to see where in "Hulmeville" a Colonial Inn could be.
Turns out, this Colonial Inn in Hulmeville is something of a local gem.
Dean Casmirri's Colonial Inn is an area hotspot, somewhat hidden away from the main thoroughfare of Route 1. Its signage is not as clear as one would wish, but once we found it, well, we're happy we did. The locals know about this place; there are a lot of other people who need to hear about it.
This is a full service restaurant. It has a bar on the main level, as you walk in, and a second floor for dining. And out back there's a wonderful deck with the most awesome river views. It was chilly the night of our visit so the deck was enclosed and the fireplace turned on. We found the whole dining experience a little rustic but extremely pleasant. I was enthralled with the see-through garage doors that enclosed the deck. They could be opened as required. Now, if only I had a house, this is what I would do to my deck! A great idea!!
We were greeted and escorted back to the deck by our server, Veronica. She was very sweet and attentive. New to the staff, she was apologetic about not being to make any strong recommendations…. although she did recommend the Chocolate Cheesecake Brownie for dessert. Yum!
The menu is extensive. Sandwiches, Chef Specials, Soups, Salads, Burgers – you could really get almost anything in almost any price range. Complete Dinner Specials run $10.99 including soup or salad, entree and dessert.
We started out with soup. We needed to warm up a bit while the fireplace was heating…. Allen got a hearty Onion Soup baked in a crock. I ordered the Cream of Broccoli. Both did the trick; warmed us up and prepared us for the delicious meal ahead. And yes, a basket of warm rolls arrived with the soup.
We saw a lot of fish dishes on the menu including crabcakes, salmon, scallops, chowders, so we thought fish was the way to go. Allen ordered the Baked Salmon Stuffed with Crabmeat. I ordered the Baked Tilapia Stuffed with Crabmeat. I asked for cole slaw and mashed potatoes as my two sides, Allen asked for cole slaw and french fries. While waiting for our dinner, Veronica checked in to fill our water glasses and to make sure we were comfortable. We were the only ones sitting on the deck, so I imagine she didn't want us to feel too lonely. The view was spectacular and we could only think how beautiful it must be when it warms up and the trees are thick and full. Did I mention there's seating outside along the river? I even noticed a couple playing coites.
Our meals arrived. Both fish dishes were prepared in hefty casseroles. The crabmeat was delicious, no breading detected, and seasoned perfectly to our taste. The tilapia and salmon were baked and lightly seasoned so not to detract from the crabmeat. My mashed potatoes were thick and tasty… not pasty. Allen's fries were just the way he likes them – very well done.
We both enjoyed our meals and were ready to call it quits, when Veronica mentioned dessert. It was included in our dinner, so I insisted we hear what was available. (Yes, I'll take the rap for this.) Cheesecake, rice pudding, cannoli, brownie, etc., what delicious meal goes without a delicious finish? I ordered the Chocolate Cheesecake Brownie (remember Veronica's recommendation?) and Allen ordered the rice pudding. Both were served with a dollop of whipped cream and both were, yes, delicious. Allen, who is somewhat of a rice pudding "aficionado" went wild over the pudding… so much so that I HAD to sample it. He was right! I don't generally like rice pudding, but this concoction was thick, with some kind of graham cracker-tasting crust somewhere in the bowl. A meatier rice pudding, this is a must-have at Casmirri's. My brownie was thick, chewy and chocolatey. A scoop of vanilla ice cream would have perked it up. (Of course ice cream perks up almost anything!)
As a rule, we visit a restaurant more than once before writing about it. We make an exception with Casmirri's because it was part of a full-discovery experience. An unknown restaurant, its location, all of this became much more than we expected. We will definitely re-visit Dean Casmirri's Colonial Inn and of course, try something else from the menu. Hopefully we'll take some friends when it's warmer and once again sit outside on the deck, with the "garage doors" open and enjoy the beautiful Bucks County view. It really is special and worth the "find." It probably gets very busy on those warmer days and nights, so we'll have to be plan accordingly. There is entertainment nightly…. Karoake, Bar Bingo, etc. And it's open late.
As an aside, diners enter via the bar area where smoking is allowed. Do not be put off by the smoke, just march through and go to the deck. You'll get nary a scent of anything other than the fresh outdoors! So, give it a try. This is destination dining in Bucks County where the outdoors meets delicious food first hand!
P.S. Special thanks to Bobby who regulated the "garage doors" and adjusted the fireplace. He made sure the outdoors stayed outside!!
Dean Casmirri's Colonial Inn
11 Beaver Street
Hulmeville, PA 19047
215-752-9878
www.deanscolonial.com