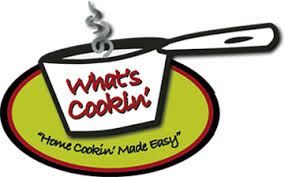 In The Kitchen
You can tell by these recipes that winter is upon us. You can also tell that we're trying to help you watch your waistline by going a little lighter with some fairly traditional dishes… And you can also tell that we've started to experiment with tofu. The recipe below actually comes out pretty good and proves to be very tasty when cooking the tofu in soy. Just make sure the tofu is dry, VERY dry, when you start to prepare it. I have a friend who actually places an empty pot or skillet on top to squeeze out the unwanted liquid. You can try doing this with a spatula! Try it, you might like it…. tofu, that is! Bon Appetit!
PASTA W/VEGETABLE SAUCE & GOAT CHEESE
1 12oz. jar roasted red peppers in oil
1 C. diced onion
1 Tbsp. minced garlic
1 15oz. can tomato sauce
1 16oz. pkg. pappardelle pasta
1 C. sliced black olives
1 C. crumbled goat cheese
In the bowl of a food processor, set the roasted red peppers and oil, reserving 2 Tbsp. oil separately. Pulse peppers into a puree. Heat reserved oil in a pan and fry onion and garlic. Add tomato sauce and pureed peppers. Bring to a boil, then reduce to a simmer.
While sauce simmers, prepare pappardelle according to package, al dente. Drain.
Toss pasta with roasted red pepper sauce, sliced olives, and goat cheese. It's ready to serve. Enjoy!
LIGHTER PASTA ALFREDO
1 9oz. pkg. fettuccine
1 lemon
½ 16oz. bag leaf spinach
1 Tbsp. butter
2 tsp. minced garlic
1/3 C. light cream cheese
1 C. low sodium vegetable broth
1/8 tsp. nutmeg
½ C. grated Parmesan cheese
Prepare the pasta according to directions, al dente. Zest the lemon and set aside. Cook the spinach, then drain well.
Heat the butter in pan and saute garlic for 1 minute. Reduce heat to low and whisk in the cream cheese and chicken broth. Simmer for 5 min. to reduce. Season with lemon zest, nutmeg, salt and pepper to taste.
Stir in Parmesan cheese to combine. Add pasta to pan and sauce, and toss with the spinach to combine. Yum!
VEGGIE FLATBREADS
1 16oz. pkg. frozen butternut squash, thawed
1 12oz. pkg. shredded brussel sprouts
½ olive oil
6 slices pita (can use flatbread if preferred)
11/3 C. reduced fat Ricotta cheese
¼ C. Parmesan cheese
2 Tbsp. balsamic glaze
Preheat oven to 450°F. Toss squash and brussels sprouts with 2 Tbsp. oil, salt and pepper. Roast for 15 min. turning once.
Set roasted veggies aside. Brush remaining oil on each pita, sprinkle with salt and pepper.
Divide and spread ricotta on each pita, evenly distribute butternut squash and brussels sprouts, and cook for 5 min. Remove from oven, then garnish with parmesan cheese and a drizzle of balsamic glaze.
TOFU AND LETTUCE WRAPS
1 C. rice
1 14oz. pkg. extra firm tofu
2 Tbsp. minced ginger
6 Tbsp. soy sauce, divided
6 Tbsp. sweet chili sauce, divided
1 head iceberg lettuce
3 Tbsp. oil
1½ C. shredded carrots
¾ C. unsalted peanuts
Prepare the rice according to directions. Drain tofu and pat dry with paper towel. Cut tofu into ½ inch cubes. Mix with ginger, ¼ C. soy sauce and ¼ C. chili sauce. Place in refrigerator for 30 minutes. (Make sure tofu is dry!)
Remove 8 outer leaves from lettuce and set aside. Slice remaining lettuce into strips.
Heat oil in pan and saute tofu over medium heat for 5 minutes. Add rice and shredded carrots, and cook for 2 minutes. Remove from heat and toss in sliced lettuce.
Fill lettuce leaves (cup) with rice mixture and garnish with peanuts. Serve with remaining chili and soy sauce.