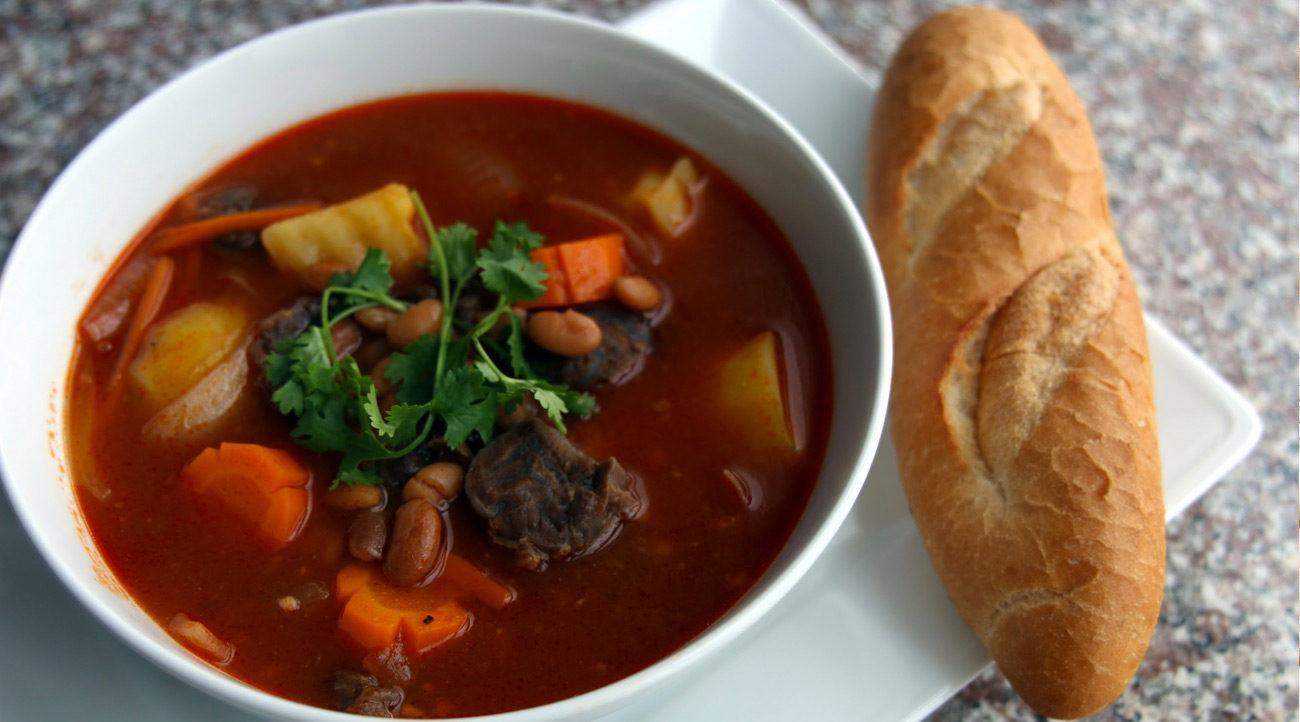 Bon Appetit!
Ok, so I know it's April, but that doesn't mean we can't relish something hot and heavy. After all, we're still not in the warmth of Spring, yet. As I write this, I'm still wearing my winter coat… aren't you?!
So, to fend off the last of winter's cold, we offer some delicious dishes that are good regardless of what's happening outside. The soup is terrific. If you have a slow cooker, you can just "dump" the ingredients in the pot and cook. Imagine all the errands you can do while the "other you" is cooking at home?!
Check our recipes below and see if they don't hit the spot. Next month we'll start lightening up, and offer a few dishes that might help out with graduation parties, etc. In the meantime, bon appetit! See you in May!
Beef Ragu
1 tsp. extra virgin olive oil
1 lb. lean ground beef
1 lg. carrot, chopped
1 lg. celery stalk, chopped
1 small onion, chopped
1/4 tsp. ground cumin
pinch of crushed pepper
1 28 oz. can diced tomatoes
1 pkg. pasta of choice
Heat covered 6-qt. pot of water until boiling. Add 2 tsp. of salt.In large skillet, heat oil on high. Add beef, sprinkle with salt and pepper. Cook about 2 minutes until browned. Stir to break pieces.
Add carrot, celery and onion. Cook 5 minutes or so until veggies are tender. Add cumin and red pepper. Stir in tomatoes and heat until boiling. Reduce heat and simmer 10 minutes.
Cook pasta – minus 2 minutes – according to directions. Drain and return to pot. Stir in tomato sauce and cook on medium until pasta is al dente. Serve with sprinkle of chopped fresh mint leaves.
Pappardelle Pasta w/Salmon & Peas in Pesto Cream Sauce
8 oz. pappardelle
1 C. frozen peas
2 tsp. olive oil
12-oz. skinless salmon fillet
1/2 tsp. salt
1/4 tsp. black pepper
3/4 C. heavy cream
2 oz. cream cheese
1/2 C. prepared pesto
2 tsp. lemon zest
Prepare pasta according to directions. During last minute of cooking add peas. Drain & set aside.
In a large skillet, add the olive oil and heat over a medium fire. Sprinkle the salmon with 1/4 tsp. salt and 1/8 tsp. black pepper. Cook salmon in hot oil 5-6 minutes on each side. Transfer to plate and flake into large pieces with fork.
Heat another large skillet over medium-high heat. Add cream, and simmer 3 minutes or until cream is slightly thickened. Reduce heat to medium-low, add cream cheese and pesto, whisking until smooth. Stir in pasta and peas; cook 1 minute, tossing frequently. Remove from heat and gently stir in salmon, lemon zest and remaining salt and pepper.
Vegetable Soup with Pesto
3 medium carrots, peeled and chopped
3 medium boiling potatoes, peeled and chopped
2 medium onions, chopped
1 1/2 C. chopped canned tomatoes
2 medium zucchini, chopped
3 C. water
2 C. drained, canned cannellini beans
1 C. small pasta
1/2 C. prepared pesto
In a large slow cooker, combine potatoes, onions, tomatoes, zucchini and water. Season to taste. Cover and cook on low for 8 hours or until vegetables are tender. Stir in beans and pasta. Cook until pasta is tender about 30 minutes. Season to taste, again if necessary.
Spoon soup into bowls and top each serving with a dollop of pesto on top. Serve hot.
Crispy Salt & Vinegar Potatoes
2 lb. Baby Yukon gold potatoes, halved, quartered
1 C. plus 2 Tbsp. distilled white vinegar
1 Tbsp. kosher salt and more
2 Tbsp. unsalted butter
pepper
2 Tbsp. chopped fresh chives
Combine potatoes, 1 C. vinegar and 1 Tbsp. kosher salt in medium saucepan. Add water to cover. Bring to boil, reduce heat and simmer until potatoes are tender, 20-25 minutes. Drain and pat dry.
Heat butter in large skillet over medium heat. Add potatoes, season with salt and pepper. cook, tossing occasionally until golden brown and crisp. Drizzle with remaining 2 Tbsp. vinegar. Serve with chopped chives and salt.