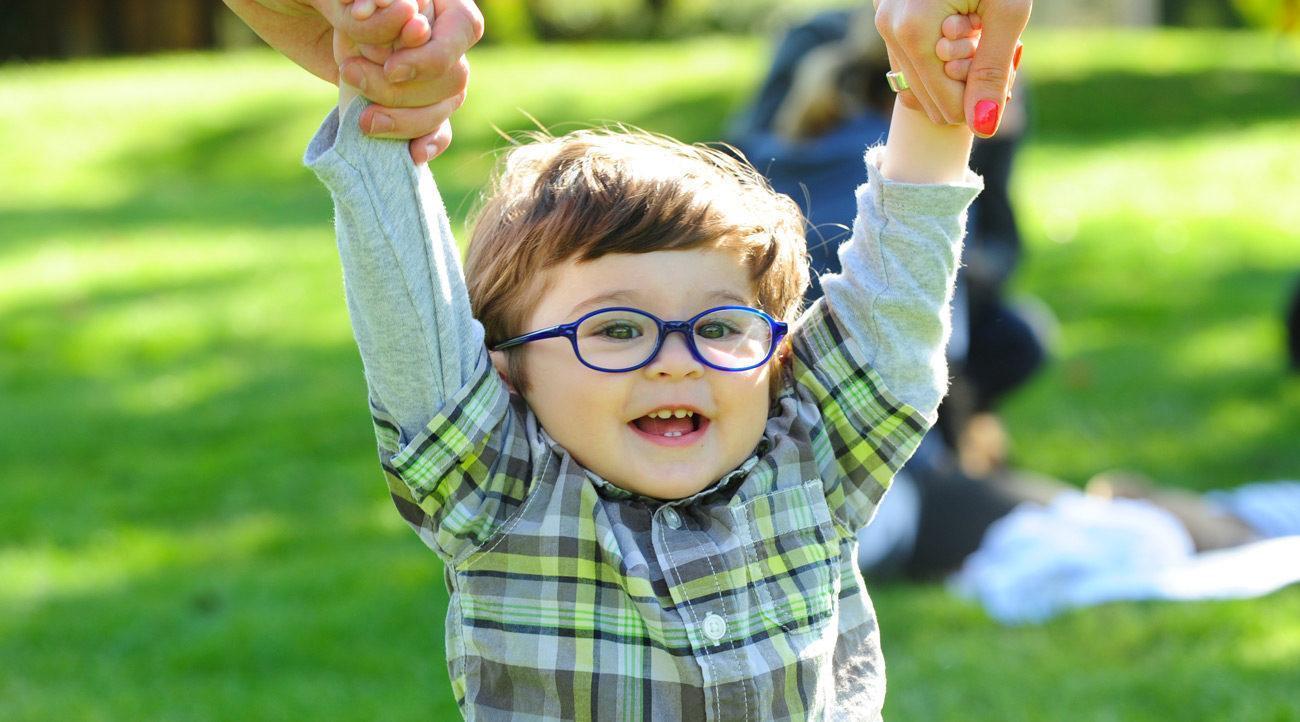 "Children's Eyeglass Frames: Like Yours, But More Fun"
Children's eyeglass frames are fun to shop for. With so many new styles, you and your child are sure to find a pair of kids' eyeglasses you both will love.
What Kids Want in Eyeglass Frames
Today, many kids want eyeglasses that look just like the glasses their parents or older brothers and sisters wear. Plastic frames in elongated rectangular shapes, small, retro-styled ovals, and even thin titanium frames are all available for today's small customers. The availability of these fashionable frame styles for kids has them yearning to wear glasses more than ever before.
Cool brands, fun colors and adult styling all appeal to kids. Cartoon characters are coming out of the television and into eyewear stores with their own line of children's frames. The popular Harry Potter books and movies have created a demand for frames "just like Harry's" among young children, while older kids are influenced by trendy brands and logos they see their sports heroes wearing.
No matter the style or brand, it's important for children to feel they are a part of the frame selection process. Choosing eyeglass frames they like goes a long way toward getting them to wear their glasses and take good care of them as well.
Children's Eyeglasses Durability and Safety Issues
While kids may want eyeglass frames with a specific color or brand, parents generally want something that's going to last. Look for kids' frames with spring hinges (which let the frame's temples bend in both directions) and flexible frame materials (which can withstand accidents such as sitting on frames or over-bending the temples when taking glasses on and off). Polycarbonate is a very safe lens material and a great choice for children's eyeglasses. (It's the same material that bulletproof glass is made of!) They offer the best combination of comfort and safety, and are available with extra durable lens coatings to make lenses more scratch- resistant.These features reduce your costs over time.
Tips For Buying Kids' Eyewear
Have your child pick out several frames they like. Then have the optician determine which ones provide the best fit. Thinner, lighter and stronger materials, like stainless steel and titanium, are becoming very popular in children's eyewear. Frames made from these durable materials are great for kids who are hard on their glasses. Also, most eyewear manufacturers and optical shops offer extended warranties on children's eyeglasses so you can feel more at ease about your investment in your kids' eyewear.
Four Trends in Children's Eyewear
•Designers have taken cool and classic designs that work for adults & scaled them down for kids.
Spring hinges, strong and flexible frame materials and impact-resistant polycarbonate lenses all help protect your child's eyes – as well as your financial investment.
•Protecting your child's eyes from the sun's harmful UV rays may lower the risk of adult eye problems like cataracts later in life. Photochromic lenses made of impact-resistant polycarbonate are an excellent choice for kids who spend a lot of time outdoors. Clip-on sunglasses (or newer versions that magnetically attach to eyeglasses) also are good choices.
•For the child who is fast becoming a teenager, eyewear fashion is increasingly important. Designer eyeglass frames are very appealing to "tweens." Also popular are frames branded with apparel and accessories names.
Most important, make sure you and your child work with a proven professional. A qualified optical professional can make a big difference in how well your child sees today and tomorrow!
Mark Miller
President of Glasses Galore
Southampton Shopping Center
482 Second Street Pike
Southampton, PA • 215.355.7SEE (7733)
Village at Newtown Shopping Center
2842 S. Eagle Road
Newtown, PA • 215.579.1155
Fairless Hills Towne Square
451 S. Oxford Valley Road
Fairless Hills, PA • 215.547.5470