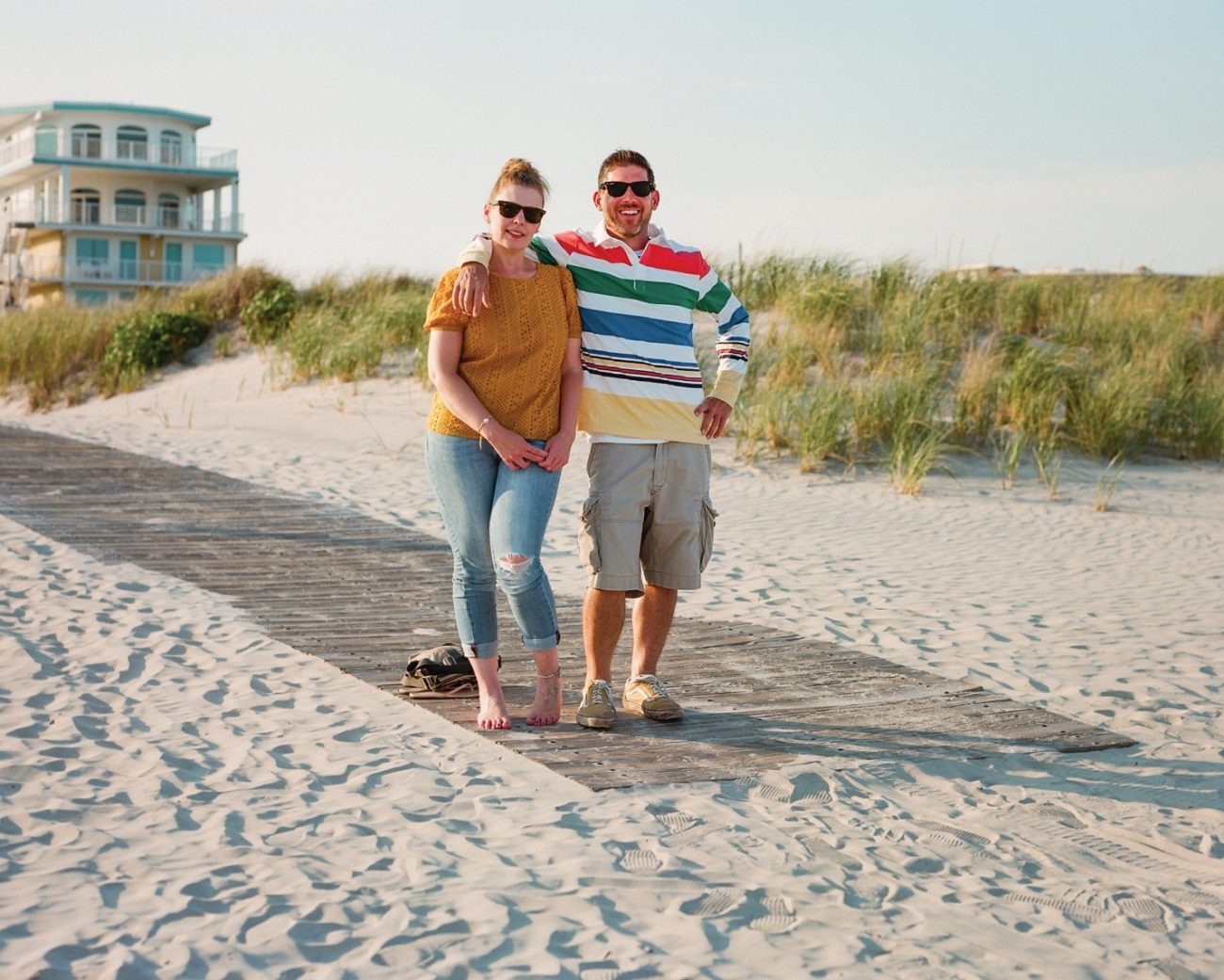 Back to the Beach
By Kenneth Taylor
Summer is finally here and things are pretty much back to normal.
Most of us are planning vacations and taking day trips again. Many of us South Eastern Pennsylvanians head to our favorite Jersey shore point at least once during the summer. My location of choice is Wildwood but any beach will pretty much do for me. I can't get enough. I was just in Wildwood recently to do a little photography. I'm into taking pictures of the 1950's style motels and store fronts there. As far as I could tell Wildwood seemed to be operating the way it was before the pandemic. Everything was open, no masks were required, and vacationers seemed to be enjoying themselves without hesitation. I noticed sadly a few bars and restaurants went out of business but generally speaking nothing much had changed. I wrote about shore photography last year but many of you probably hadn't returned yet. It makes sense to revisit the topic. I'm going to discuss some equipment that might help as well as give a few tips. You have twice as many pictures to take this summer to make up for lost time.
One of the most useful tools at the beach is a circular polarizing filter. Simply put, a polarizer controls reflections from surfaces like water and glass. It's like having sunglasses on your lens. As you can easily imagine, this can come in handy on a bright afternoon at the shore. Want to make those beautiful puffy clouds sitting out over the ocean really pop? Get a polarzier. The filter will darken the blue in the sky and make the clouds appear to jump out of the photo. A circular polarizer is adjustable too. By turning the filter you can set the intensity of the effect to your liking. The filter will also reduce the glare on water. This is useful out on the bay or on the ocean. The color of the water will dramatically improve by reducing the glare with one of these filters. Polarizers can also be useful when you're out and about in town. Let's say there's a fantastic classic car parked in front of a restaurant. The filter can virtually eliminate the distracting reflections on the car and make the detail and color far more intense. One caveat with these filters is that they can make the skin on people look over-saturated and unnatural. You should probably remove it when taking pictures of your friends and family.
Another tool that can be extremely useful is a tripod. I know adding more weight to your bag can be annoying but bringing a tripod is totally worth the hassle. Not to mention tripod designs have gotten pretty compact and light-weight in recent years. One perfect use for them would be for shooting seascapes. If you take a long enough exposure the incoming tides will almost appear like silk. This in combination with a colorful sunrise or sunset can turn an average photo into something worthy of being printed and framed. The problem is, if we handhold the camera with a long exposure, the image will come out blurry. Throw the camera on your tripod and the problem is solved. To further reduce camera shake you can even pick up a shutter release cable. Many are even wireless now. Now you're not touching the camera at all when you take the picture. Another great use for a tripod on vacation would be for family pictures. If you want to be in the picture as well, you have to put the camera in self timer mode or find a stranger to take the picture for you. There's a few problems with this. Without a tripod we have to find a flat surface to place the camera on in order to use the self timer. This puts major limitations on where our photograph can be taken and limitations on the composition in general. With a tripod we can go out on the beach, find the perfect spot, perfect framing, and even be in the picture too. You won't have to be concerned with annoying a stranger if multiple attempts at the photo are necessary. You only have to worry about annoying your family. Problem solved. Besides, it's almost impossible for a stranger to know exactly what you want.
A topic often overlooked is equipment care. Salty sea air can be a nightmare. Especially in the morning. You'll get all set up for a beautiful sunrise only to find that you can't see what you're doing because everything has fogged up. Bring a microfiber cloth with you to wipe everything down. You may find that you have to do it pretty often. Possibly before every shot. With that said, I highly recommend putting a uv filter on your lens. A uv filter is basically a clear piece of glass that screws onto the front of your lens. This will help protect your lens from moisture getting inside. It's far better to clean a filter than to be cleaning your actual lens all the time. Not to mention it can help protect the lens from dings and scratches. It's also worth noting that fine sand grain can be detrimental to your camera. If sand gets on your camera's sensor, the particles can actually show up on your images or even worse scratch the sensor. You can help prevent this by abstaining from taking off the lens on the beach. If you must change lenses while on the beach try doing it with the camera facing downward out of any direct wind or sunlight. Make sure you give everything a good cleaning after you've returned from the beach. Even sand from inside your camera bag can eventually work its way onto the sensor.
Taking a few extra steps can turn an average picture into an exceptional one. All it really takes is bringing along a few extra small items and trying a few techniques. Sometimes it helps to block out specific times specifically for photography. You can take your time without worrying that you're holding up family and friends. Relax, have fun with it, you're on vacation! I hope everyone is able to make it to their favorite destinations this summer. We definitely all deserve it.
Kenneth Taylor
contact@nycv.com