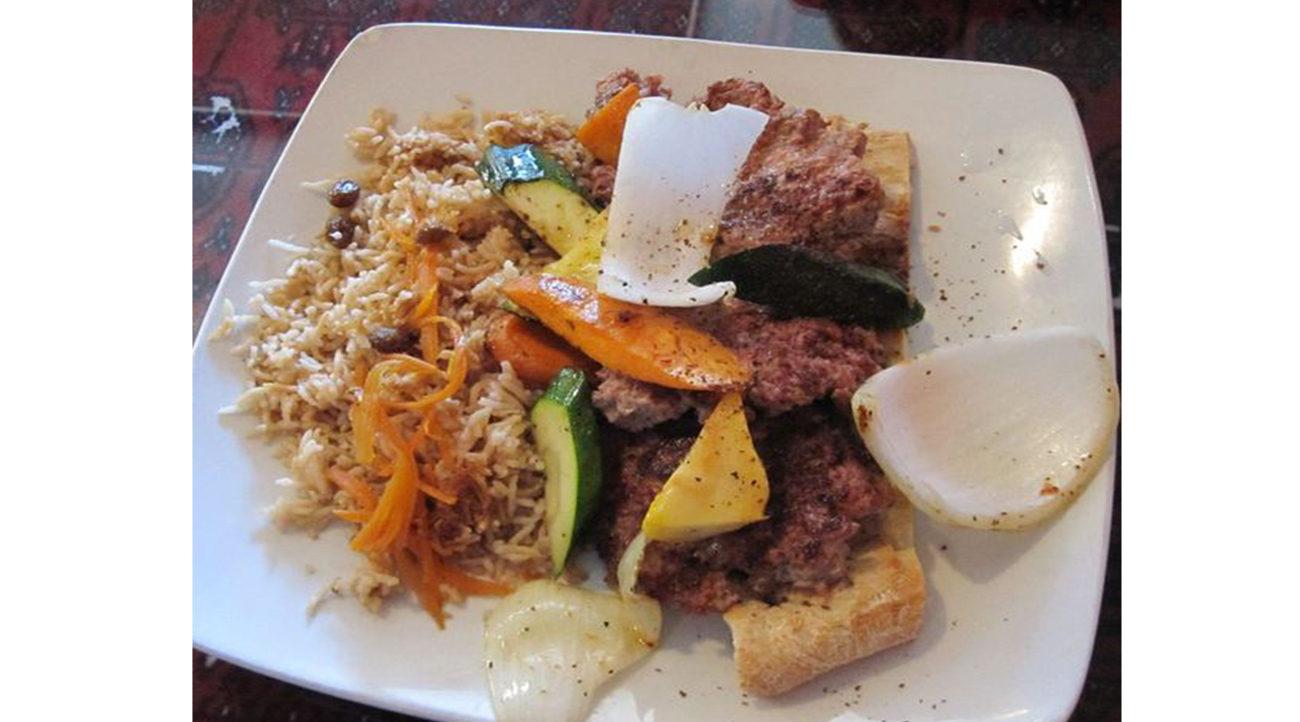 Yalda's Grill & Kabob… Be Swept Away by its Mediterranean Aromas & Taste
By Linda Herman
We have a new favorite restaurant to add to our growing list of favorites. Yalda's Grill & Kabob on Horsham Road in Horsham is right off Easton Road. It's the kind of special restaurant you don't necessarily expect to find in the heart of a suburb but are so happy when you do!
Let me say that early on I noticed Yalda's regularly
as I travelled Easton Road from Jenkintown up to Doylestown and back. I kept telling Allen "I think we should check out that restaurant." Friends of ours recommended we meet there one night but unfortunately, last minute, we couldn't join them. Then one evening in the middle of the week I pushed my request further and said, "Let's do it. You know that restaurant off Easton Road, the one we were going to go to with Paul and Penina, let's try it." We did, and now, it's among our most recommended eateries in the area. It's fun, it's delicious and you can't beat the prices.
"Yalda" means celebration in Afghan. And when you enter the restaurant's doors, you might get a feeling of celebration going on. Mo Rahpo, owner, head chef, and scion of the family that works the restaurant, welcomes you in and visits your table with a warm, friendly smile. Extremely likeable, he makes you feel at home and encourages a leisurely evening of savoring his individually prepared meals. There is no rushing at Yalda's; you are celebrating good food, good coversation and good company.
Our first time, we were unsure about what an Afghan menu would reveal. As we walked to our table we could smell familiar Mediterranean aromas wafting through the dining room. And when we reviewed the extensive menu, it was easy to see that we could enjoy all the Middle Eastern tastes that we so look for.
This first visit, Allen went with a Shami Kabob, seasoned ground beef with vegetables on a bed of rice. I decided to be a bit daring. My eye went to the Falafel Stew. Our genial waiter explained that it wasn't really a "stew" in the conventional way and he recommended it highly. "Ok," I said, "let's try it." We also ordered a platter of hummous as a "warm-up."
Remember I said the tone of your meal at Yalda's is one of "leisurely savoring, etc.?" To help you do that your table is served a platter of delicious bread with two different dipping sauces…. one is a bit spicier than the other, but neither will send you to the well for water, if you know what I mean! The bread is like a pita bread, but different. You can enjoy this treat while you languish over a bottle of wine that you may have brought with you. (Yes, this is a BYOB.)
Next, we were served our hummous with more bread. It was yummy. Clearly it was homemade, with not too much Tehini or sesame paste. House salads followed that were topped with a wonderful yogurt-based dressing. It was delicious. Unfortunately, by the time we enjoyed the dipping sauces, and then the hummous and now the salad, I was feeling almost full. Allen was still moving forward!
Our huge platters were delivered and our eyes popped. Allen's because he was ready to dig in and mine, well, I was feeling overwhelmed ……. in a good way. Our waiter was right, the Falafel Stew is not a stew. Besides the delicious brown rice with raisins and Mo's secret seasoning, my platter was dressed with three meaty falafel patties on a bed of fresh spinach and fresh mushrooms, covered in a Brandy sauce. The falafel was not crusty, it was as though the patties were slightly sauteed. Oh my gosh! Not at all what I expected but so much more. This is a special dish….. in fact it's so special, that everytime since, I still order the same thing for fear I will miss my Falafel Stew!!! Needless to say I went home with a doggy bag. I just couldn't finish my meal and was happy knowing I would enjoy its leftovers.
We've been back since. We've taken friends Susan and Harris. Susan is almost a vegetarian and she and I usually share. I recommended the Falafel Stew….. she loved it. We all enjoyed the hummous, again. And we ordered the Banjaan Bouranee which is grilled eggplant, green peppers and tomatoes over a seasoned Mediterranean sauce topped with yogurt. It's also served with homemade bread. Susan and I could have made a meal of this dish. And even the guys, who are not ncessarily veggie fans, really "lapped it up." Allen and Harris both got kabobs, beef and chicken. We all "leisurely savored" the delicious food and enjoyed the good company.
If you like lamb, Mo's mini lamb chops are without equal. And if you prefer fish, try Yalda's Grilled Salmon in a special seasoned sauce with veggies. You can also order pasta, Eggplant Parmesan, Shrimp Alfredo and a whole host of Italian dishes. But I recommend you go for the Afghan specialties of the house. Even the most conventional of eaters will be able to find the perfect dish at Yalda's. And remember, each meal comes with a salad.
Yalda's has a full menu for lunch and dinner. In fact there's an All-You-Can-Eat Buffet for lunch, 11am-3pm. And yes, there's a dessert menu, but as yet, I've been too full to indulge. (I might need to start my meal with dessert next time!) In addition to the main dining room, there's also a room for larger parties and catering. The times we have been there, especially on the weekends, we've noticed large groups celebrating birthdays, anniversaries….. and Mo welcomes them all as part of his extended family. There's a lot of "celebrating" happening at Yalda's.
You don't need a special occasion to celebrate….
especially if you include a visit to Yalda's as part of that celebration. If you're looking for wonderfully prepared food, some of it with a different twist, and you'd like to enjoy your time spent unrushed and relaxed, this is the place to go. Take a bottle of your favorite wine and sit. Breath deep. And if you're lucky, you'll need a third glass for Mo. He likes to take a break from the kitchen every now and then! Oh yes, and please tell him you heard about him from The Uptight Suburbanite!
Enjoy!
Yalda's Grill & Kabob
222 Horsham Road
Horsham, PA 19044
215-444-9502
215-444-9503
www.yaldagrill.com