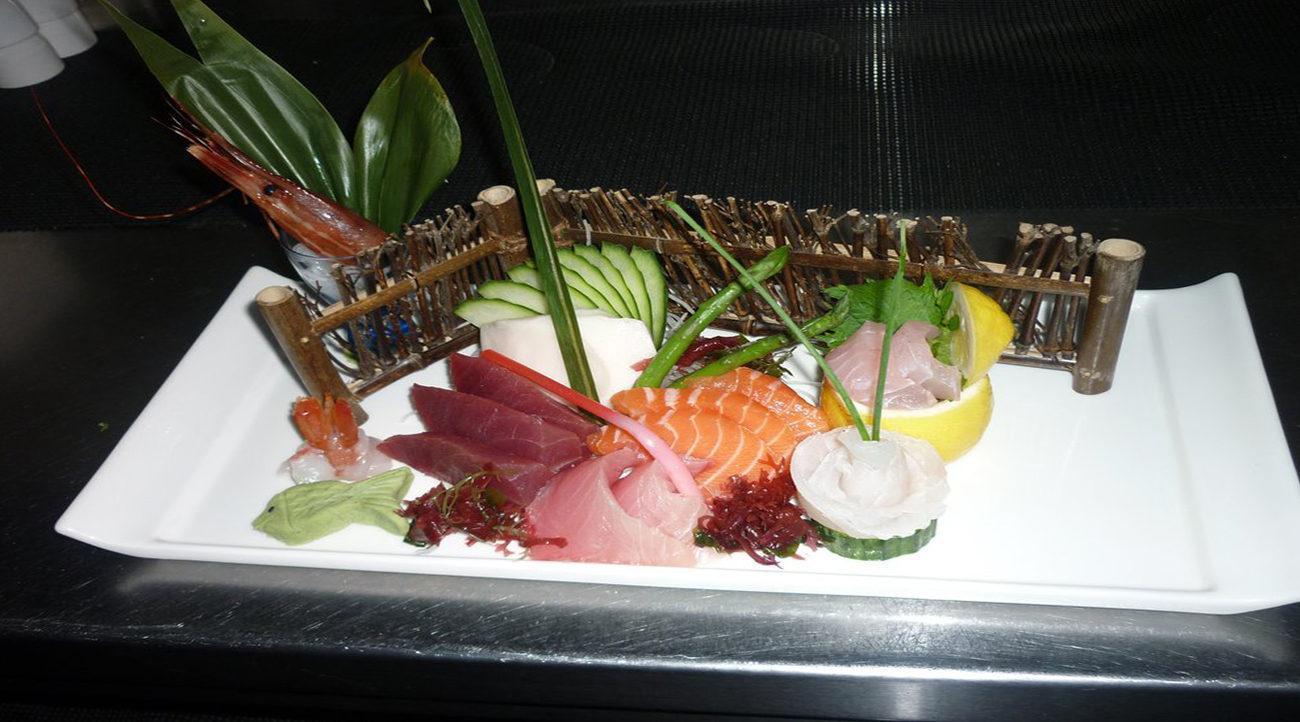 Megumi Sushi & Hibachi
By Linda Herman
Megumi is a new sushi and hibachi restaurant located at 638 Easton Road in Warrington. Nestled in a busy shopping center, Megumi is like an oasis of calm and peace. Its walls are surrounded with beautiful wood, its floors are dark travertine and the mesmirizing trickle of water soothes while you enjoy your meal. Its owners, Wan Yeung and Jessie and Kevin Lin have worked hard to create a comforting space for leisurely dining. And they've succeeded.
Blessing and grace is what Megumi means in its native Japanese. And everything about this delightful restaurant reflects this. Upon entering you notice two spaces, one for dining at tables and to your right, a separate Hibachi room where diners can enjoy the preparation of their meal right in front of their eyes. To be sure Megumi is most traditionally Japanese in that its food presentation is a delight for the eyes and not just the palate.
I talked with Wan Yeung about tradition, food, its preparation and design, and how Megumi is committed to embodying it all. "The secret to delicious sushi is its freshness. Fresh ingredients mean good taste. And yes, each piece, each roll is prepared individually reflecting the chef who prepares it. When we make the sushi, many with a kind of flare in its design, it is meant to entice the eyes as well as the stomach. Together, the eyes and the belly, make for a satisfying meal. There are no traditional designs for the sushi, it really depends on the chef. In fact, the sauce that is presented with the sushi is really a signature taste for
its chef."
I had some really specific questions about sushi "protocal." A little squeamish still, I am just now developing a taste for sushi. I wanted to know what's the proper etiquette vis àvis eating those different rolls? "You enjoy your sushi roll with one bite! (Open wide!) And use the ginger to cleanse your palate between different kinds of sushi." So the ginger is used much like a sorbet is used between courses during a fine meal. I've been using ginger all the wrong way!!
Megumi offers a wide range of cooked and raw sushi, teriyaki, tempura and sashimi. They also have a large room devoted to Hibachi where large or small groups of people can enjoy the fun of having their own individual chef.  The waitstaff is ready and eager to help with selections, describing ingredients and preparation. And your meal starts off with a warm cleaning cloth for your hands. The mood is set and you're feeling relaxed, ready to savor your dining experience.
We've enjoyed the Beef Teriyaki. A delicious sauce, nice portion and tender beef, it's something to be ordered again. The Vegetable Tempura was a nice accompaniment. And the Seaweed Salad, a personal favorite, was scooped up by everyone at our table. We loved the Green Maki and the Peanut Avocado Roll. The Green Maki is a vegetarian roll including avocado, cucumber and asparagus. Yum! The Peanut Avocado Roll had the crunch of peanuts, perfect for someone still developing an appreciation of sushi!
The Tuna Roll, Alaska Roll, Philadelphia Roll, Spicey Tuna and Yellowtail Roll, arrived at our table beautifully displayed, a dazzling sight, our mouths ready. Truth be told, the rolls were so visually appealing, we needed time "to take it all in." Our eyes did not deceive. The rice was firm, yet moist, the fish fresh and delicious. It all helped towards making a "newbie" less tentative!
I asked Jessie how to order "rolls." One per person? Two? "It depends on the kind of roll you're ordering. You should figure 3-4 rolls per person. If it's a special roll, maybe two will be enough. You can always order more as your meal progresses because all sushi and sashimi is prepared as-ordered. Fresh."
We haven't checked out the Hibachi yet, but as we ate our meal, we saw people entering their "special room" and heard lots of "oohs and ahs." We're sure to try that on our next visit. It sounded like a lot of fun.
And I'm thinking we'll go for a birthday celebration. All birthday girls and boys, regardless your age, are treated to a special dessert, Ice Cream Tempura. It's ice cream wrapped in a tempura coating prepared and presented as only their chef can do.
Megumi offers Lunch Specials including miso soup and salad. A Sushi Roll Lunch (2 rolls @ $7.95 or 3 rolls @ $10.95) also includes miso soup and salad. Get a Hibachi Lunch and enjoy soup, salad, fried or brown rice and a vegetable ($7.95-$11.95).
If you're looking for an authentic Japanese experience, visit Megumi for sushi and hibachi. Whether you're a novice or a connoisseur you'll see that Megumi lives up to its name of blessing and grace. Even my husband, the Publisher, who has little enthusiasim for little other than "meat and potatoes" had a great time enjoying both his meal and the presentation. He is eager to return … but with a group of our friends.
And remember, ginger is for cleansing the palate and open wide for the WHOLE piece of sushi…….. one bite and savor.
Megumi Sushi & Hibachi
Warrington Plaza Shopping Center
638 Easton Road
Warrington, PA 18976
215-918-2688
www.megumipa.com
BYOB