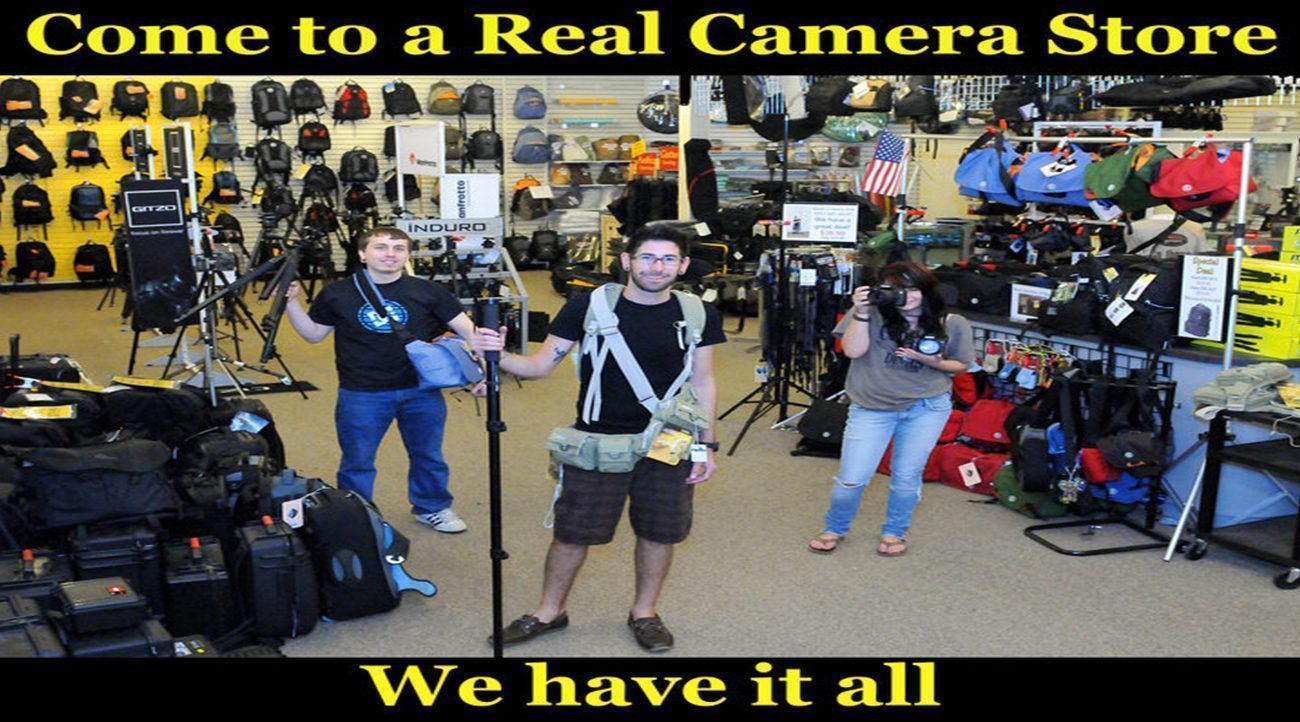 Meet The Cundari Family… New York Camera Picture Perfect
By Linda Herman
Very often we talk about about small businesses as being operated by "family." Not until we actually analyze that business, do we really understand what that means. I'm here to say that New York Camera IS a family business in the truest sense. And not just because customers are treated with care and patience that only a family-owned business provides. But because it is the extended Cundari family that makes New York Camera a different kind of shopping experience. Brother Frank and his wife, Patricia, sisters, son, daughters and son-in-law, nieces, nephews; an entire Cundari family tree work together. It's wonderful!
I started talking with Sheila Cundari Staniec, Frank's sister. You can find Sheila in one of the back rooms filled with catalogues, displays of cameras, more desks and computers, and Missy. Missy, part pomeranian part something else, and the preeminent store mascot, is Frank's side kick. She sits by Sheila's side only to leave when the speaker calls "Missy to the front desk" and she retrieves a treat.
I listened intently as Frank's sister recounted the early beginnings of New York Camera. "Initially, Frank would go to flea markets and shop around, and buy cameras and related product. He learned quickly that there was business to be made in cameras, etc. That's when he opened Surplus Photo in Feasterville. Our father helped out and watched the store while Frank was busy scouring the area for good merchandise. Business became such that Frank remained in the store full time and our father opened a little children's clothing outlet store in the same center. I would help my dad in his location and our sister, Toni, would help Frank at the camera store. We would all be running back and forth."
"Our father would run down to Frank's store to find out how much a given item cost. He would tell his customers to take the merchandise and see him later for the "details." It was really something.  While this was happening, Frank was developing an even greater interest in cameras, not as photographic tools, but as a business opportunity."
Toni (Cundari Adair) would bring her children with her when they were infants. Sheila told an endearing story of how the kids would be with her downstairs and she would rock a nephew in a swing with one foot while answering a phone and talking to a supplier. Feeding was a bit of a challenge when she had to answer the phone. "People would call and when it sounded too quiet they asked about the kids!" Toni chimed in, among a lot of sisterly giggling, "It was like a daycare center." It was clear that everyone pitched in… while Frank orchestrated the business' operation.
As we talked, one of Toni's sons, Brent, was working at his desk. He confirmed, with a smile, that he was one of the kids rocked to satisfaction by his Aunt Sheila. Now he handles receiving and inventory, and doing a lot of running for the store. He's also got his pulse on the computer activity and many of the technical issues they have to address.
Eventually, Frank made the move to open New York Camera on Street Road. When you visit, you'll see walls and walls, and display case after display case filled with all sorts of photographic materials. Whether you're a professional photographer or a weekend hobbyist, or just a doting grandparent, you can find the perfect photgraphic tool to help keep your memories alive. And better yet, unlike internet purchases, you'll find someone ready to counsel you every step of the way. (And it will probably be some member of the Cundari family who provides that assistance!)
The three of us continued talking, Sheila, Toni and I. James, Toni's other son, is on site providing advice on canvas printing, enlarging images, binding photo books, etc. He also does design work for the company. Some days, after school, you might see Toni's daughter, Brooke, at the store. Sheila's daughter, Teena, handles New York Camera's Ebay business and share's office space with her mom. You'll also find Frank's daughters, Page, Leah and her husband Danny Plajer. (I know it can get confusing… just assume they're family!) Frank has everyone contributing their strengths. He knows just where to turn to get the job done right.
I found it interesting that Frank came to cameras via business rather than through "photography." Suddenly, he slipped into the office and I got to ask him one or two questions. Did he remember the first camera he bought some 35 years ago? I could see the question got him thinking. "A Nikon 35mm, completely manual." He continued, already anticipating my next question, "Today's cameras are so different, so automatic. Now digital, after some expert mentoring by the family, they are very easy for anyone to get good, crisp pictures. Digital cameras have expanded the entire market for cameras. The most inexperienced can find success in their picture taking today."
Then I asked about taking pictures. What should we look for when we're taking those memory-making prom shots? Suddenly I heard him calling for his resident "picture pro," John Alexanian. According to John there are some definite do's and don'ts: don't touch your hair, lower your flower, no gum chewing, don't say cheese (!), lean together, relax, show some nails, foot forward to show some shoe. Take your shot 6-8 feet away, otherwise the picture will be too washed out. Easy-peezy.
Frank had already disappeared into the busy showroom when Sheila and Toni reminded me of all that's available in New York Camera. It's really a one-stop shop for all your photographic needs. New, used, rentals, processing, repair, passport pictures, trade-ins and how-to classes are among the "stuff" that keep Frank and crew busy.
So I asked the sisters what everyone does during their free time. "We love doing things as a family. Even though we work together, we still share time outside of the office." Hobbies? "Frank is all about business… and family. We like yard sales. We go to them and hold them." You could feel the enthusiasm rise as Sheila and Toni talked about their yard sales. I promised I wouldn't dwell on this subject. All I'll say is, look for signs of their yard sales. They're something else!
I have to mention that Frank, Sheila and Toni have another brother, Richard, and another sister, Sandra. Richard is not involved in the business. Sandra throws some help their way when needed. This family of five siblings grew up in  Philadelphia and later on in Feasterville. Sheila reminded me that in those days, Feasterville was considered almost farm-like. But it was also considered, perhaps, an even better place to raise a family.
Frank Cundari is the driving force of New York Camera. A gentle man, modest to a fault. He is a family man above all else. Just ask those who support his efforts. Patricia, Sheila, Toni and all the other Cundari's work hard to provide the kind of service and quality of photographic product not often seen under one roof. How fortunate we are to have this resource, not an internet store selling product, in our backyard.
So, as you plan those family events you want to recall in years to come, stop into New York Camera. They will help you convert those memories into "hard copies" that you can revisit. And know when you go, there's a family member helping you who knows the importance of family and the memories they make year in and year out.
Thanks Frank! Finally!!
New York Camera & Video
1139 Street Road
Southampton, PA 18966
215-357-6222
www.nycv.com