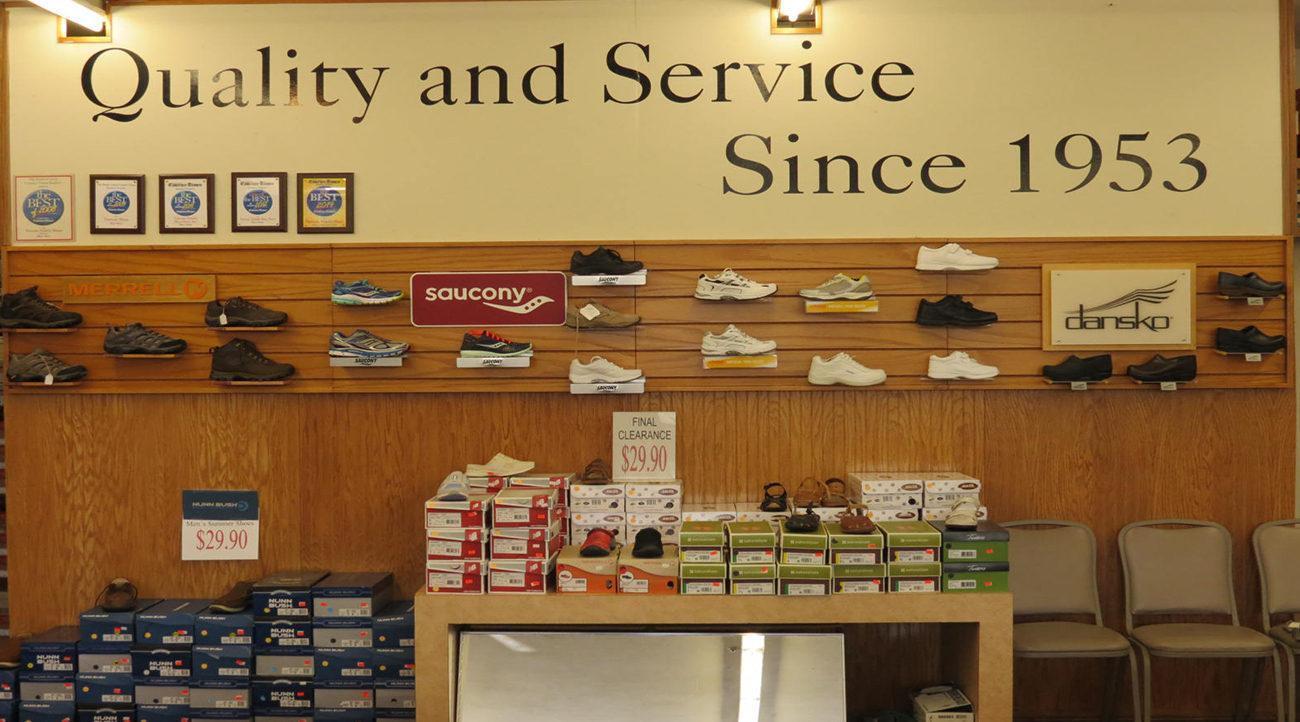 Happy 60th Anniversary to Eric Castelli & Trevose Shoes
By Linda Herman
I confess – I'm an accessory girl. Hats, jewelry, pocketbooks, shoes, watches, crazy stuff for my hair, glasses – this is the stuff that gets my juices running. Just ask anyone near and dear to me. So when I had the opportunity to spend some time with Eric Castelli, the owner of Trevose Shoes, I was smiling all the way to my meeting. I mean is there anything better than being surrounded by the things you like best?!
Trevose Shoes may be located on Brownsville Road in quiet Trevose, but there's nothing quiet about what's happening at this shoe store. Walk in and you'll see a selection of comfort shoes like no other in this community. You'll also see work boots, made in America, that adorn the feet of construction workers, electricians and workmen (and women!) in the tri-state area. You'll also find school shoes as required for Catholic schools and the latest sneakers as required by those students who have to wear those sturdy oxfords!!! Trevose Shoes has built a reputation on providing quality footwear and service with a smile. And that's what I discovered in this month's profile.
As Eric's story goes, he's a "lifer" in the shoe business. His first job, just after graduating high school in Glendora, South Jersey, was at a Haddonfield women's fashion shoe store, Franklin & Simon. I listened as Eric recounted, "I started in the retail shoe business and never looked back. Eventually, Franklin & Simon sent me to Hyattsville, Maryland to work in their location there. And while my experience continued to expand, I missed my high school sweetheart and returned home, to her and another job." (P.S. Eric married that high school sweetheart, Sandy, and is now celebrating almost 48 years of married life!)
"I went to work at Gimbels at 8th & Market in downtown Philadelphia." My eyes lit up… I could only imagine what it was like to work in one of America's iconic retail department stores. "I was the buyer for mens and childrens shoes. Along the way, I met Dave Segal who invited me to join him and Marty Horowitz here at Trevose Shoes. Trevose Shoes was originally owned by the Birnbaum family and later sold to Dave and Marty Horowitz. I joined Dave and Marty in 1974, they both eventually retired."
I had a lot of questions about industry changes, styles, etc. but first I had to ask how did a unique shoe store like Trevose Shoes end up on Brownsville Road in Trevose? Eric smiled and answered, "We're now celebrating 60 years in business, and yes, it's been all at this location. Originally, this area was a bit of a vacation spot. People from the northeast and elsewhere would come and spend their vacations along the water; you can still see some of the early vacation cottages along the Neshaminy. We developed quite a following that expanded beyond what you may think are our sleepy borders. And as our clientele, and market trends have evolved, so have we."
"In the beginning, we, too, provided fashion oriented footwear. We shopped factory over runs and sold at a discount, developing a market in Princeton, Trenton, Bucks, Philadelphia and Montgomery Counties and parts of South Jersey. Fashion footwear was easily available to the independents. Not so anymore."
"Today, the accessibilty to odd lots, leftovers, etc. belongs to the big box discount stores such as Payless and Famous Footwear who have the big buying power that is needed to bring in product. For us, the result has been our evolution into a unique, comfort shoe store. We provide our customers with product they cannot get in the big box stores. Additionally, they can't get the level of service nor quality of care that's available at Trevose Shoes."
I suggested that perhaps as the industry was changing vis a vis imports and the development of chain shoe stores, that perhaps the aging population was also feeding his niche of comfort shoes. "I'd have to agree that our feet have taken years of abuse. And yes, women in particular, are looking for the good looking, comfort shoe that will help them walk and stand longer. Sure they still may have the 'dress-up'  fashion shoe, but the shoe that will carry them through their day at work or around the house is a different kind of animal."
"We can digitally scan a customer's foot to make sure the fit and last is suited for comfortable, healthy wear. Following that scan we can provide an orthotic arch that works with the shoe or sneaker to provide the kind of walking comfort that our feet our screaming for. And we all know, as our feet go, so go our knees, ankles, back, etc. We sometimes forget, or at least underestimate how critical our feet are when it comes to our total body alignment and comfort. We can help make a difference."
I mentioned some brands and Eric chimed in, "SAS is an American made shoe providing styling and comfort for women and men. We carry their extensive line, something you can't get at a Bloomingdale's or Macy's. We also carry the popular Orthaheel flip flop. This is not your traditional flip-flop. Wearing a perfectly flat shoe is among the worst things you can do to your foot and that's what you're doing by wearing a traditional flip-flop. The Orthaheel flip flop has an arch that molds to your foot, providing much needed support, comfort and fashion. And this is what we aim to provide in almost every shoe that leaves our store."
Have a little one or teenager, or even you, who's looking for the just-right sneaker for the sport of the season, or for everyday? Eric and his gang can help you with that. They know that the right support gets the right results: comfort and good foot health. And they have a full range of sneaker offerings in stock and ready for you to take home. As I was visiting, a joyful toddler was fitted with some sweet, pink light-up sneakers. Mother a child were delighted. I wondered if they had those sneakers in my size?!!
As you know, we try to use these profiles as a barometer of what's happening with "made in America" product and so I raised the question with Eric. "Today, little footwear is made in America. The Chinese make a good product for less money. We can't compete. However, there does seem to be an up-tick in some manufacturing here. SAS, New Balance, Red Wing, Carolina… some of these products are completely made in America and some are partially made in America. So, yes, something is happening here. At issue is the need to rebuild the infrastructure for manufacturing. We need the equipment and trained people for the work required."
So what does this "lifer" of a shoe man do when he's not "doing" shoes? "Three daughters and six grandchildren keep me pretty busy. Our youngest grandchild is 7 month old, Zoey!" As I looked around at the family pictures, I noticed Eric was surrounded with girls… ALL girls. His wife, three daughters, granddaughters… and then I saw him: "King" Grayson. "He's my 5 year old grandson and we call him "King" Grayson." I can't imagine why!! I was relieved to know that in a household of all those women, Eric would have at least one "guy" to do guy things. (This is not to minimize the import of his sons-in law, but you get the idea!)
I had a great time meeting Eric Castelli. His gentle demeanor calmed my soul and set the stage for what his shoes could do. Like I said, is there anything better than being surrounded by what you like most? No way! And I think Eric would agree. Thanks Eric! But do you think  you can get those pink light-ups in an adult size 7? Remember, I'm an accessory lady all the way!
Trevose Shoes
1738 Brownsville Road
Trevose, PA 19053
215-357-0209
www.trevosefamilyshoes.com