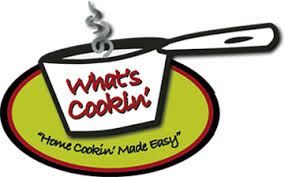 In the Kitchen – January 2020
Soup, creamy and more soup… 'tis the season our body craves warm and snuggly, not only in our clothing and blankets, but in our food, too. This month we offer that. Get the soups ready and have them on hand for a last minute dinner accompanied by a wholesome salad and the Sour Cream and Scallion Biscuits. The Pear Cranberry Bread Pudding will make the perfect ending to your snuggly meal. Eat hearty and have fun!!
Pear Cranberry Bread Pudding
5 C. brioche, Hawaiian bread, or sweet rolls,
torn into small pieces
2 ripe pears, peeled, cored and diced
½ C. dried cranberries
3 eggs
11/2 C. whole milk
1 C. whipping cream
½ C. sugar
1 tsp. vanilla
½ tsp. cinnamon
¼ tsp. nutmeg
Prepare a 2-quart baking dish. Arrange half the bread to cover the bottom of the dish. Layer the pears and cranberries. Top with remaining bread.
In a large mixing bowl, beat the eggs well. Whisk in milk, cream, sugar, vanilla, cinnamon and nutmeg. Pour the mixture over the bread and fruit. Cover dish and refrigerate for at least 2 hours or overnight to fully absorb the liquid.
Preheat oven to 325°F. Bake pudding for 1 hour or until custard is set. Let cool at least 10 minutes before serving. Makes 6-8 servings.
Meatball, Mushroom and Barley Soup
¾ lb. ground beef
¾ tsp. salt
½ tsp. black pepper
3 Tbsp. olive oil
8oz. sliced mushrooms
1 medium yellow onion, chopped
1 large celery rib, chopped
2 Tbsp. chopped garlic
4 C. low sodium chicken broth
2 C. water
1/3 C. quick cooking barley
3 C. spinach
In a medium bowl, season beef with ½ tsp. salt and ¼ tsp. pepper. Gently mix to combine.
In a wide bottomed pot, heat oil over medium-high heat. Add mushrooms and cook, stirring until golden brown, about 5 minutes. Reduce heat to medium and add next 3 ingredients. Cook until onion is translucent. Season with ¼ tsp. each salt and pepper. Add broth and water, and simmer.
Stir in barley and partially cover. Simmer 5 minutes. Prepare meatballs into rounded teaspoonfuls. Should have about 32 balls. Drop into simmering broth and continue to cook 5 minutes until meatballs are cooked through and barley is tender. Stir in spinach. Cook until wilted.
Tomato and Cannellini Bean Soup
Beans1 C. cannellini beans
1 onion, quartered
4 Tbsp. chopped garlic
Soup
4 Tbsp. olive oil
1 28oz. can whole peeled tomatoes, drained
1 tsp. crushed red pepper flakes
1 onion chopped
1 fennel bulb, cored, chopped
4 garlic cloves, thinly sliced
1 Tbsp. Sherry vinegar
4 C. low sodium vegetable broth
1 bunch spinach, cleaned
Combine beans, onion, garlic in a large pot. Add cold water to cover 2". Bring to a simmer over medium heat until onion is limp. Drain cooking liquid. (Suggest saving 2 C. cooking liquid if you're looking to thicken soup later.)
Heat 2 Tbsp. oil in large pot over medium heat. Add tomatoes and ¼ red pepper flakes. Cook tomatoes until caramelized, about 5 minutes. Break up tomatoes, scraping bottom of pot, about 5 minutes. Transfer to a plate.
Heat another 2 Tbsp. of oil in same pot over medium heat. Add onion, fennel, garlic and pinch of red pepper flakes cooking until vegetables are soft and starting to brown. Stir in vinegar and tomatoes, stirring up the brown bits. Pour in the beans along with the broth. (For a thicker soup, use ½ the broth and 2 cups of the cooking liquid from the beans.) Simmer and season to taste.
Just before serving add spinach and cook just until wilted.
Sour Cream and Scallion Drop Biscuits
2 C. flour
2 tsp. baking powder
2 tsp. salt
1 tsp. sugar
½ tsp. baking soda
6 Tbsp. unsalted butter, melted
4 thinly sliced scallions
1½ C. sour cream
Whisk flour, baking powder, salt, sugar and baking soda in a large bow. Drizzle in melted butter and lightly distribute. Make a well in the center and add scallions and sour cream. Mix with a wooden spoon until no dry spots remain. Drop ½-cupfuls of dough on parchment-lined baking sheet. Brush tops with 2 Tbsp. unsalted butter, melted. Bake biscuits at 400°F until golden brown about 12-15 minutes. Should make about
8 biscuits.