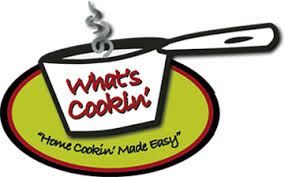 In the Kitchen
If you're getting ready for the "Big Game" you might consider some of the recipes below. "Anything" tater tots is usually a crowd pleaser. The Three Cheese Lasagna, while a bit different, will be a welcome surprise to those whose New Year resolution involves less meat and more veggies. Try it… you might like it! And the Stuffed Baked Potato… well, who won't like this? What a great way to go meatless! Just add a nice mixed salad and this could be a comfort-filled meal. Bon Appetit!
THREE CHEESE LASAGNA
1 8oz. sliced mushrooms, finely chopped
1 C. each, chopped onion & shredded carrots
1 medium yellow squash, diced
2 Tbsp. olive oil
2 tsp. chopped garlic
1 jar prepared vodka sauce
1 can (15 oz.) diced tomatoes
1 tbsp. each, chopped fresh basil, oregano & parsley
1 15oz. part skim Ricotta
2 large eggs
1 C. shredded part-skim Mozzarella, divided
½ C. grated Parmesan
1 pkg. no-boil lasagna noodles (about 16 noodles)
Heat oven to 400°F. Cook first 4 ingredients in oil 5 minutes, until tender. Add garlic. Cook for 30 seconds. Stir in next 5 ingredients. Set aside.
In a bowl, mix Ricotta, eggs, ½ C. Mozzarella and Parmesan. Spread ½ C. sauce mixture in 13"x9" casserole. Layer 4 noodles. Top with 1/3 Ricotta mixture and ¼ remaining sauce mixture. Repeat layering twice.
Top with remaining noodles, sauce mixture and Mozzarella cheese. Cover. Bake 35 minutes, removing cover last 5 minutes.
STUFFED BAKED POTATOES
Bake 4 potatoes & slice halfway down the centers. In a skillet, cook 1½ C. mixed mushrooms in 1 Tbsp. butter and 2 Tbsp. olive oil until tender. Season with salt and pepper. Stuff each potato with 1 Tbsp. butter and 2 Tbsp. shredded Fontina cheese. (Can use Mozzarella also.) Top with mushrooms and more cheese. Bake at 450°F for 3 minutes until cheese melts. Garnish with parsley.
SALAMI TOT KEBABS
Cook 8 oz. salami, cut into 1-inch chunks, in a large skillet, turning until browned. Toss 8 oz. frozen tots with ½ tsp. caraway seeds, bake. Thread onto skewers, alternating tots, salami and soft pretzel bites. Bake until warmed through, about 5 minutes. Serve with mustard.
SESAME SCALLION TOTS W/SOY SAUCE
Bake 1 lb. tots, toss with 2 Tbsp. sesame oil, 1 Tbsp. each, sesame seeds, minced garlic, minced ginger and 3 sliced scallions. Continue baking until very crisp, 5-8 minutes. For sauce, mix 2 Tbsp. each, soy sauce and rice vinegar with 1 Tbsp. water.
ONION SOUP W/TORTELLINI
1 lb. onions
½ C. fresh thyme
4 Tbsp. butter
2 Tbsp. olive oil
2 Tbsp. minced garlic
3 C. vegetable broth
1 9oz. pkg. cheese tortellini
Cut the onion into thin rings and pick leaves from thyme. Heat the butter and oil in large pot.
Add the onions, garlic and thyme. Cook stirring occasionally for 5 minutes until onions are soft and begin to caramelize.
Add the broth plus 3 C. water and bring to a boil. Reduce the heat and simmer for 10 min. Season with salt and pepper to taste.
Add the tortellini and cook for 5 minutes until tender. Enjoy in a bowl garnished with chopped green onion.