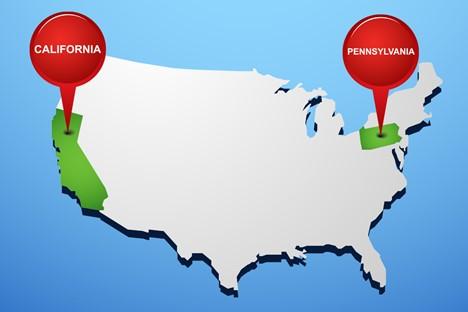 The Best Boss I Never Met
My association with Allen and Linda Herman spans two millennia. No, we've not been together for 200 years. But our relationship began way back in the 20th century.
The Hermans were publishing a trade journal called Opti-Courier, aimed at the ophthalmic community and distributed nationwide. I was selling medical books throughout Northern California. Yes, I was going door-to-door to medical offices lugging a suitcase-size Willy Loman sample case loaded with medical books. One day while waiting to see an Ophthalmologist in Fresno, CA I began leafing through a copy of Opti-Courier.
It was way different from any trade publication I had ever seen. Believe me when I say medical journals are dull, unimaginative, filled with big words strung together in sentences long enough to come straight from James Joyce's Ulysses. Not so Opti-Courier. It was folksy, friendly, and funny. It even had recipes. The commentary written by Allen Herman was intelligent and understandable. I stuffed the magazine into my sample case so I could read it later.
I needed the address since I wanted to learn about submissions to the magazine. I was dabbling in writing at the time. Both the San Francisco Chronicle and the San Francisco Examiner had accepted several of my submissions, but the opportunities for acceptance were limited.
I had written a silly poem about an eye exam that friends said I should try to get published, but where? Aha! Maybe Opti-Courier was the outlet I was looking for. So off it went to the editor, Linda Herman. Well, Linda phoned me a couple of weeks later. She said they loved the poem and would publish it and pay me $25.00, a veritable fortune for poetry. Here's the poem:
SOMETHING'S FISHY
Will someone tell me how MDs
pick the name for a disease?
I went to get my eyes checked
and heard something I didn't expect.
As I looked out, doctors looked in.
You have, they said, a Pterygium.
A Pterygium, Ha! Don't you wish.
That's not a disease; it's a flying fish.
I saw one once on the road to Mandalay,
or perhaps at the Aquarium in Monterey.
They jump around in a flying motion,
not in your eye, but in the ocean.
Where'd you docs get your diplomas?
The University of Red Lobster? Scomas?
I think your degrees might be phony.
And your diagnosis – Abalone!
Then Linda asked me if I had more eye poems. While shaking me head "no" I said, "yes" into the phone. "Well send them to me," she said. "If we like them, we'll publish them.
I got busy writing eye poems. That was the beginning of a relationship that has been on-going for more than a quarter of a century. When the Hermans shifted from Opti-Courier to The Uptight Suburbanite, they were gracious enough to ask me to come along. Besides, I was getting Diplopia (double vision) from trying to come up with fresh eye material.
Linda was my contact at the magazine. I spoke with Allen on the phone a grand total of three times. Yet I got to know him through his writing. He always amazed me with the depth and breadth of the topics he covered. His ability to simplify complex topics allowed me to understand things I knew nothing about.
"Travels with Allen" became "Must Read" journalism for me. He was always informative and his prose was entertaining, obviously a reflection of this congenial character. I know his main job was selling advertising for the magazine. As someone who spent his entire career selling all kinds of medical equipment, I know how difficult selling can be. Yet by the sheer number of ads and the number of repeat ads in Suburbanite I understood that the advertisers not only saw value in their investment, but they genuinely liked Allen. I had this vision of him with the proverbial ability to sell ice-making machines to Eskimos.
There were so many times I thought of hopping on a flight east to meet Allen and Linda at one of the many fine restaurants they ballyhooed in their magazine. Alas, to my regret I never did. How many times have you heard that sad story?
Every January I write a feature for a local weekly newspaper about notable people we lost during the previous year who had some kind of connection to our town. December provided me with enough material for an entire article as we lost writer Joan Didion, musician and former Monkee, Michael Nesmith, the incomparable John Madden, and everyone's favorite madcap mama, Betty White. I'd include Allen except for the fact that nobody here knew him. Too bad. They've missed out hearing about the best boss I never met. Rest in peace, my friend.
Contact Jerry at jerrygervase@yahoo.com