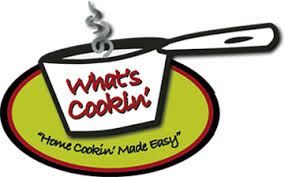 In The Kitchen
Anyone getting ready to party-hearty for New Year's, or even Christmas? Maybe Super Bowl, a short time after? We're giving you a head start on all of these occasions with some easy to make "goodies" for your table. The Cranberry Sauce is among my favorites and that could make a good addition to your holiday turkey. Or maybe those turkey sandwiches you're serving on your entertaining table. So, bon appetit! There's nothing like fresh cranberries!!
CRANBERRY SAUCE W/PEARS
1 lb. cranberries, (thawed, if frozen)
1 pear, peeled and cut into ¼-in pieces
1 tsp. grated orange zest
2/3 C. sugar
1 C. apple cider or juice
In a medium saucepan, combine the cranberries, pear, orange zest and sugar. Stir in apple cider.
Bring the mixture to a boil. Reduce heat and simmer, stirring occasionally, until cranberries burst and sauce thickens, 15-20 minutes. Serve warm or at room temperature.
CRANBERRY, WALNUT & BRIE TARTLETS
¼ C. cranberry preserves
½ tsp. balsamic vinegar
4 slices Brie cheese (4" thick)
16 mini phyllo shells
2 Tbsp. chopped walnuts
Heat oven to 400°F. In bowl, whisk together cranberry preserves and balsamic vinegar. Season with salt and pepper. Cut cheese slices into fourths. Place 1 piece in each phyllo shell.
Divide cranberry mixture and walnuts evenly among shells. Bake 10 minutes. Garnish with rosemary, if desired.
BOURBON BALLS
7 oz. Nilla wafers (about 3 cups)
½ C. roasted unsalted almonds
6 oz. semisweet chocolate chips (about 1 C.)
2 Tbsp. heavy cream
½ C. sugar
1/3 C. bourbon
Finely chopped pistachios, almonds or pecans, for rolling
In a food processor, pulse Nilla wafers and almonds to form fine crumbs.
Place the chocolate and cream in a medium microwave-safe bowl and microwave on high, stirring every 30 seconds, until chocolate is melted smooth, about 1½ minutes total.
Stir in sugar, then the almond cookie crumbs and bourbon. Immediately roll the mixture into 1½ in. balls. Then coat in the nuts. Refrigerate until ready to serve.
DELISH CHEESE BALLS
1 10-oz. log of goat cheese
Cut log into tablespoon-size chunks and roll into balls. Coat with one of the following mixes – Pretzel Herb: combine 1½ C. crushed pretzels and 1 tsp. crushed dried thyme. Everything Bagel: Combine ¼ C. each toasted sesame seeds, poppy seeds, dried garlic flakes and fresh chopped chives and 1 tsp. sea salt. Spicy Cheese: Combine 1 ½ C. crushed Cheez-Its and ½ tsp cayenne pepper.
NEAPOLITAN POUND CAKE
1 frozen pound cake (10-12oz.), thawed
1 pint Neapolitan brick ice cream
1 C. hot fudge sauce or topping
Slice pound cake into 4 horizontal layers. Cut each flavor of ice cream into 2 slices. Place chocolate ice cream slices on bottom layer, top with cake layer and vanilla ice cream. Repeat for strawberry ice cream. Freeze cake, cut and serve with sauce.
STRAWBERRY & BLUE CHEESE TOASTS
1 pint fresh strawberries, sliced
2 Tbsp. fresh lemon juice
2 tsp. honey
4 slices country-style bread
6 Tbsp. olive oil, divided
4 oz. blue cheese, room temperature
2 C. baby arugula, trimmed
In a bowl, add sliced strawberries, lemon juice and honey.
Toast bread, brush with 2 Tbsp. oil and season with salt. Spread cheese on toast and top with strawberries, leaving juice behind.
Whisk oil into juice. Toss arugula with enough dressing to lightly coat in a bowl. Season with salt and pepper and arrange over toast.